I promise I'll blog about a non-fire subject next time. But I figured the story below was an appropriate bookend to Thursday's post, so couldn't resist it.
*********************************************************************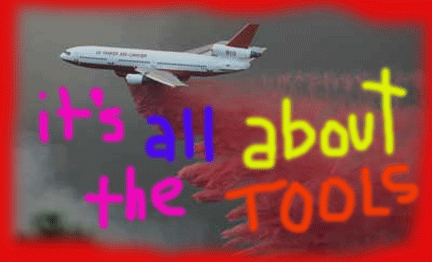 Our much-missed pal (and WLA guest blogger), Alan Mittelstaedt, has written his regular LA Sniper column over at LA City Beat about my friend and Topanga neighbor, Tony Morris.
(By the way, if you're not reading Alan's inspired dose of weekly snark, you're cheating yourself.)
For more than a decade, Tony Morris has been trying to slap California's lawmakers into wakefulness about the state's under-preparedness for just the sort of fire-wrought disaster that this past week of hillside infernos has brought us. Finally, it seems, he's having some success.
A few representative clips from Al's column:
The 65-year-old Yale graduate nearly lost his own home in the Topanga fire in 1993. It turned the former NBC documentary producer and construction guy into a crusader to set up a national fleet of supertankers to bombard flames with water scooped up from the ocean or other body of water.

He and his grassroots group – Aerial Fire Protection Associates – took their spiel on the road and testified before one of Gov. Arnold Schwarzenegger's blue-ribbon panels on fire protection. A few months ago, the governor announced that the state would sign a three-year lease for one of the supertankers – a converted DC-10 that drops 12,000 gallons of water over a half-mile area in eight seconds. "Everybody's amazed that he did it," says Morris, who traveled around the state to get homeowners groups to bombard the governor with letters. "But that's not the end of it. What you're seeing now, the catastrophic fires, is inexcusable. It's unbelievable. It's a combination of all of the elements coming together at the same time. It's the perfect firestorm. Global warming has produced a rise in the intensity and number of fires around the world."

The special DC-10, known as Tanker 910, drops nearly 10 times as much water as the WW II-era turboprops. In the last few days, it has hopscotched the state dousing flames. But one jet tanker isn't enough. The lease runs $5-million per year, plus $5,000-an-hour during fire-fighting. It's a bargain, Morris says, and the company operates at a small profit. "You have to think about what you're saving by putting these fires out." By comparison, L.A. Unified recently got $600 million to build new schools it doesn't need and the city announced a $150 million program to synchronize traffic signals that don't make much of a difference.
(Here's a rather cool video of the DC-10 dropping fire retardant, looking for all the world like a Godzilla-size, spawning salmon.)

For thirteen years, Tony has explained in informed and impassioned detail to nearly anybody who'd listen that investing in the right tools to knock down the fires early will save the state money (and homes and lives) in the long run. Finally, after the Griffith Park fire threatened precious pieces of the city's heart, those with the power to say "yes" began to realize he'd been right all along.
UPDATE:
I just got off the phone with Tony, who called by sheer coincidence to let me know how things are going with him, which he does from time to time. He says he's getting calls from a zillion media outlets— from Which Way LA to the New York Times. It was nice to hear his excitement. After 13 years he's suddenly the right guy for the right moment, and, I hope, in terms of public policy at least, it's not going to fade away with the ever-turning news cycles.
What he says is, with the right planes, we can have a tanker up and in the air within minutes—not hours—and just knock the fire down. He talked about the new generation of high tech air tankers that have a different level of maneuverability. The Russians, it seems, are way ahead of us in this regard with their BE-200" frameborder="0" allowfullscreen> [check the video link; it's another very cool one] No, they're not cheap. But the damage wrought by the fires we've seen in the last four years is…how to put it?… a tad more expensive.
The approach to firefighting equipment in California has been, as my mother used to say, penny wise and pound foolish. (This is true of the US in general on the issue of firefighting. The Canadians simply roll their eyes at us.)
By the way, in case it wasn't clear, for all these years, Tony's done this work only as a man with a passion. He's never been paid for any of it. And no, he's not a trust fund baby. His wife works, and he writes free lance—as it leaves time for his excellent crusade.