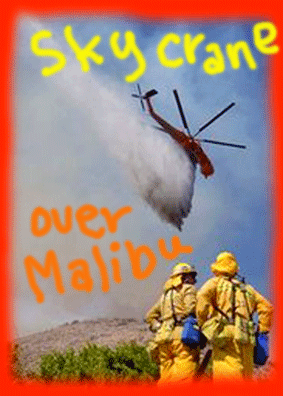 TUESDAY NIGHT UPDATE: 9:50 PM:
We have been very lucky. Topanga is open again so that those who work up here, but live out of the canyon, can once again get through. The Malibu fire is not out, but barring a freak occurrence, it is contained. Smoldering but not flaming.
Word is that the true this-could-go-bad moment was noon yesterday, when the fire was running along the coast and threaten to breach Los Flores Canyon…but then the winds changed.
We are hoping for a quiet night with the understanding that many of our friends and fellow Californians—and firefighters from all over—still have harsh and scary hours ahead.
Also, as of this evening, Rebel Girl says she thinks there's a good chance that her house in Modjeska is still standing. May this very good news be true—and stay that way.

PS: Earlier this evening, two of my smart, big-hearted neighbors Dianne Porchia and Clare Brown, took it into their heads to drive down to the Command Post for the Malibu Canyon Fire where they delivered to the firefighters two huge pans of their home made pasta with chicken sausage and two huge lemon and chocolate cakes. Good work, girlfriends!

**********************************************************************
UPDATE: 2:30 PM: Commenter Rebel Girl writes to say that they've pulled the firefighters and the air support from her home area of Modjeska Canyon, which is one of the places most affected by the Santiago Fire. She says that if the fire does it's worst, 300 homes in Modjeska will burn. She and her huz and their five year old are with friends. We are thinking protective thoughts for all those in that little canyon. She's blogging about her experience here.

Here's an account from one of her neighbors, who also happens to be an an LA Times reporter.
Also, Kevin Roderick at LA Observed reports that KPBS—the public TV and radio station in San Diego—has been knocked off the air when their transmitter site was engulfed by flames. They are now broadcasting from FM 94.9.
*********************************************************************

TUESDAY

In the wee hours of the morning, I felt the winds change. Suddenly the smell of smoke was different. Stronger. Then at 1 am we heard that they'd closed Topanga Canyon Blvd., even to residents. Several Topanga people have been prevented from going home. Not good.

A very snippy Sheriff's Deputy at Lost Hills station, whom I call at 1:30 am to try to verify the closure, is not, how to put it? …helpful.
"We didn't make the decision," she says.
Okay, whom would she suggest I contact for more information about conditions that may have triggered this worrisome closure? (I've already tried the on-sight fire guys and they are wisely trying to ignore their phones for a few hours.)

"The Emergency Operations Command, but they won't talk to you. They don't talk to the public."

That's fine, I tell her, doing my best to fight the snotty tone that now wants very much to creep into my own voice. "I'm the press."
"I used to have a number for the press to call," snaps the deputy. "But I threw it away."
O-kay. (I should note that the Lost Hills deputies are usually uniformly nice. So she was an an exception. I'd give her lack of sleep but all the fire guys I've talked to in the last 24 hours, have been up for two days straight and they have been heroic in their courtesy.)
In any case, the entry ban for residents disappeared around 7 am this morning according to the T-CEP emergency website where we Topanga folks get our info in situations like this one:
The restriction on Residents entering Topanga via all access roads has been lifted. Topanga Cyn. blvd is closed to all but Residents With Proper ID. The reason for this restriction was the Fire & Sherriffs concern that the Mandatory Evacuation areas may have been entered since patrol cars had not been adequately posted at the entry points.
Slightly strange logic. But whatever. The winds are supposed to lessen tomorrow, so if we can make it until then, we will have dodged the bullet again this year.

Others are not as lucky. My friend, Father Greg Boyle, just sent me a Blackberry message that his brother and family have been evacuated in San Diego.
And I just heard from regular WLA commenter Rebel Girl, who lives in the Irvine area and evacuated last night at 10 pm. She is being threatened by what they are referring to as the Santiago Fire. You can find her here in the comments section. I'm hoping she'll keep us updated about that fire as she can….and that she will have good news and the fire will keep away from her house.
I know firefighters in that area are suffering because they don't have the air support they need. Resources are far too stretched.
In fact, for me what is the most amazing—and scary—photo to come out of these fires so far is this one, taken in Santiago Canyon, by Karen Tapia-Anderson for the LA Times. It shows 12 firefighters who got trapped on a ridge as the fire roared toward them. Having no other choice, they deployed their portable shelters, and Ms. Tapia-Anderson got the photo. All 12 survived without serious injury.

Another reminder why one should smile gratefully at every firefighter one passes on the street. Ever.
While you're thinking good thoughts about Rebel Girl's house (and the thousands upon thousands who're threatened in San Diego County), feel free to think bad thoughts about this fool whom Marc Cooper writes about. (Yes I know I linked to this in yesterday's fire post, but it bears repeating.)
NEW NOTE: Conservative blogger "Jon Swift," also takes the odious Glenn Beck smartly to task for his vile fire remarks.
A half million to a million people have been displaced, and counting. This is the largest evacuation in California history. The LA Times is keeping a good running tally of burned homes and structures.
MORE SOON
(sky crane photo from Malibu Surfside News)