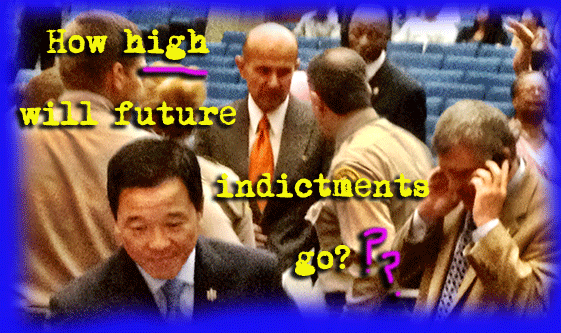 On the day after United States Attorney Andre Birotte unveiled five criminal cases that have thus far resulted in the 18 federal indictments, it is instructive to look beyond Monday's charges to see what they might mean in terms of the feds ongoing probes.
---
MONDAY'S INDICTMENTS POINT TOWARD FEDERAL CHARGES YET TO COME
Birotte made it clear that the 18 indictments unsealed on Monday—which he characterized has alleging "a wide scope of illegal conduct"—-were by no means an endpoint, that investigations were aggressively ongoing into these and other areas.
When asked by Warren Olney how high up the food chain he expected future indictments to go, Birotte said that the feds would "go where the investigations take us."
If looked at as auguries of things yet to come, the three groups of indictments pertaining to the LA County jails are particularly interesting because they point to much broader indictments possibly on the horizon alleging a "pattern and practice" of abuse of inmates by deputies, and of related corruption in the jails.
For instance, one of the five clusters of indictments pertains to incidents at Twin Towers jail facility in which a training officer, Bryan Brunsting, along with Twin Towers deputy Jason Branum, is charged with planning an assault on an inmate "to teach him a lesson," and then together with several other deputies, allegedly assaulting the inmate with kicks, punches and pepper spray to the point of "bodily injury."
The indictment further alleges that Brunsting used deputies he was training to file reports that covered up the abuse and caused the beaten inmates to be falsely criminally charged to mask the beatings.
This alleged strategy of using accusations of violence against inmates to cover-up deputy assualts is one that has frequently turned up in high ticket lawsuits and incidents like the one WLA's Matt Fleischer reported on here last week. In other words, it suggests something more widespread than a few bad apples, but rather "pattern and practice."
---
ALLEGED ASSAULTS ON NON-INMATE VISITORS
The second cluster of indictments, labeled "the visiting center indictment," charges that a sergeant, Eric Gonzalez, and four deputies, with civil rights violations, and alleges they arrested or detained five victims—including the Austrian consul general and her husband—when they arrived to visit inmates at the Men's Central Jail.
According to Birotte, one of those victims suffered injuries that resulted in a permanent disability.
The indictment further alleges that Gonzales, who is no longer with the department, "encouraged deputy sheriffs under his command to make unlawful arrests, conduct unreasonable searches and seizures, and engage in excessive force"….and to "criticize deputy sheriffs' who were not aggressive."
When Gonzales left Men's Central Jail, the indictment charges that the attitudes he promoted continued.
Again, this cluster suggests possible "pattern and practice" allegations to come.
The visiting center indictment is also interesting because none of the people who were allegedly unlawfully detained and/or assaulted, were inmates. Instead they were simply the friends or family of inmates who had come to the jail to visit.
---
A FAILURE OF LEADERSHIP
So how responsible are Lee Baca and Paul Tanaka for the actions alleged in the indictments?
When Miriam Krinsky, Executive Director of the Citizens Commission on Jail Violence, was interviewed Monday on KCRW as part of the station's coverage of the indictments, Krinsky talked about "failures of leadership at the highest level," leadership that, among other things, failed to address a culture in the jails where "a code of silence and excessive force was the norm."
A failure for leadership to address such attitudes, "…causes small problems to become large problems," said Krinsky.
You can listen to the rest of what Krinsky had to say here.
---
HOW WILL THIS AFFECT THE ELECTION?
Kevin Roderick of LA Observed made an interesting point in his KCRW segment on Monday, when he suggested that one of the reasons the sheriff, who has rarely spoken to the press these past months, felt he had to hold a press conference Monday afternoon after the indictments were unsealed, was because he feared a gaggle of reporters with cameras and mics would show up at his Monday night $1500-a-plate campaign fundraiser co-sponsored by Grey Davis, Carmen Trutanich, and attorney Mark Geragos. ("They probably showed up anyway," Roderick said.)
KPCC's Frank Stoltze went even further with his report on what the indictments might mean for Baca's reelection race. Here are some clips.
When Los Angeles County Sheriff Lee Baca woke up Monday morning, he was probably looking forward to the fundraiser being held that very evening for his 2014 re-election campaign.

But his mood probably changed about 9:30 a.m., when news broke that the U.S. Department of Justice had indicted 18 current or former members of the Sheriff's Department on a wide range of misconduct charges that include excessive force, unlawful arrests and obstruction of a federal investigation.

At a morning press conference, United States Attorney André Birotte Jr. pointedly said the incidents "did not take place in a vacuum – in fact, they demonstrated behavior that had become institutionalized."

[BIG SNIP]

…The sheriff faced a daylong deluge of criticism from various corners.

Former federal judge and former U.S. attorney for Los Angeles, Robert Bonner, served on a blue ribbon commission that just over a year ago issued a report that faulted both Baca and his former undersheriff, Paul Tanaka.

"I think [the charges] are reflective of what we found on the Citizens Commission on Jail Violence," said Bonner, "that there has been, in the past, a culture within the Los Angeles Sheriff's Department that fosters the use of unreasonable and unnecessary force."

Bonner called the indictments something akin to a thermonuclear bomb delivered by the U.S. attorney, noting how unusual it is for the federal government to indict law enforcement officials.
Since, along with his other past jobs, Jails Commissioner Bonner also ran the DEA, and the US Border Patrol, he is likely in a position to know a bit about law enforcement.
---
SHERIFF'S CHALLENGER BOB OLMSTED SPEAKS OUT ON THE INDICTMENTS
Bob Olmsted, the retired LASD commander who is challenging Lee Baca for sheriff, pointed unequivocally to the involvement of Sheriff Baca and Paul Tanaka in the alleged hiding of FBI informant, Anthony Brown, which resulted in seven indictments on Monday.
Olmsted was on Which Way LA? with Warren Olney, and spoke to Frank Stoltze at KPCC, along with putting out a statement of his own about the indictments.
Regarding the cluster of indictments stemming from the Anthony Brown matter, Olmsted told Stoltze that the directions to hide FBI informant Brown, and to try to intimidate his FBI handler, could not have originated with the lieutenants and two sergeants who were indicted.
"Lieutenants do not have the capability to make decisions," Olmsted said. "Those came from higher-ups. Being an investigator for years and years and years, I can tell you what's going on: The Feds grabbed the low-lying fruit."
Olmsted also pointed out that when Paul Tanaka was interviewed by the LA Times, and by ABC-7, Tanaka claimed that Baca ordered him to hide prisoner Anthony Brown. "He said it was Lee Baca's idea and I was just following orders," Olmsted noted both to WitnessLA and to Olney. "This could not have occurred without being condoned all the way to the top."
Interestingly, when asked by Olney, if he would have the wherewithal to challenge two very well financed candidates with deep pockets—meaning Baca and Tanaka—Olmsted said he did, that by the end of the year he expected his fundraising to hit the same dollar amount that now LA District Attorney Jackie Lacey had raised at the same point in her campaign against the better financed and better known Carmen Trutanich.
---
LASD WHISTLEBLOWER ALLEGES RETALIATION
Backing Olmsted's observations about the involvement of top leadership, Bradley Gage, attorney for department whistleblower, LASD Lt. Katherine Voyer (among others), told KNBC reporters on Monday that Voyer—-who was a supervisor in the jails at the time when Anthony Brown's identity as an informant was discovered—was told that if federal agents showed up to see inmate Brown, Paul Tanaka was to be called immediately on his personal cell phone, and that no one should use department phones or email, because those forms of communications might be tapped by the feds.
---
LA COUNTY SUPERVISORS GLORIA MOLINA AND MARK RIDLEY-THOMAS WEIGH IN ON THE INDICTMENTS
Molina issued a statement late Monday that read, in part:
"This morning's Department of Justice arrests are disappointing but not surprising – and, in some ways, expected. These arrests reveal that Sheriff Lee Baca's claim 'there is no institutional problem within the Sheriff's Department when it comes to correcting itself' is untrue – especially since 18 current or former Sheriff's Deputies were arrested. Saying you embrace change is not enough. Reform starts at the top, and strong leaders don't simply embrace reform – they initiate it. Unfortunately, strong management has been absent from the Sheriff's Department for years….."
Ridley-Thomas also put out a statement, and told LA Times reporter Seema Mehta that the indictments were yet another indication of the need for strong oversight of the department.
"Ultimately, the next step in this process of reform is oversight and this should not be taken lightly because of the need to make sure that we are building a culture where no one operates under the impression they are above the law," he said in an interview.
Ridley-Thomas said the mechanism would be a blue-ribbon panel that he and Supervisor Gloria Molina proposed earlier this year that has stalled for the lack of a third vote on the five-member Board of Supervisors. They will revisit the proposal in January.
---
NOTE: Obviously, there are lots of important news stories that have nothing to do with the sheriff's department or with new federal indictments. And we'll be diving into those issues tomorrow morning.