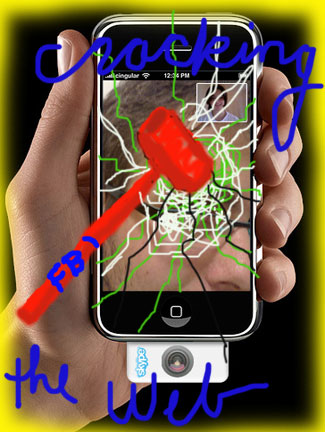 As you may or may not have heard, the FBI is now very worried that bad guys are texting and Skype-ing and Facebook-messaging each other (Duh!), and that law enforcement can't wiretap these forms of communication the way they can cell phones, land lines, email and the like.
Okay, one can understand the concern.
As a consequence the feds want to change a one or two things.
Many critics are flagging this as a privacy issue. But it's much worse than that.
What the FBI and other law enforcement agencies involved are really looking for is the ability to control the design of the technology itself.
Charlie Savage of the NY Times has a very good grip on the basics of what is being proposed. So begin by reading his story.
Here's how it opens:
Federal law enforcement and national security officials are preparing to seek sweeping new regulations for the Internet, arguing that their ability to wiretap criminal and terrorism suspects is "going dark" as people increasingly communicate online instead of by telephone.

Essentially, officials want Congress to require all services that enable communications — including encrypted e-mail transmitters like BlackBerry, social networking Web sites like Facebook and software that allows direct "peer to peer" messaging like Skype — to be technically capable of complying if served with a wiretap order. The mandate would include being able to intercept and unscramble encrypted messages.

[BIG SNIP]

James X. Dempsey, vice president of the Center for Democracy and Technology, an Internet policy group, said the proposal had "huge implications" and challenged "fundamental elements of the Internet revolution" — including its decentralized design.

"They are really asking for the authority to redesign services that take advantage of the unique, and now pervasive, architecture of the Internet," he said. "They basically want to turn back the clock and make Internet services function the way that the telephone system used to function."
Dempsey is not exaggerating.
The Feds are asking to change and approve the next generation architecture of such technologies as Skype, Facebook. and others, in such a way that limits peer-to-peer communication.
Not good.
The discussion Monday on Patt Morrison's show was particularly good—and alarming— on the topic. So listen.
(Susan Landau, formerly of Sun Microsystems, now at Harvard, and Sascha Meinrath, director of the Open Technology Initiative, are both especially good on the show.)
This is only the beginning of the conversation. It is an issue that is very much worth your attention.