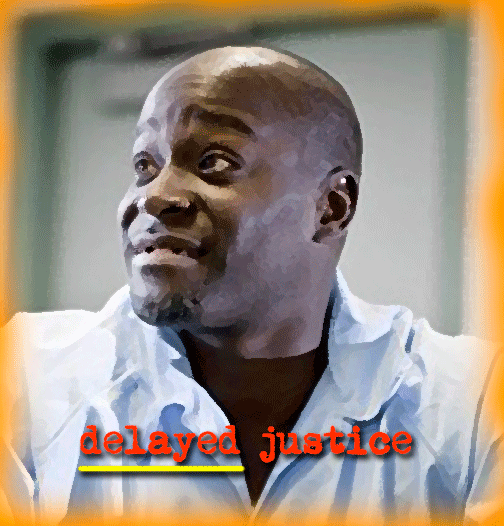 TWO REPORTERS PUBLICLY PROVE INMATE'S INNOCENCE, MAN FREED OVER A DECADE LATER
Daniel Taylor spent twenty-one years behind bars because of a coerced false murder confession, but not because the absolving evidence wasn't out there.
Maurice Possley and his reporting partner at the Chicago Tribune, Steve Mills, found and published strong evidence of Taylor's innocence in 2001. Still, it took prosecutors in Illinois twelve years to own up to the wrongful conviction and dismiss the case.
Possley expertly lays out Taylor's heartrending story in a lengthy piece for the Atlantic. Here are a few clips from the beginning:
During nearly 25 years as a reporter at the Chicago Tribune, I received hundreds of requests for help from convicted defendants. None was more compelling than the hand-printed letter from Daniel Taylor, a 25-year-old inmate at Stateville Penitentiary in Joliet, Illinois. In neat block letters, Daniel explained that he was serving a life sentence without parole for a double murder in Chicago in 1992. Even though Daniel had given a court-reported confession, he said he was innocent and he had police records that proved it.

[SNIP]

…in December 2001, the Tribune published our five-part series, "Cops and Confessions," Daniel's case was the subject of an entire installment. We had uncovered strong evidence of Daniel's innocence—evidence that he was actually in jail at the time of the crime and that his confession was false.

I had never been so confident of a convicted defendant's innocence. And I never imagined nearly 12 years would pass before Cook County prosecutors would admit the truth and dismiss his conviction. But it finally happened. On June 28, 2013, Daniel, who was arrested at age 17, was released at age 38, having spent more than 20 years behind bars.

[SNIP]

The story of Daniel's wrongful conviction begins with the gunshot murders of Jeffrey Lassiter and Sharon Haugabook in an apartment on Chicago's North Side on November 16, 1992. A neighbor heard the shots, looked out the window, and saw four men leaving, one of whom noticed her and pointed a finger in warning. The witness soon identified Dennis Mixon, a West Side cocaine dealer, as one of the men, but police couldn't find him.

Two weeks later, police picked up 15-year-old Lewis Gardner and 19-year-old Akia Phillips for selling marijuana on a street corner near the scene of the shooting. Gardner, who had an IQ of 70, told police he got his drugs from Deon Patrick and implicated Patrick in the shooting. Police said Gardner and Phillips confessed to being lookouts for the gunmen and said they also implicated Daniel Taylor, Joseph Brown, Phillips' brother Paul, and Rodney Mathews.

Daniel, who had been declared a ward of the state at age 11 because his mother was a cocaine addict, had lived in a dozen foster homes over the ensuing years. At that time, he was living in a state facility. He was picked up in December and taken to a police station, where detectives said he confessed almost immediately. His statement was transcribed by a court reporter.

Daniel told us a different version. He said he was smacked in the head with a flashlight and was told that he had been implicated by others. He said the detectives told him if he gave a statement, he would be released, so he told them what they wanted to hear: that he, Mathews, Patrick, and Mixon went to the apartment to collect a drug debt owed to Mixon. According to the statement, when Lassiter said he couldn't pay, Patrick shot him dead. Taylor and Mixon then held Haugabook's arms and Patrick shot her as well.

The woman who had identified Mixon viewed a lineup and said she recognized Daniel from the neighborhood, but that he was not one of the four men she saw the night of the murders.

After the lineup, when detectives told Daniel he was being charged with murder, Daniel realized he was not being released. So he told the detectives the truth: He had been in jail on the night of the murders. A check showed that, in fact, Daniel had been arrested for fighting in a park that night at about 6:45 p.m., and jail records showed he was released about 10 p.m. and the murders occurred at 8:43 p.m.

But Daniel was not released.

Instead, detectives went about constructing a case to support his confession…
---
CALIFORNIA ASSEMBLY COMMITTEE APPROVES BROWN'S $315M PRISON DEAL
The California Assembly Budget Committee Thursday morning unanimously approved Governor Jerry Brown's $315M prison-leasing plan to ease prison overcrowding by the federal court's end-of-the-year deadline. If the bill passes through the Assembly, it will have to contend with the Senate.
Senate leader Darrell Steinberg has publicly opposed Gov. Brown's plan and presented an alternative plan Wednesday that would seek population reduction through a sentencing commission, rehabilitation programs, and a three-year delay on the court's quickly-approaching December deadline. (For more backstory go here.)
The LA Times' Patrick McGreevy has the latest. Here's a clip:
If the bill is approved by the full Assembly, it sets the stage for a showdown in the Senate, where Democrats oppose the measure and are insisting that more money be spent on rehabilitation and drug treatment services for felons so they do not end up back in prison after their release.

Members of the Assembly Budget Committee approved the legislation on a bipartisan 21-0 vote Thursday, with members saying they were allocating the additional money in SB 105 reluctantly and would rather spend the money on other priorities, including schools and universities.

[SNIP]

Assemblywoman Shannon Grove (R-Bakersfield) criticized the decision to spend more to use state prison guards to staff a private prison the state will rent in California City.

Currently, California spends $142 per prisoner per day for inmates in its own prisons and $63 to $67 to lease beds in private facilities out of state.

"I can't understand why we would take it out of the private sector at half the cost and turn it over to the state at double the cost and use taxpayer dollars to fund the difference," Grove said.
---
AND WHILE WE ARE ON THE TOPIC OF WHAT SHOULD BE DONE TO EASE OVERCROWDING…
California voters show broad support for criminal justice reforms that reduce spending and prison population, according to a new survey commissioned by Californians for Safety and Justice and conducted by David Binder Research.
Sixteen-hundred California voters from across the state took part in the survey. Here are some highlights from the results:
Establish a Public Safety Commission, made up of criminal justice experts, to streamline California's criminal statutes with the goal of safely reducing prison costs and maximizing public safety:
74% Support / 14% Oppose

Allow judges to consider, with victim input, releasing elderly and frail inmates that are no longer a threat to public safety, and who have less than life without parole sentences:
70% Support / 22% Oppose

Expand effective treatment programs for mentally ill people instead of putting these people in prison:
80% Support / 13% Oppose

Financially reward counties that reduce the number of people sent to state prison and county jail through evidence-based community programs proven to reduce repeat offending and help former offenders become productive Californians:
59% Support / 28% Oppose

Allow inmates who were not sentenced to life without parole or death to earn early release from prison by completing rehabilitation programs, paying victim restitution, and completing job training and educational programs:
66% Support / 25% Oppose
---
GUNS STOLEN STOLEN FROM CHP VEHICLE
Everyone was upset about the LASD's missing M-16, but in the interest of fair play, it's important that we also bring your attention to a weapon theft during a CHP training session this week. Guns and equipment, including two AR-15 assault rifles and an officer's badge, were stolen from a CHP car Monday afternoon. None of the firearms have been recovered, thus far.
Santa Clarita Valley News' Leon Worden has the story. Here's a clip:
According to both crime broadcasts, the stolen weapons include two AR-15 semiautomatic rifles, two Remington shotguns and two Smith & Wesson .40 caliber handguns.

Also stolen were a bulletproof vest, handcuff keys and the officer's CHP identification.

Some items were recovered near 120th Street and Central Avenue in Los Angeles. Specifically, the officer's duty badge was recovered, but the weapons were not.
(The LA Times' Joseph Serna also covered the theft.)
---
Photo from the Innocence Project of Florida.