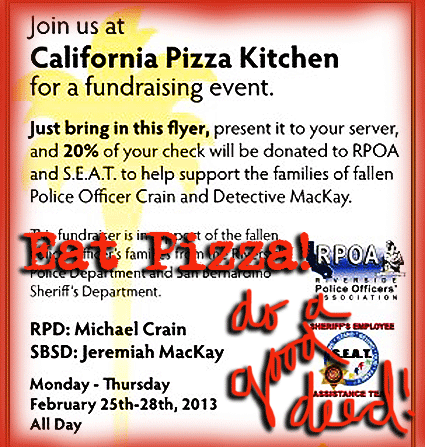 Next week, Monday-Thursday—February 25-28—California Pizza Kitchen has kindly offered to give 20 percent of your dinner check, drinks included, to the families of Riverside Police officer Michael Crain, and San Bernardino Sheriff's Detective Jeremiah MacCay, both of whom were allegedly killed by Christopher Dorner.
Detective MacKay was killed in a shootout with Dorner in Big Bear. Michael Crain and his partner were ambushed by a man assumed to be Dorner. As Dorner had no particular beef with Riverside PD, there seemed to be no reason behind the shooting, other than the fact the men were police officers.
Detective MacCay and Officer Crain each leave behind a wife and two kids.
The fundraising offer will be honored at any California Pizza Kitchen anywhere in the state, from February 25-28—all day.
The deal is you have to print out the flyer I've linked to here and present it to your server.
Pizza and generosity. A good combo.
NOTE: The money raised is being overseen by the Riverside Police Officers' Association and the Sheriff's Employee Assistance Team.