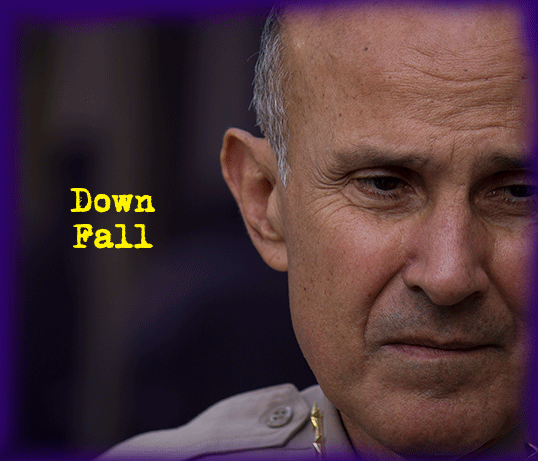 DOWNFALL: FORMER SHERIFF LEE BACA, HIS SECOND IN COMMAND PAUL TANKA AND THE STORY OF HOW THINGS AT THE LASD GOT SO BAD
The insanely long story (more than 11,000 words) I wrote about former sheriff Lee Baca for Los Angeles Magazine is both online and on the news stand.
It is, of course, about way more than Lee Baca as the title suggests.
Regular readers of WitnessLA will find that much in the story covers material with which you're already very familiar. But I think you'll find some new nuggets. More than anything, I hope the tale gathers most of the main puzzle pieces together to form a larger, explanatory picture that will have some impact, particularly for those LA residents who are not obsessive LASD watchers, but who want a deeper understanding of what the hell is going on in the sheriff's department and why they need to care about it.
You can find the online version here.
Here's a small snippet:
Scores of other LASD members, working and retired, have described similar experiences to me. "The requests would come in a bunch of different ways," said a female officer. "You would be told that it would be good for your career to walk precincts for Paul. I never walked precincts, but I've been to three of his events and another fund-raiser he threw for [former city attorney] Carmen Trutanich. I gave money each time. There wasn't a choice."

In one instance she gave $350, at the request of her boss. He in turn was required to collect checks from his underlings, she said, because he was prominently "in the car" with Tanaka. "In the car" was the term for those who operated in the slipstream of the undersheriff's patronage. "If you were single, like I was at the time," she explained, "you were told things like, 'You don't have any kids, so you can afford more.' "

The ring kissing worked in two ways, both directly and in tiers. "In other words," she told me, "I wasn't just writing a check to stay in Tanaka's good graces, I was doing it to get along with my boss. It sounds crazy, but that's how it worked. And if you said no, they'd tell you, 'Then you have nothing coming.' Those were the terms they'd always use—in the car and nothing coming."

One meant you were protected. The other meant you were screwed.
And here again is a link the teaser Q & A that my editor at LA Mag, Matt Segal, did with me, along with a clip to give you an idea of the exchange below:
Q: When you began the assignment for this story a year ago, Baca was still very much in office. He had every intention of running for sheriff again and looked like a shoo-in to win in June. But he "retired" a month before we went to press and not long after the US Attorney's office delivered a multicounty indictment against the Los Angeles Sheriff's Department. As far as LASD critics may be concerned, problem solved, right? So why do you think the story is still necessary?

A: Mainly because I believe the story is far from over. The FBI is looking at a number of new areas of alleged corruption that fall well outside the problems in the jails. And, although Lee Baca is has yanked himself from the LASD's helm, his controversial second in command, Paul Tanaka, is running for sheriff. But no matter who is elected next November, for real reform to take place, the new sheriff will need to have a clear-eyed view of the dysfunction that still plagues this department. I hope this story can provide a bit of that perspective.

A NOTE ON RADIO SHOWS: As I mentioned yesterday, I'm on KCRW's show Press Play with Madeleine Brand today, Wednesday, at noon. You can listen to it online here (or at 89.9 FM) in real time.
Here's a link to the podcast. The LASD segment begins at just about the 26 minute mark.
Then tomorrow, Thursday, I'll be on KPCC's AirTalk with Patt Morrison sitting in for Larry Mantle. Airtalk is on from 11 am until 1 pm, and you can listen live at 89.3 FM. And naturally I'll post the podcast for this show too when it goes up.
Okay, whew! I guess that's it. There'll be one more web extra about the LASD on LA Mag later in the week. I'll let you know when it goes up.
---
PHOTO OF LEE BACA BY SAXON BRICE