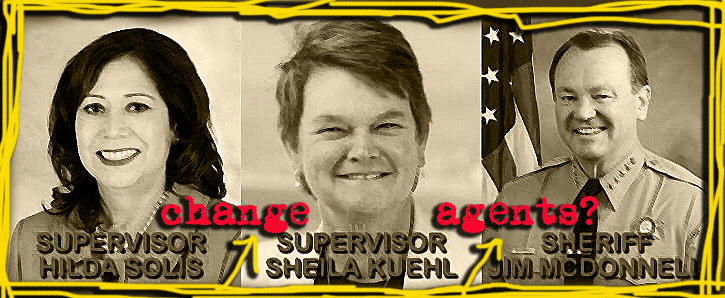 SO CAL ACLU SEZ SUPES VIOLATED THE LAW WITH $2 BILLION JAIL PLAN VOTE
According to Peter Eliasberg, the legal director for the ACLU of Southern California, the LA County Board of Supervisors violated the Brown Act last May when they voted to go ahead with a costly plan to replace Men's Central Jail.
The problem, according to Eliasberg and his fellow ACLU attorneys, is that although the board listed on its agenda for the May 6, 2014 meeting in question that it would be discussing various possible pricey plans for rebuilding MCJ (along with a women's prison at Miraloma) that had been submitted to the board by Vanir Construction Management, there was no specific listing nor any motion in the agenda that indicated the board might actually vote on whether or not to go ahead with one of the plans at the upcoming meeting, and all that such a go-ahead would entail.
But vote they did.
During the meeting, Supervisors Mike Antonovich and Gloria Molina—both of whom had been pushing for a robust jail rebuild and expansion—read a motion into the minutes calling for a vote to proceed with one of Vanir's five plan options. The vote was taken and passed 3-1. (Zev Yaroslavsky voted against going ahead, and Mark Ridley-Thomas abstained.)
Now it turns out that the non-agenda-ized vote may have been a no-no.
---
SO WHAT IS THE BROWN ACT ANYWAY?
In case you're unfamiliar with the statute, the Ralph M. Brown Act was passed in 1953 by the California state legislature (and authored by Assemblymember Ralph M. Brown) to guarantee the public's right to attend and participate in meetings of local legislative bodies. The Brown Act, which has expanded in length over the years due to various amendments, governs certain ways that such meetings must be conducted in order to secure public participation.
One whole section of the Brown Act has to do with requirements surrounding meeting agendas—when they must be posted and what must be on them. To wit:
At least 72 hours before a regular meeting, the legislative body of the local agency, or its designee, shall post an agenda containing a brief general description of each item of business to be transacted or discussed at the meeting, including items to be discussed in closed session. A brief general description of an item generally need not exceed 20 words.
Then in another section specifies:
No action or discussion shall be undertaken on any item not appearing on the posted agenda, except that members of a legislative body or its staff may briefly respond to statements made or questions posed by persons exercising their public testimony rights.
The motion for the vote was not on the agenda.
There are exceptions to the agenda rule, as in cases of emergency and the like. But the jail plan vote doesn't appear to qualify for any of those exceptions.
On Tuesday of last week, the ACLU sent a letter to District Attorney Jackie Lacey's office asking Lacey to look into the matter. The letter—obtained by WLA—opens this way:
Please investigate whether the Los Angeles County Board of Supervisors violated the Brown Act at its May 6, 2014 meeting when Supervisor Antonovich and former Supervisor Molina read into the agenda a joint motion calling for the Board to "adopt" one of five jail plan options presented by Vanir Construction Management, Inc in its Los Angeles County Jail Plan – Phase 2. The Board voted and adopted the motion by a vote of 3-1, with Supervisor Ridley- Thomas abstaining. The written agenda for the meeting did not provide for the Board's voting on any of the options; it provided for only a discussion on the five options by Vanir. …we believe that the vote on the oral motion was a clear violation of the Brown Act. If you agree, we request you take all appropriate action….
Lacey's office—which has acted previously on Brown Act allegations—has yet to reply but, if the past is any guide, the DA's office will take a while before deciding what if any action to take.
---
IS A POSSIBLE ILLEGALITY AN OPPORTUNITY?
The issue is a timely one because, if the vote to approve that multi-billion dollar jail plan was taken today, it would likely have a different outcome. Gloria Molina's successor, Hilda Solis, talked last Monday at her swearing-in about the "incarceration-industrial complex that will sink our economy as well as our society if we allow it to."
Kuehl went even further, expressing in an interview, according to the LA Times, that she wanted to revisit the costly jail plan vote altogether.
That same day, newly sworn-in Sheriff Jim McDonnell said that, while he believed Men's Central Jail needed to be replaced, he thought the size of the replacement plan might need to be "recalibrated" in that 20 percent of the inmates in LA County's jail facilities are mentally ill. Thus, if the diversion programs that he and Jackie Lacey favor are put into place, fewer total beds would likely be needed in the county's facilities
Eliasberg pointed out that the ultra-expensive Vanir plan put into motion in May not only failed to include the population drop in the jails that diversion programs for the mentally ill would surely produce, but also failed to take into account "the substantial downward effect Proposition 47 will have on the jail population."
In addition, it neglected to factor into its jail population math such programs as a greater use in LA County of split sentencing (now required by the state) and the institution of strategies like risk-based pretrial release, that could lower the need for jail beds still further.
"In other words," said Eliasberg, "the [existing jail building] plan is both flawed in concept and was adopted in an illegal manner. The new Board members have an opportunity to rectify these mistakes."
Let us hope so.
---
---
WITNESSLA ON WHICH WAY LA? WITH WARREN OLNEY TALKING ABOUT CIVILIAN OVERSIGHT FOR THE SHERIFF'S DEPARTMENT…AND ALL THAT JAZZ
I'll be on Which Way LA? with Warren Olney Monday night at 7 pm on KCRW 89.9. We'll be talking about the likelihood of civilian oversight for the Los Angeles County Sheriff's Department and similar topics.
You can listen in realtime here.
If you missed realtime, you can listen to the podcast here.
---
---
AND IN OTHER NEWS…..REPORTING ON RAPE: A NECESSARY LEVEL OF JOURNALISTIC DUE DILIGENCE DOES NOT EQUAL INSENSITIVITY
The New Yorker's Margaret Talbot has a level-headed, no nonsense take regarding the reporting debacle that erupted last friday when Rolling Stone magazine suddenly backpedaled madly regarding an explosive article they ran last month about an alleged brutal gang rape at a University of Virginia fraternity house, based on extensive, highly emotion-generating interviews with a student identified only as "Jackie."
Talbot describes the situation, the subsequent storm of reactions that ignited among other journalists and activists, and what we can take away from the whole sad mess.
Here are some clips from her essay:
…..It now appears that key details of the story, reported by Sabrina Rubin Erdely, may not be true. Other journalists—notably, my friend Hanna Rosin and Allison Benedikt, at Slate, and Paul Farhi, Erik Wemple, and T. Rees Shapiro, at The Washington Post—raised doubts about the reporting late last month, but Rolling Stone dismissed them. Then, on Friday, the magazine issued a statement saying, "In the face of new information reported by the Washington Post and other news outlets, there now appear to be discrepancies in Jackie's account." (An earlier version of the statement had emphasized the magazine's trust in Jackie, and regretted that it had been "misplaced"—wording that seemed to settle too much responsibility for the story's shortcomings on Jackie and not enough on the reporter or her editors.) Rolling Stone's statement did not enumerate the discrepancies, but the Post did.

….According to Erdely's story, Jackie was asked on a date, in September, 2012, by "Drew," a lifeguard she worked with at the campus aquatic center. Drew brought her back to the Phi Kappa Psi house and invited her to an upstairs bedroom. There, she was shoved to the floor, fell through a glass table, and, while lying on shards of glass, was raped by seven men. Drew egged them on in what, horribly, seemed to be some sort of hazing ritual for new pledges. When Jackie stumbled out of the fraternity hours later, dazed and bleeding, and found her friends, they convinced her not to report what had happened to the police or campus authorities, because they were worried that it would jeopardize her social standing and theirs.

When the Post contacted the friends last week, they said the account of the attack she gave them that night differed from the version in Rolling Stone. Jackie had not appeared to be physically injured, when they saw her late that night, they said, and she told them she'd been at a fraternity party where she had been forced to have oral sex with multiple men. They offered to get her help, but she declined. While she may have given Erdely a fuller and more accurate description of the events—perhaps she was too shaken that night to tell the friends more—the discrepancies seem to be troubling her friends.

The Post also tracked down the man called "Drew" in the article, whom Jackie identified for the first time this week, and he said he had never met Jackie or taken her on a date. He could be lying, of course, but at the least, his account raises questions about Rolling Stone's. He also was not a member of Phi Kappa Psi. The fraternity chapter issued a statement last week that said it would continue to coöperate with a police investigation into the charges, but had found no evidence for them. "Moreover, no ritualized sexual assault is part of our pledging or initiating process. This notion is vile, and we vehemently refute this claim."

One of Jackie's friends, "Andy," whom the Rolling Stone article described as having advised her not to report what happened to her, told the Post he never spoke to a reporter from the magazine. (The original article leaves ambiguous whether Erdely confirmed this part of the story with anyone other than Jackie.) Andy said, "The perception that I'm gravitating toward is that something happened that night and it's gotten lost in different iterations of the stories that have been told. Is there a possibility nothing happened? Sure. I think the truth probably lies somewhere in the middle."

[SNIP]

Neither "Drew," the central figure the Post tracked down, nor any of the other men at the fraternity party appear in the article outside of Jackie's recollections of them. We don't read about them denying the charge, or unwillingly lending support to it, or complicating or corroborating or casting doubt on Jackie's account in any of the ways they might have. That makes for a remarkably weak piece of journalism, and an enormously frustrating situation. If this story does turn out to be largely false, it will do real damage to the important new movement to crack down on sexual assault on college campuses. "One of my biggest fears with these inconsistencies emerging is that people will be unwilling to believe survivors in the future," Alex Pinkleton, a friend of Jackie's who survived a rape and a rape attempt at U.V.A., said to the Post. "However, we need to remember that the majority of survivors who are coming forward are telling the truth." She went on, saying, "While the details of this one case may have been misreported, this does not erase the somber truth this article brought to light: rape is far more prevalent than we realize, and it is often misunderstood and mishandled by peers, institutions, and society at large." She's exactly right.

When Hanna Rosin interviewed her on Slate's DoubleX podcast, she asked Erdely several times about whether she attempted to contact the accused men, and this is what Erdely told her:

I reached out to them in multiple ways. They were kind of hard to get in touch with because [the fraternity's] contact page was pretty outdated. But I wound up speaking … I wound up getting in touch with their local president, who sent me an e-mail, and then I talked with their sort of, their national guy, who's kind of their national crisis manager. They were both helpful in their own way, I guess.

That isn't exactly journalistic due diligence in a case where such extreme allegations are being made. As a journalist, it's hard to talk to sources who may contradict a vulnerable person with whom you empathize, and in whom you have invested your trust. I hate that part of reporting, and would skip it if I could—but you can't.

[SNIP]

…"Believe the Victims" makes sense as a starting presumption, but a presumption of belief should never preclude questions. It's not wrong or disrespectful for reporters to ask for corroboration, or for editors to insist on it. Truth-seeking won't undermine efforts to prevent campus sexual assault and protect its victims; it should make them stronger and more effective.
For additional backstory on the matter, read the story by the Washington Post's T. Reese Shapiro, which originally questioned the Rolling Stone reporting.