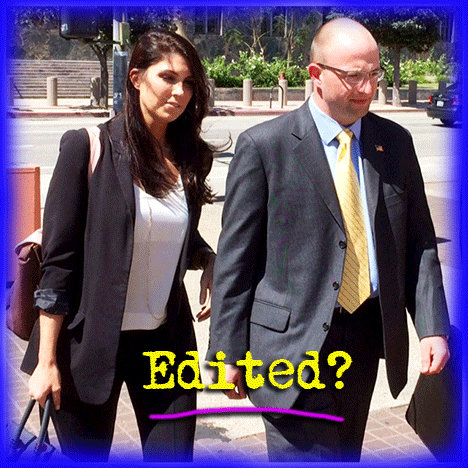 On Friday, the final "witness" for the prosecution in the retrial of Los Angeles Sheriff's Deputy James Sexton was James Sexton himself.
Well, a version of James Sexton, at least.
As they had done in Sexton's first trial, the government finished up its case with someone from the prosecution's camp reading an excerpt from Sexton's November 28, 2012 grand jury testimony, while Assistant U.S. Attorney Liz Rhodes played her part as the prosecutor asking questions.
At Sexton's first trial, the approximately 75-minute dramatic recreation provided the prosecution with plenty of legal ammunition since, in it, Sexton cheerfully admitted to such things as having helped to hide inmate Anthony Brown. Yet the testimony seemed to produce a variety of effects on its listeners, in that Sexton's answers were nuanced and detailed, and appeared to be very candid, rather than defensive or guarded, as if he was doing his best to be helpful to the feds, overly so, really–—never suspecting, one presumes, that he would be indicted and that much of many of his words would be used as evidence against him on some future day court.
Interestingly, the jurors for that first trial took the grand jury testimony so seriously that, as they were deliberating, they asked to have the whole thing read to them, one more time. Then, although six of those jurors voted to convict, six voted to acquit.
Friday's grand jury presentation was structured in much the same way as that of the first trial, with someone reading Sexton's part, and prosecutor Liz Rhodes playing the prosecutor. Again, the reading was taken from Sexton's November 28, 2012, grand jury appearance. (Deputy Sexton appeared in front of the grand jury twice, first in August 2012, then in November, more than a year after the events in question took place in August and September 2011.)
Yet Friday's excerpt was quite a bit shorter than that of last May, lasting around 45 minutes, not the 75 minutes of the first trial. More importantly, various topics, contexts and shadings of meaning present in the first trial's version, are absent from the second.
They have been edited out.
For instance, in a couple of instances in the first trial, Sexton talked about orders that he had been given having come from higher up than just his then immediate boss, Lt. Greg Thompson; that the orders were coming from Paul Tanaka, and/or Lee Baca. He also talked about how, in some cases, he and other deputies had to use Tanaka's name to get others to cooperate.
In the version read on Friday, the references to higher ups, to the "big bosses," or to Tanaka or Baca, are cut—leaving the impression that Sexton is not merely one more team member following orders that come from the department's highest levels, but more of a planner and an originator of strategies, along with Lt. Greg Thompson, Deputy Gerard Smith and Deputy Micky Manzo—three of the six who have been convicted.
In another instance, a paragraph is deleted that explains the fact that the adversarial attitude to the FBI expressed by some of the OSJ personnel—namely by deputies Smith and Manzo—was not one shared by Sexton and his closer friends on the squad, and that they'd talked with each other about this division.
(Operation Safe Jails, or OSJ, was where Sexton worked in 2011, and was the squad that was tasked with hiding federal informant Brown.)
When the qualifying statements that separate Sexton and his buddies from this adversarial attitude toward the feds are edited from Friday's version, one is left with the impression that the attitude is pervasive throughout the squad and that Sexton surely shares it—giving his actions with Brown a critical intent that might otherwise be absent had the edits been restored.
In other cases, some of Sexton's impressions are made to appear as solid knowledge, rather than the gossip-driven surmises, or conclusions likely drawn after the fact, that they are shown to be in the longer, less-edited versions.
And so on.
In other words, a strong argument can be made that these and other similar edits change the context and meaning of some of Sexton's testimony in very crucial ways.
Certain of the changes that the snips produce are subtle, but cumulatively they could make a difference to a jury.
---
THE LAWYERS OBJECT
So is all this snipping and trimming fair-minded?
Sexton's attorneys say no, and point to legal precedents that agree with them.
In a motion in Limine [a pretrial request] made in August, Sexton's lawyers asked the judge to fix the matter by ordering that the problematic cuts be put back in. The motion reads in part:
Deputy Sexton will and hereby does move for an order requiring the Government to present an accurate rendition of his testimony before the Federal Grand Jury on the grounds that the excerpts of testimony offered by the Government are misleading and incomplete and that Deputy Sexton will be prejudiced by the Government's failure to include testimony (included in his first trial) regarding (a) the fact that Deputy Sexton was acting on orders issued by the command and control structure of the Los Angeles County Sheriff's Department ("LASD"); (b) the fact that Deputy Sexton did not have credible, first-hand knowledge necessary to find him guilty of obstruction of justice; and (c) the fact that Deputy Sexton offered demonstrably mistaken testimony regarding the facts of this action. Failure to include this testimony suggests, contradictory to his testimony as read into the record at the last trial, that Deputy Sexton was not acting on orders from LASD authority reaching as high as Sheriff Leroy Baca, and that Deputy Sexton was aware of certain facts of which he had no knowledge. This renders his testimony, as heavily edited by the Government, misleading.

Judge Anderson evidently sided with the government that the cuts were fine. Thus the edits remained.
---
AND IN OTHER SEXTON RETRIAL NEWS….PAUL TANAKA
Former undersheriff Paul Tanaka will testify Monday morning. Unless something changes, however, it now does not appear that former sheriff Lee Baca will be called.