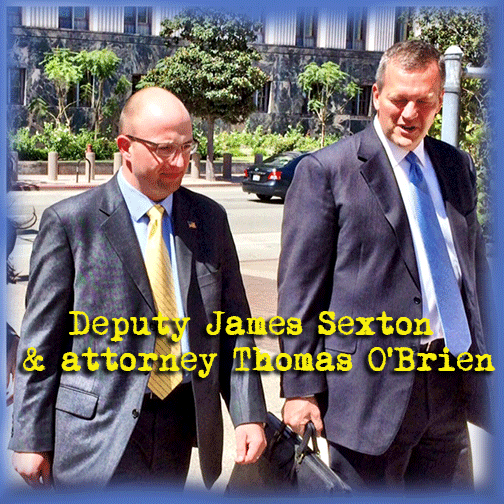 On Thursday, after the testimony of multiple witnesses, the prosecution neared the end of its presentation of its obstruction of justice case against Los Angeles County Sheriff's Deputy James Sexton.
This is the second time Sexton has been tried on the same charges. In May, his previous trial resulted in a hung jury that was split 6 to 6.
The prosecutors worked to set a context for the charges against Sexton when two FBI agents—Special Agent David Dahle and Special Agent Leah Marx—testified about the importance of the government's civil rights investigation into reports of alarming brutality by deputies against jail inmates along with other forms of corruption by LA County Sheriff's Department members, especially those stationed in Men's Central Jail.
Both Dahle and Marx also testified about the ways in which members of the department reportedly attempted to obstruct their investigation after their confidential informant, jail inmate Anthony Brown, was discovered to have a contraband cell phone that he was using to contact the FBI as part of an undercover investigation into wrongdoing inside the jails.
In order to demonstrate this obstructive activity and intent, prosecutors presented such evidence as audio clips of recently convicted department members, Deputy Gerard Smith, Deputy Micky Manzo and Lt. Stephen Leavins, interviewing Brown a few days after the discovery of the cell phone, and trying to get the inmate to reveal what he'd been telling the feds, while also expressing irritation that "somebody else"—namely the FBI—had come in to "clean our house."
In addition, the prosecutors played the video of Sergeants Scott Craig and Maricela Long waylaying Agent Marx outside her apartment and threatening her with arrest.
And there was more of that nature.
Yet surprisingly little of the evidence and testimony presented in the last two days has had anything directly to do with James Sexton, who is accused of helping to manipulate the department's computer system in order to deliberately hide federal informant Brown from his FBI handlers.
On Friday, the feds plan to read sections from one of Sexton's 2012 grand jury appearances, in which—a year after the the Anthony Brown affair took place—the deputy is self-incriminating in what the defense will argue is his eagerness to help the feds, whom he then believed did not regard him as a target.
The grand jury testimony is at the center of the government's case against Sexton.
Then the government will rest, and it will be the defense's turn.
Former undersheriff and current candidate for sheriff, Paul Tanaka, will be called as a defense witness, among others. It is still unclear whether or not former sheriff Lee Baca will also take the stand.
---
AND IN OTHER NEWS….NEW REPORT SAYS PROP. 47 COULD SAVE LA COUNTY $175 MILLION
A new report from the Center on Juvenile and Criminal Justice examines the potential county-level savings and jail population reductions resulting from Proposition 47, the Safe Neighborhoods and Schools Act. The report contends that Los Angeles County would save $100 million to $175 million per year, with between 2,500 and 7,500 jail beds freed. (LA County jails currently release approximately 1,500 people early each month due to overcrowding.)
According to the report, Proposition 47, which will appear on the November 4 statewide ballot, would reduce the status of certain low-level property and drug offenses from felonies or wobblers to misdemeanors.
The report also estimates that San Diego County would save between $28.4 million and $49.7 million, and San Joaquin County between $6.8 million and $12.0 million, per year with the implementation of the proposition.
(The CJCJ report used Los Angeles, San Diego and San Joaquin counties as examples to look at the potential savings for all California's counties.)
The report calculates that the state-level savings would range from $100 million and $300 million—$$$ that would then be transferred to a fund that would support victim services, mental health and substance abuse treatment programs, school truancy and drop-out prevention.
---
LASD OVERSTATES NUMBER OF VIOLENT CRIMES, REPORTS IG MAX HUNTSMAN
After learning that the LAPD was misclassifying violent crime as minor crime, the LA County Supervisors, led by Supervisor Mike Antonovich, asked Inspector General Max Huntsman to take a look at the LA Sheriff's Department's reporting.
Huntsman found misclassification at the LASD too but, weirdly, the trend seemed to be to overstate the number of violent crimes, rather than the reverse. Moreover the errors seemed to be something that could be cured with better training, and did not appear to be deliberate manipulation.
Out of all the LASD's stations, only Marina del Rey had zero errors.
The LA Times' Ben Poston has the story. Here's a clip:
An initial review of crime statistics at the Los Angeles County Sheriff's Department released Thursday found that the agency tends to overstate violent crime.

An audit of 240 assaults from six sheriff's stations found that department personnel misclassified more than 31% of minor assaults as serious offenses, while incorrectly filing about 3% of serious attacks as minor ones.

The report was issued by Inspector General Max Huntsman, the newly installed Sheriff's Department watchdog….

[BIG SNIP]

The overreporting errors at the Sheriff's Department occurred primarily at the initial crime classification stage when deputies make a decision on how to title a crime report, according to the audit. Deputies commonly classify an assault case as a felony when the crime could be charged by prosecutors as either a felony or a misdemeanor, the inspector general's report states.

In one example, Huntsman said, a deputy initially classified a domestic violence incident as an aggravated assault because the victim was struck repeatedly and sustained a bump and cut on the head. The case should have been filed as a minor assault. To meet the FBI's definition of aggravated assault, a victim must suffer serious injury, such as a broken nose or a cut that requires stitches.

Of the six sheriff's stations analyzed, Marina del Rey was the only one with zero errors. The other stations — Century, Compton, East L.A., Lancaster and South L.A. — overreported between 25% and 50% of aggravated assaults during the one-year period reviewed. Meanwhile, the Century station underreported 15% of its serious assaults as minor offenses.
---
DEFENSE DEPARTMENT HAS ISSUED 12,000 BAYONETS TO LOCAL POLICE DEPARTMENTS SINCE 2006
Last month, President Obama asked for a review of what equipment the federal government has been supplying to local law enforcement agencies across the country.
NPR decided to take a look at what the president's report might find. Their story appeared more than a week ago, but we didn't want you to miss this rundown on bayonets and MRAPS distributed.
FYI: Los Angeles, it seems, has been a big winner in the world of combat gear distribution.