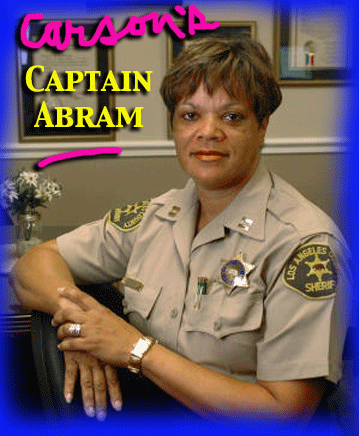 Over the weekend, another chapter surfaced in one of the many perplexing sagas that continue to unspool at the Los Angeles Sheriff's Department.
The latest installment pertains to Captain Bernice Abram, the head of the department's Carson station who has been on administrative leave since mid-April 2011, after she was reportedly caught on tape warning Dion Grim, the alleged head of a drug-trafficking ring, of some impending police surveillance. The "surveillance" was in fact part of a sting operation—-which had been specifically designed to catch Abram in the act of passing police info to the 36-year-old Grim.
Abram also reportedly used her position to get Grim and his sister out of various low-rent legal scrapes, tickets and more, by leaning on various subordinates—in one case reportedly to the point of attempting to discredit a department deputy who was investigating Grim and his friends.
Now, 19 months later, according to a report in the LA Times, the Los Angeles District Attorney's office has declined to charge Abram with anything. In the case of the ticket fixing, et al, the statute of limitations on the various incidents had simply run out.
As for the more serious potential crimes of warning an alleged drug dealer of law enforcement activity that might adversely affect him, the DA's office said they couldn't prove that Abrams knew that Grim was engaged in illegal activities. Nevermind that in August 2011, four months after Abram was relieved of duty, Grim and fourteen of his alleged associates were arrested after a 2-year-long multi-agency investigation into two inter-state drug trafficking rings, one allegedly headed by Dion.
Here are the basics of this maddening tale as outlined in an excellent story by the LA Times' Robert Faturechi.
The trap was set. All that was left for Los Angeles County sheriff's investigators to do was wait and see if the unthinkable was true.

Suspicions had grown that one of their colleagues — a respected captain with more than 150 deputies under her command — was funneling secret information to an alleged Compton drug trafficker. So investigators sent out a phony plan as bait, according to records and interviews, detailing their intention to do surveillance on a house near the suspected trafficker's home.

A few minutes after receiving the fake plans, Capt. Bernice Abram was heard on a phone tap placing a call to Dion Grim, the suspected drug dealer.

Authorities listened in as she tipped him off about the location of the planned surveillance. Stay away, she warned.

That day, in April 2011, sheriff's officials placed Abram on leave, and for more than a year afterward her ties to Grim were investigated. Prosecutors recently declined to file charges against Abram, saying they couldn't prove the captain knew that Grim, a documented gang member, was involved in illegal activities.

But a district attorney's memo explaining that decision provides the most detailed description yet of how the Sheriff's Department came to believe one of its up-and-coming leaders was betraying the agency and shows the efforts officials pursued to prove it. The memo also documents several occasions when Abram appeared to use her authority to help Grim avoid law enforcement scrutiny.

An FBI investigation into Abram is ongoing, a spokeswoman said.

The Sheriff's Department placed Abram on leave along with her niece, a custody assistant who prosecutors said improperly accessed a law enforcement database for Grim. They remain on leave and together have collected more than an estimated $300,000 in salary as the sheriff's internal probe continues, based on posted county salaries….
A department source tells us that, now that the DA's office has declined to prosecute, the LASD's Internal Affairs investigation will likely begin—although the FBI's continuing probe could further delay an IA investigation.
He also said that Abram's actions as reported by the Times contained multiple firing offenses.
Another source familiar with the workings of the Carson station that Abram oversaw, and with the reputation of Grim and his friends, said that the notion that Abram was unaware of Grim's extralegal activities was simply not credible.
Several LASD sources expressed concern that, even if Abram's actions are found to be cause for her termination, she could be allowed to retire ahead of any findings, thereby retaining all pension and benefits that she has accrued at that point.
Back in April of 2011, Sheriff Baca told KABC's John North that he expected the investigation into Abram's possible wrong-doings to be wrapped up in approximately 30 days.
KABC also noted that Bernice Abram and Undersheriff Paul Tanaka have been friends since junior high school but said that the undersheriff assured press that there was no conflict of interest.
---
POST SCRIPT: The fact that the Los Angeles District Attorney's office filed on nothing and allowed the statute of limitations to run out on the lesser matters, is hard for those of us observing to understand. To be frank: absent some more rigorous justification than we have yet heard, it suggests a dispiriting double standard.
It should be noted, however, that whatever the reasons behind all this non-filing-–whether righteous or deeply questionable—-it was the decision of the DA's office under Steve Cooley's tenure.
District Attorney-elect Jackie Lacey will be sworn in next Monday, December 3. Let us hope that she will choose a more agressive route in such matters in the future.