In a report released Monday, the ACLU's analytics team examined 29 large cities in counties with big jail populations across the U.S. and found no evidence that coronavirus-related early jail releases had any impact on crime between March and May, despite warnings from many law enforcement officials and Republican leaders. Instead, overall Part 1 crime rates declined in all but one city the researchers studied.
These cities included the cities of Los Angeles, Riverside, and San Bernardino, as well as San Diego County, and the city/county of San Francisco. Among the cities outside of California were Austin, Boston, Chicago, Detroit, Louisville, Nashville, Philadelphia, Seattle, and Washington D.C.
Denver was the only city that experienced an increase in overall crime during that time when compared with the same months during 2019.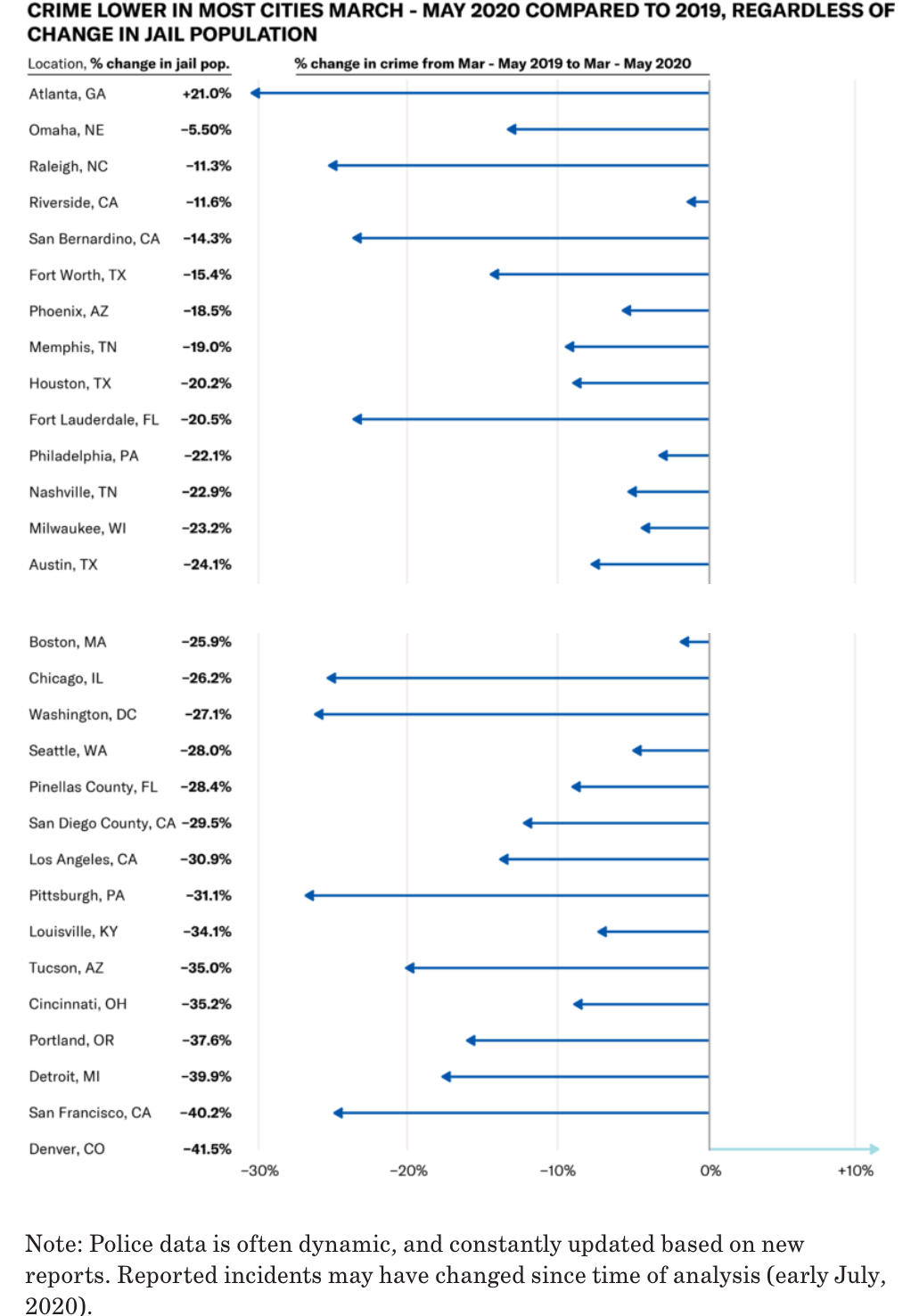 The data analysis revealed no correlation between crime and how much local sheriffs and other justice officials reduced jail populations. "Fewer crimes occurred between March and May in 2020 compared to the same time period in 2019," the report says, "regardless of the magnitude of the difference in jail population."
In LA, where LA County justice officials considerably reduced jail populations, there were 8.5 percent fewer crimes during the first six months of 2020 than in the same period during 2019, data analysis by Crosstown shows. Some categories of crime have ticked upward, however, including vehicle thefts and hate crimes. Murders, too, have increased slightly.
The researchers noted that city crime rates are impacted by a number of complex external factors, including the temperature outside. (Crime rates generally increase during the summer, but less so in Los Angeles, which is temperate year-round.) Fears and stay-at-home orders during the pandemic, too, have likely contributed to the reduction in certain types of crimes, as have efforts to reduce numbers of low-level arrests and prosecutions. Additionally, the crime rates between cities and counties included in the report could not be compared due to several factors, including differences between the jurisdictions in how crimes are categorized.
Carceral facilities have become some of the worst coronavirus hotspots in the nation in recent months.
More than 50,000 people in prisons, jails, and immigration lockups have tested positive for the virus, so far, and more than 600 of those people have died.
In California's state prisons alone (not counting jails and civil immigration prisons), there have been 7,733 COVID-19 cases and 47 deaths among prisoners, and 1,667 cases and three deaths among prison staff.
Yet Governor Gavin Newsom and officials in other states have done far too little to protect those in their custody and care from the dangerous virus, advocates say. This week, protesters chained themselves to the fence outside Gov. Gavin Newsom's home, over deaths that seem to occur daily among the state's incarcerated population.
Reducing jail numbers and arresting fewer people, which each of the 29 cities/counties the ACLU researched have done, "has undoubtedly saved lives in jails and in surrounding communities."
The researchers note that CA judges ended the statewide $0 bail policy, and haven't signaled that they will bring it back, despite the fact that the pandemic is getting worse, not better. "Any and all policies to reduce arrests in light of COVID-19 should extend indefinitely, and should not be replaced with a system of fines and fees."
"We don't have to choose between public safety and public health," the analytics team write. Local and state government officials must continue and boost efforts to reduce the number of people locked inside prisons and jails until the threat of COVID-19 subsides.