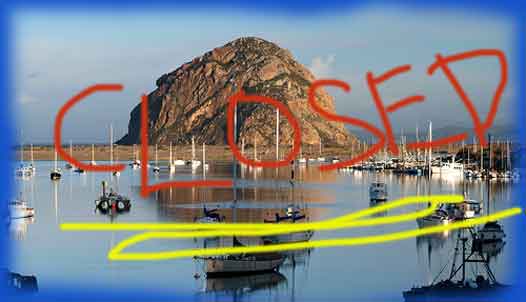 FISCAL BLOWBACK: BEFORE SHUTTING STATE PARKS….PLEASE DO THE MATH
There were committee hearings yesterday on Governor Arnold Schwarzenegger's plans to close 223 of California's State Park, Beaches and Recreation Areas, with the park gates being padlocked as soon as Labor day. Those proposing the closure say that shuttering the parks could save $70 million in park costs through June 30, 2010, plus an additional $143.4 million during the 2010-2011 fiscal year.
(Look at the list. It's pretty startling. Morro Bay. Pfeiffer Big Sur State Park. Parts of Lake Tahoe. Malibu Creek, Point Mugu, the Humboldt Redwoods, the Anza-Borrego Desert and the Salton Sea—plus 215 more.)
According to park advocates, however, in addition to the ghastly loss to the state's sense of well being that park closures represent, shutting down the state's parks may be fuzzy-headed thinking from a fiscal perspective too.
Annually, 80 million people visit California's State Parks and, in addition to paying park fees and the like, those visitors also mean substantial amounts of money to the surrounding economies.

The Sierra Sun, which covers the region that includes parks in such areas as Truckee and Tahoe, reports:
In a survey done in 2002, state parks brought $6.5 billion in revenue to private businesses across the state from tourism, said Pam Armas, California State Parks Sierra District Superintendent, and the Truckee-Tahoe area is particularly influenced by park visitors.
And according to the SF Chronicle:
[Elizabeth Goldstein, president of the California State Parks Foundation] said that, for every dollar spent, the state parks generate $2.35 in tax revenue from economic activity in the local communities surrounding the parks. That means the state could potentially see a [LARGE] reduction in revenue by closing the parks.
In this morning's editorial, the LA Times points out that closing the parks may not just be loss of revenue, park shutdowns may cost the state big bucks in terms collateral damage and unexpected payouts.
Closing parks doesn't mean that people won't use them. It means that law-abiding people won't use them. Among those who will: meth lab operators, marijuana farmers, the homeless, taggers, poachers, rogue mountain bikers and off-roaders, as well as just plain campers who think the rules don't apply to their personal visits. Wildfire danger would increase from illegal, unsupervised campfires, sparks from off-road vehicles and drug operations. The cost of a single catastrophic fire could wipe out most of the savings from closing parks. Crime could turn the parks into expensive public nuisances.

[SNIP}

Though details haven't been worked out, so far the proposal calls for putting up to 220 parks on "caretaker" status, which means turning off the water and power, boarding up the windows and sending regional patrols in every now and then to look for damage that needs immediate attention. This isn't a workable scenario. Imagine trying to "close" the 600,000-acre Anza-Borrego Desert State Park in San Diego County.

Like any homeowner who moves but has a legal responsibility to keep the vacant property in decent order, the state cannot simply lock the gates of state parks and walk away. Nor is this a long-term solution to the state's budget crisis. Californians expect to see these treasured resources reopened within a couple of years, and they must be maintained with that in mind, not as potential lots for the auction block. The state is hurting badly, but it is not for sale.
Math is your friend, people!
****************************************************************************************************

BLOWBACK FROM CUTTING SUMMER SCHOOL
Another worthwhile LAT Op Ed is by Gisselle Acevedo, president and chief executive of Para Los Niños. She writes from personal experience about how, slashing the district's summer school programs means that many parents will be "forced to choose between feeding their children or protecting their children. "
******************************************************************************************************************

BLOWBACK FROM "RHETORICAL RECKLESSNESS"
Somewhat contradicting yesterday's unpleasantly lecture-laden LA Times editorial about how those of us pro-choice people should just chill on the subject of inflammatory anti abortion rhetoric, Times columnist Tim Rutten comes down rather differently on the subject. Here's how he ends his column:
….It's fair to wonder whether any of those who have rhetorically insisted that voluntarily terminating a pregnancy and shooting an abortion provider are equally murder, or that a Planned Parenthood clinic and Auschwitz are in any fashion analogous, now are willing to entertain the possibility that verbal extremism — however effective as argument — has consequences.

In the American debate over abortion, the extravagance of the moral argument and the intemperance of its expression have had consequences — and we have the graves to prove it.