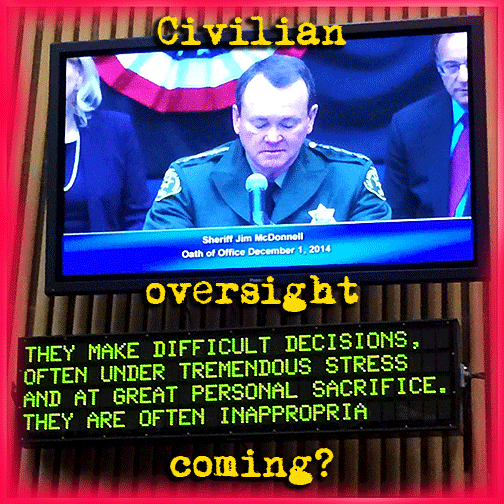 CIVILIAN OVERSIGHT FOR THE LA SHERIFF'S DEPARTMENT IS PROPOSED AGAIN, THIS TIME APPROVAL LOOKS LIKELY
One brand new member of the LA County Board of Supervisors, Hilda Solis, has joined veteran board member Mark Ridley-Thomas in championing the idea of a civilian oversight commission for the long-troubled sheriff's department.
Next Tuesday, December 9, Ridley-Thomas and Solis, will introduce a motion to establish such a commission.
This past summer, MRT and termed-out supervisor, Gloria Molina, did all they could to get a similar motion passed without success. At that time, termed-out supe Zev Yaroslavsky was considered the swing vote who might provide the third favorable vote necessary for passage, but no swinging ever took place. Mike Antonovich has been firmly in the NO camp all through discussions of the matter, and Don Knabe, who was, at one time, thought to be a far outside possibility as a swing vote, never came over to the YES column either.
Now, however, Solis and Ridley-Thomas appear to have their third supporter in newly sworn-in supervisor Sheila Kuehl, who had expressed strong support for a civilian commission while on the campaign trail.
Kuehl then reaffirmed her support in an interview on Thursday.
Back in the summer, one of the strongest voices in favor of the creation of the commission was the man who, as of Monday, has taken over the helm of the sheriff's department, Jim McDonnell. A few weeks prior to the board's decision to vote down the commission proposal this past August, McDonnell issued a lengthy statement explaining why he supported the idea, which he called "a necessary long-term investment in creating a better-run department."
The statement read in part:
I support this concept and believe that there is great value in creating an independent civilian oversight body that would enable the voice of the community to be part of the LASD's pathway forward. A civilian commission can provide an invaluable forum for transparency and accountability, while also restoring and rebuilding community trust in the constitutional operation of the LASD.

The Citizens' Commission on Jail Violence, on which I served, underscored the need for comprehensive and independent monitoring of the LASD and its jails and recommended the creation of an Office of Inspector General (the "OIG") – an entity that is now in the process of formation. While our Commission opted not to express any view regarding a civilian commission, I believe that the time has come for the creation of an empowered and independent citizens' commission to oversee and guide the work of the OIG and help move the Department beyond past problems.

Though a civilian oversight commission may be a new concept for LASD, it is not new to me or to law enforcement in general. Indeed, I spent many of my 29 years at the LAPD working with its citizens' Police Commission. I have also worked with a citizens' commission as Chief of Police in Long Beach. I have seen first-hand the value of empowering the community's voice and welcome the opportunity to work with the Board of Supervisors, legal experts and community groups in developing the best possible model of civilian oversight for the LASD…..
At the time, John Scott—who acted as interim sheriff after the unexpected resignation of former sheriff Lee Baca last January—told ABC7 reporter Robert Holguin that he was generally for the commission but felt it was too soon to form one.
The Ridley-Thomas/Solis motion (which you can read in full here) also proposes the formation of a "working group" that will have 90 days to put together recommendations regarding the citizens commission's "mission, authority, size, structure, relationship to the Office of the Sheriff and to the Office of the Inspector General."
(We would presume and hope that the working group would also make recommendations about the proposed commission's relationship with the board of supervisors. While a citizen's commission would be the board's creation, it should not be its creature.)
The working group would be made up of the sheriff (or his designee), the inspector general (or his designee) and one group member to be appointed by each supervisor.
Barring anything unforeseen, look for the civilian oversight commission to finally get a go-head next Tuesday.
---
LAPD UNION CONFOUNDS OBSERVERS BY DUMPING LONGTIME SPOKESMAN
In a move that has surprised many LA reporters who cover police issues, the LAPD's union, the Los Angeles Police Protective League, has parted ways with longtime spokesman Eric Rose. A favorite of several administrations worth of department leaders, Rose is known for his breadth of knowledge of local law enforcement, and his ability to communicate with journalists in such a way that has repeatedly benefited both the union and the LAPD.
Most learned about Rose's departure when he sent out a note early in the morning of Saturday November 29, explaining that Englander Knabe & Allen, the firm in which he is a partner, would no longer be representing the league. Rose has been the voice of the union for 19 years.
The LAPPL's decision to acquire a new spokesman is viewed by some department watchers as a desperation-driven maneuver by union leadership frantic to find some way to pressure city officials into forking over a new-and-improved contract. (Good luck with that. In July, the department's rank file rejected a proposed contract because, despite its multiple concessions, it contained no cost-of-living adjustment [COLA]—nevermind that, due to the city's $242 million budget shortfall, no other city employees were getting COLAs either, including firefighters.)
On Monday, Daily News columnist Rick Orlov called the LAPPL's action "another sign of its recent internal strife."
---
REPORT CALLS FOR POLICY REFORM TO ENSURE AMERICANS WITH CRIMINAL RECORDS HAVE "A FAIR SHOT AT A SECOND CHANCE."
A just-released report by the Center for American Progress called One Strike and You're Out: How We Can Eliminate Barriers to Economic Security and Mobility for People with Criminal Records looks at the multiplicity of ways that a single criminal conviction, even for a minor offense, can permanently damage an individual's ability to rebuild his or her life even years after release from jail or prison.
Here's how the report opens:
Between 70 million and 100 million Americans—or as many as one in three—have a criminal record.

Many have only minor offenses, such as misdemeanors and nonserious infractions; others have only arrests without conviction. Nonetheless, because of the rise of technology and the ease of accessing data via the Internet—–in conjunction with federal and state policy decisions—having even a minor criminal history now carries lifelong barriers that can block successful re-entry and participation in society. This has broad implications—not only for the millions of individuals who are prevented from moving on with their lives and becoming productive citizens but also for their families, communities, and the national economy.

Today, a criminal record serves as both a direct cause and consequence of poverty.

It is a cause because having a criminal record can present obstacles to employment, housing, public assistance, education, family reunification, and more; conviction can result in monetary debts as well. It is a consequence due to the growing criminalization of poverty and homelessness. One recent study finds that our nation's poverty rate would have dropped by 20 percent between 1980 and 2004 if not for mass incarceration and the subsequent criminal records that haunt people for years after they have paid their debt to society.

Failure to address this link as part of a larger anti-poverty agenda risks missing a major piece of the puzzle….
And there is this:
…The lifelong consequences of having a criminal record—and the stigma that accompanies one—stand in stark contrast to research on "redemption" that documents that once an individual with a prior nonviolent conviction has stayed crime free for three to four years, that person's risk of recidivism is no different from the risk of arrest for the general population.

Put differently, people are treated as criminals long after they pose any significant risk of committing further crimes—-making it difficult for many to move on with their lives and achieve basic economic security, let alone have a shot at upward mobility.

The United States must therefore craft policies to ensure that Americans with criminal records have a fair shot at making a decent living, providing for their families, and joining the middle class. This will benefit not only the tens of millions of individuals who face closed doors due to a criminal record but also their families, their communities, and the economy as a whole.
The full report is 50 pages long, and features lots of interesting data, plus a series of recommendations for policy change, so worth reading for those of you with an interest in the topic.
---
LASD DEPUTY JAMES SEXTON SENTENCING RESCHEDULED FOR DECEMBER 15
Former Los Angeles County Sheriff's Deputy James Sexton, who was scheduled to be sentenced on December 1, will now be sentenced by Judge Percy Anderson on Monday, December 15.
(Earlier, federal prosecutors had switched Sexton's sentencing date from this past Monday-–the day that the new sheriff would be sworn in—to December 8th. Then more recently the feds agreed to the second date change at the request of Sexton's attorneys.)
Sexton, if you'll remember, was the seventh sworn member of the Los Angeles Sheriff's Department to be convicted of obstruction of justice charges in connection with the FBI's investigation into civil rights abuses by sheriff's deputies inside LA County's troubled jail system.
Specifically, Sexton was found guilty in mid-September of this year of charges of obstruction of justice and conspiracy to obstruct justice because of his part in helping to hide federal informant Anthony Brown from his FBI handlers.
The September trial was the second time that Deputy Sexton had been tried for the same charges. His first go-round, which took place in May of this year, resulted in a hung jury, that split six-six.
The other six department members, who were sentenced in late September, received sentences by Judge Anderson that ranged from 21 months to 41 months, with an additional year of superversion after their release.
The six are required to surrender for their terms on January 2.
If Sexton is sentenced to prison, he is expected to be asked to surrender within a similar time frame.