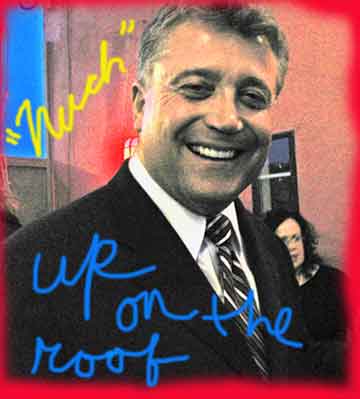 This weekend I had a short but interesting chat with our soon-to-be City Attorney, Carmen Trutanich.
Now, let me say at the outset that I have had mixed feelings on the issue of who really ought to have replaced Rocky Delgadillo. It was a contentious and mud-fraught race with people whom I like and respect on opposite sides of that battle.
But, one thing I do know for certain, like it or not, Carmen Trutanich received the most votes and, come July 1, he will take over as LA's City Attorney.
So it behooves us….or me in this case….to get to know the man.
My first swipe at this endeavor took place on Friday night at Kevin Roderick's LA Observed 6th Anniversary Party, a decidedly swell affair that was held one-story up in the balmy night air at the Formosa Cafe's roof garden.
(The guest list and photos may be found here at LA Observed. The everybody-showed-up crowd was an indication of how much influence that LA Observed—a mere blog, doncha know—has gained in the six years of its existence. Go Kevin!)
After talking with a string of editor/writer pals, and a drolly intelligent retired LA Sheriff's Department commander (nobody's more fun to talk shop with than smart cops), I waded further into the crowd and happened to spot Trutanich.
I introduced myself and, after a bit of opening chit-chat, I asked him what he intended to do about gang violence reduction—other than, you know, gang injunctions.

"I have several things I plan to do that won't cost any money and have been proven to work," he replied confidently.
Sure, I thought. Like new gang injunctions, instead of the old gang injunctions. How irritatingly predictable.
But that's not what Trutanich said.
He said he thought one of the keys to lowering gang violence was to offer alternatives to gangs, specifically employment for former gang members. (I am paraphrasing here, as I was taking mental, not written notes.) Therefore, when he went after law-breaking corporations, Trutanich told me, "…instead of fining those companies, I'm going to make them set aside a certain number of jobs for guys who want to get out of gangs."

Hmmmm. It was an unexpectedly simple and good idea. What was more, it was likely doable.
Right now, one of the huge problems for LA's wrap-around job training and referral services for recovering gangsters and newly released parolees, is that given the economic climate, jobs for former homeboys have almost entirely dried up and blown away. This means that scores of men who honestly want to change their lives, are having a terrible time finding legal means to make the money to pay their rent and to buy their baby's diapers. When people with advanced college degrees are out of work, why would one hire a former felon who may or may not have a GED?

But, by using jobs, not fines, as a penalty, the City Attorney could potentially produce a bunch of new positions and, in so doing, introduce reluctant corporations to the experience of giving back to the community by hiring from the so-called at risk pool of employees. (The truth is, once most company managers try hiring former homeboys, they find themselves—not burned, as they have feared—but moved and enthused by the experience.)
Where would he get the referrals? I asked Trutanich. After all, the City Attorney's office was in no position to know who was most in need of a job.
Well, one of the main places he would go, he said, was to Father Greg Boyle and Homeboy Industries. "They really know how to do it."
Right answer, I thought. If he had instead told me that the City Attorney's office was going reinvent the wheel by setting up some kind of internal referral program—a thing that they are entirely ill-equipped to do—I'd have known that ego, not practicality was calling the shots. Instead, however, he indicated a strong desire to partner with the city's most successful existing agencies, like Homeboy and others. (That's better than the mayor's doing, I thought but didn't say.)
"And I know that jobs really work. You give a guy something to do, and it will change him." A pause. "D'you know what Father Greg's motto is?"
Before I could get a grip on myself, I recited the phrase along with him:
"Nothing stops a bullet like a job."
At our spontaneous spoken-word duet, the party goers nearest glanced over to see if Nuch and I were about to burst into song.
There was more to the conversation. He had some ideas for programs he wanted to work out with the school district. While interesting, given LAUSD's present state of fiscal catastrophe, his district partnership notions sounded less probable.
We also talked about enforcement. And, although I wasn't sure I agreed with all his law-and-order-strategies, I found them thoughtful and worthy of further discussion.

In addition, he had some intriguing ideas about how men and women could earn their way off the gang database list. (We supposedly have an off-ramp from the database now, except that, last time I checked, only one poor soul had ever actually made it off.)

Look: I cannot possibly yet assess how much of what Mr. Trutanich said may be classified as political-speak and/or good intentions, and how much will translate into grounded action. But, at the very least, I came away far more optimistic about his upcoming tenure than when I walked in.
As I said, this was round one. Look for round two later this summer.