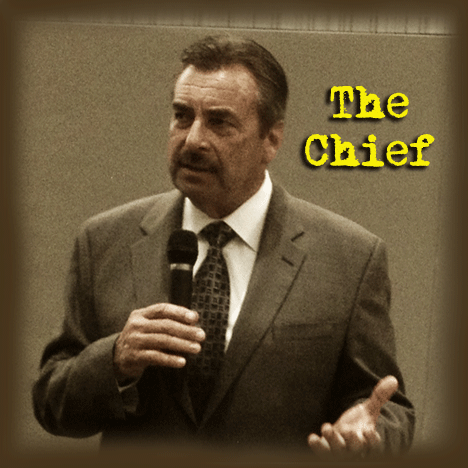 LAPD Chief Charlie Beck did a couple of back-to-back interviews this week—with KPCC's Larry Mantle on Wednesday and on Tuesday with KNX1070's Ed Mertz.
In both instances, the chief said that the department is going to conduct anonymous survey of more than 500 of its officers about issues of racism, discipline, and a list of related issues, the idea being to find out what officers think and experience that they may not be willing to come forward to say.
On Larry Mantle's show Beck and Mantle also had an interesting exchange about whether or not the chief would ever endorse one local candidate over the other. The answer was NO—"Unless I believed that person was dangerous to the city." Even then, Beck suggested, he would likely say something behind the scenes, not as a public statement.
This is, of course, quite different than the point of view Sheriff Lee Baca has taken. (In the past, Baca has endorsed candidates for City attorney and for LA's District Attorney, among others.)
---
MEANWHILE, LAPD OFFICER EARL WRIGHT FILES RACIAL HARASSMENT SUIT AGAINST LAPD
FoxLA reports on a lawsuit brought by Earl Wright, an LAPD officer alleging racial harassment on the job at LAPD's Central station, as recently as 2010. (The lawsuit was filed in April 2012, but is just now coming to court.)
Here's the complaint if you wish to read it. If true, it describes a climate of ongoing racial harassment—with liberal references to watermelon and the n-word. According to the complaint, the harassment was not limited to Wright, but states he observed an Asian American officer being similarly harassed, and also a female colleague, who was allegedly sexually harassed then pressed not to report it. In many cases, the incidents were allegedly caused by same officer who, according to the complaint, supervisors declined to reprimand.
Anyway, read it yourself and see what you think.
---
NEW LASD ASSISTANT CHIEF TERRI MCDONALD TO BE ON WHICH WAY LA?
The LASD's new Assistant Chief in charge of custody is scheduled to appear on Warren Olney's Which Way LA? today Thursday. She is also expected to be interviewed by Patt Morrison for the LA Times in the next day or so.
Here's the link to the Terri McDonald interview.
---
CA CONSERVATIVE LAWMAKERS INTRODUCED THEIR PACKET OF REALIGNMENT BILLS ON TUESDAY
The threatened cluster of counter-Realignment bills were introduced into committee on Tuesday. The idea of increasing penalties for those who take off or disable their GPS bracelets (introduced by Sen. Ted Lieu) is one that we think has merit, if written correctly.
As for the rest….we'll be keeping an eye on them. Public hysteria plus shoddy reporting, like we have too often seen on this topic, usually makes for bad laws.
Don Thompson of the AP has more details on this story.
---
AND SPEAKING OF LEGISLATION….CONGRESSMAN BOBBY SCOTT WILL BE INTRODUCING THE YOUTH PROMISE ACT TODAY, THURSDAY

We've been fans of the Youth Promise Act for a long time. But although it has, in the past, gathered lots of sponsors, it has not gotten very far in terms of passage. But times are changing. Here's some info on the bill from Scott's site:
Under the Youth PROMISE (Prison Reduction through Opportunities, Mentoring, Intervention, Support, and Education) Act (H.R. 2721), communities facing the greatest youth gang and crime challenges will be able to develop a comprehensive response to youth violence through a coordinated prevention and intervention response. Representatives from local law enforcement, the school system, court services, social services, health and mental health providers, foster care providers, other community and faith-based organizations will form a council to develop a comprehensive plan for implementing evidence-based prevention and intervention strategies. The plans can be funded up to four years. The act also enhances state and local law enforcement efforts regarding youth and gang violence.

Nothing in the Youth PROMISE Act eliminates any of the current tough on crime laws, and while it is understood that law enforcement will still continue to enforce those laws, research tells us that no matter how tough we are on the people we prosecute today, unless we are addressing the underlying root causes of criminal activity, nothing will change.

Aside from reducing crime and providing better results in the lives of our youth, many of the programs funded under the Youth PROMISE Act will save more money than they cost. The State of Pennsylvania implemented a process very similar to the one provided for in the Youth PROMISE Act in 100 communities across the state. The state found that it saved, on average, $5 for every $1 spent during the study period…