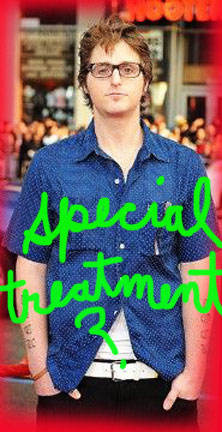 On Tuesday, lawyers for 31-year old Cameron Douglas, the son of actor Michael Douglas, cut a deal with federal prosecutors for charges that the younger Douglas had moved quite a bit of meth and some cocaine over a three year period, plus been caught with heroin when he was supposed to be under house arrest. Under federal sentencing guidelines, the minimum for a crime like his was 10 years in lock-up. Again, that's the minimum. In a Federal District Court in Manhattan, Douglas got half that: a 5-year sentence.
The NY Times reports on the Douglas story. And here's what the AP had to say.
So did his famous family help? Oh, sure. Of course. It is preposterous to think otherwise. More likely having a family who could afford a smart lawyer, and who also knew how to make a good emotional case in 37—count 'em—letters of support helped the most. There are a lot of federal judges who are sick to death of handing down monster sentences to people who are addicts looking to support their habit. Douglas appeared to be dealing in more quantity than that. But the letters explained that he was a poor little, famous parent-stunted, drug-addicted rich man/boy—yadda, yadda, yadda. Or whatever it was that Michael Douglas wrote. Gee," frameborder="0" allowfullscreen> Officer Krupke and all that. And it's likely true.
But the sentence wasn't entirely out of line. Surely, the judge and prosecutors cut him something of a break. But he cooperated—translation, he snitched, or tried to snitch (It isn't quite clear). Had he been poor and a gang member, he'd have done a lot more time. I know someone of about Douglas's age who was sentenced earlier this year and fell into precisely all the same categories as Douglas—short the famous friends and family, and stellar opportunities growing up. (He got caught dealing for a duration of several years, but was no where near top of the pile, non-violent charges, cooperated with prosecutors, I mean, unlike Douglas, he named names.) But the guy I know is a former gang member from the projects and is doing 14 years federal time (and very relieved at that sentence. He knew it could have been a lot longer). So let's not pretend that the goddess of criminal justice is blind to influence.
Still, speaking purely personally, it is hard for me to resent the five year, cut-down jolt as I can see no particular public good served by a longer sentence. Five years means that Cameron Douglas has a chance at making a life for himself, becoming a productive tax payer and a decent man. Let's hope he takes it.
Are there lots of instances where others are at least as deserving of that chance?
Yep.
Here's one random example. There are many, many, many more,