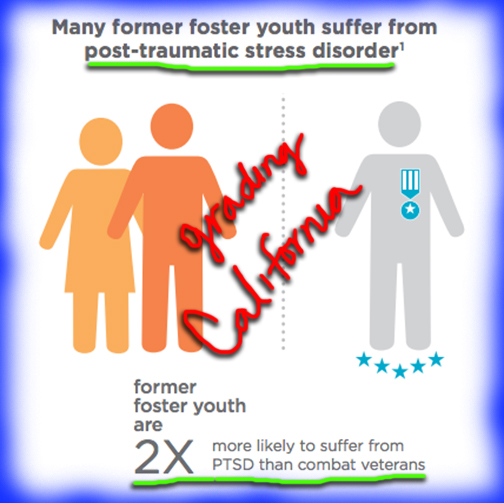 CALIFORNIA GRADED ON 31 AREAS CONTRIBUTING TO KIDS' WELL-BEING
In a yearly report card, Children Now (a national, state and local research, policy development, and advocacy group) gave California letter grades for 31 areas that impact a child's overall well-being. The state received less than ideal grades in important categories like juvenile justice (D), childhood trauma and resilience (D-), school climate and discipline (C), mental and behavioral health (D+), foster youth health (C-), and child abuse and neglect prevention (D).
An estimated 18%—or 1.5 million—of California kids have experienced two or more so-called "adverse childhood experiences" (ACEs). The report card gave the state a D- in the category of childhood trauma and resilience.
"Children experiencing traumatic events can have difficulty functioning in all areas of their lives," said Children Now President Ted Lempert. "Trauma can impede emotional well-being, impact school performance and set kids up for a lifetime of health problems. California must do more to assess children for trauma and find them the help they need to heal."
The traumas kids face have long-term consequences, Lempert pointed out.
"Kids with traumatic childhoods are more likely to become adults who need extra resources in everything from mental health, to employment, to criminal justice involvement. Providing kids with trauma assessment and support isn't just the right thing to do, it's the smart thing to do economically."
The report card praised efforts to address and treat trauma at the community level by the Children's Clinic in Long Beach and the Center for Youth Wellness in San Francisco as models worthy of replication across the state. A partnership between UC San Francisco and San Francisco Unified School District brought trauma informed therapy into schools, which reportedly contributed to an 89% drop in suspension rates and a 42% drop in violent student incidents.
The report recommends California focus more energy on policies and programs that support trauma prevention and healing, especially for kids in underserved communities.
In the juvenile justice category, Children Now gave the state a D, saying that contact with the juvenile justice system often re-traumatizes kids by punishing them, rather than helping them. The report card calls for a trauma-responsive justice system, more oversight of juvenile justice agencies, incentives for investing in evidence-based policies to give kids better outcomes.
The report does credit the state for efforts like Prop. 47, which reduced six non-serious felonies to misdemeanors, and the Positive Youth Justice Initiative which focuses on helping crossover kids—those who are involved in both the foster care and juvenile justice systems—by treating trauma, reducing confinement, and provides wraparound services to help teens transition into adulthood.
California received a few As and Bs, too, in categories like health insurance (A-), afterschool and summer learning (B-), and preschool (B-).
Head over to the report to learn more about the state's other scores.
---
CALIFORNIA'S SPENDING ON CORRECTIONS RISES
In the years since October 2011, when California implemented realignment in response to a federal mandate to reduce overcrowding in prisons, state spending on prisoners has risen, while the prison population dropped by approximately 30,000.
(If you need a refresher, in October 2011 realignment shifted the incarceration burden for certain low-level offenders away from the California Department of Corrections and Rehabilitation to the states' 58 counties.)
Five years ago, the state spent $49,000 a year on each inmate. Now, that number has risen to nearly $64,000.
There are a few reasons for the unexpected higher spending. One is a court mandate that the state improve medical care within its prisons—a costly endeavor. Another reason for the lack of savings is that the California Department of Corrections and Rehabilitation still budgets for around the same number of personnel, despite having far fewer prisoners under its watch. Before realignment, the CDCR hired one new prison guard for every six additional inmates. After realignment, the CDCR changed the formula. If the formula had not changed, in upwards of 4,000 prison guards would have been let go as the prison population dropped.
Stanford criminologist Joan Petersilia says anti-recidivism programs are expensive to run, but that savings will likely come in the long run. "All of us working on the bill itself…knew it couldn't possibly save money," said Petersilia. And Former Secretary of the Department of Corrections and Rehabilitation Jeffrey Beard noted that the state potentially saved billions of dollars on new prisons that were unnecessary to build once the prison population started dropping.
Reuters' Robin Respaut has more on the issue. Here's a clip:
When asked why the corrections budget hasn't decreased, California officials often point to a court order to improve inmate medical care.

In 2013, responding to the mandate, the state opened a new medical facility in Stockton, called the California Healthcare Facility, designed for inmates needing long-term inpatient medical care and intensive mental health services. The facility costs approximately $295 million annually. The state has also faced increased costs for prescription medications, including $60.6 million this year for new Hepatitis C treatments.

The overall rise in the cost per prisoner, however, has been driven far more by the salaries and benefits of employees.

One reason that personnel costs haven't fallen in step with the declining inmate population has been a change in the staffing formula. Prior to realignment, during more than two decades of swelling inmate numbers, the state staffed facilities using a simple formula: For every six new inmates, the department hired one new staff member.

The formula meant a huge increase in prison personnel during the 1980s and 1990s, especially in the ranks of correctional officers. If the same ratio had remained in place as the inmate population fell under realignment, some 4,000 jobs could have been eliminated. But the state worried that a sharp reduction in personnel could leave facilities understaffed.

As an alternative, the blueprint introduced a model that standardized staffing according to a facility's physical layout, with guards and other personnel assigned at a level deemed necessary to secure and operate facilities.

Some saw the move to standardized staffing as a thinly disguised way to protect the jobs of unionized prison guards, who otherwise might have opposed the reforms.

"If they got that, they wouldn't mount a campaign of opposition," said Dan Macallair, executive director of the Center on Juvenile and Criminal Justice. "It's what allowed Brown to move ahead with realignment."
---
ADVOCATES GATHER IN WEBINAR TO TALK ABOUT GROUP HOMES AND THE FAMILIES FIRST ACT
During a recent webinar, advocates discussed group home-related policies and the Families First Act, a proposed foster care bill that would eliminate federal funding for group homes labeled non-therapeutic when children stay beyond 14 days (unless the children are disabled, pregnant, parenting, siblings, or if the facility is an independent living facility), and would also increase oversight of therapeutic group homes.
While the bill would address the serious problem of kids being warehoused in often-troubled group homes, advocates worry the bill won't do much in the way of changing the system, and will push hard-to-place kids out of group homes without making sure there are alternatives through ramped up foster family recruitment and other methods.
Members of the discussion also stressed the importance of including foster kids in the conversation about group homes and alternatives to group homes
Chairman Orrin Hatch (R-UT) and Ranking Member Ron Wyden (D-OR) are expected to introduce the Families First Act in the US Senate Committee on Finance.
Matt Hartman has more on the issue for the Chronicle of Social Change. Here's a clip:
"Group homes are a hot topic right now in D.C.," Hughes said.

According to Hughes, the Families First Act has two main goals, the first aimed at increasing early intervention to reduce foster care entry and the second focused on preventing prolonged stays in group homes for foster youth. The act intends to accomplish these goals by creating new funding streams and increasing group home oversight.

Group homes belong to one of two categories, Hughes said, therapeutic or non-therapeutic, both of which will be affected by the Families First Act.

The proposed legislation will cut off federal funding to non-therapeutic group homes after a youth is there for 14 days, except for those housing disabled youth, pregnant and parenting teens, siblings and those facilities designated as independent living programs. For group homes not providing one of the aforementioned services, these cuts in funding will essentially shut them down or force states to pay the full cost of sustained operations, Hughes said.

For therapeutic group homes—those meant to provide youth with mental and emotional help and regularly referred to as short-term residential treatment centers—the Families First Act will increase oversight to ensure proper use and mandate further evaluations as to the necessity of the placement.

The further evaluation proposed by the Families First Act takes the form of a "needs assessment" and court review. The needs assessment determines whether a residential treatment center is the right placement by evaluating the youth's individual needs. Biannual permanency hearings are used to create plans for a youth's permanent placement and will include a review of the assessments.

The act seemingly seeks to address a major complaint by advocates that therapeutic group homes are often used as long-term placement options for youth who don't need them.

While the bill may have many potential benefits for youth, advocates are concerned that the bill is doing little to change the system itself. Advocates also point out that the act forces youth out of group homes while providing no alternatives or increased foster parent recruitment strategies to ensure former group home residents have stable places to live.
---
CALIFORNIA ATTORNEY GENERAL KAMALA HARRIS HONORS ANTI-RECIDIVISM PROGRAM GRADUATES AT PITCHESS DETENTION CENTER
Attorney General Kamala Harris recognized 53 graduates of the Back on Track LA program during a visit to LA County's Pitchess Detention Center.
The reentry program aims to lower recidivism by providing low-level offenders with education, job and life skills training, family services, tattoo removal, and other help while the inmates are still in custody. Once the participants exit lock-up, Back on Track helps inmates continue their education, obtain housing, and find employment through the Employment Advisory Board.
"These individuals have had the courage to change by taking responsibility for their actions and admitting to themselves and others that their old patterns of behavior no longer work," Attorney General Harris said. "By giving them practical tools and holding them accountable to their communities, families and themselves, Back on Track LA is providing participants the skills to become contributing and law-abiding members of society, which enhances public safety and embraces the participants' redemptive qualities."
Back on Track LA is run through a partnership between the LA County Sheriff's Department, LA County Probation Department, LA County Child Support Services Department, local community colleges, and other groups. Kamala Harris launched back on track in 2005 while she was serving as San Francisco District Attorney.