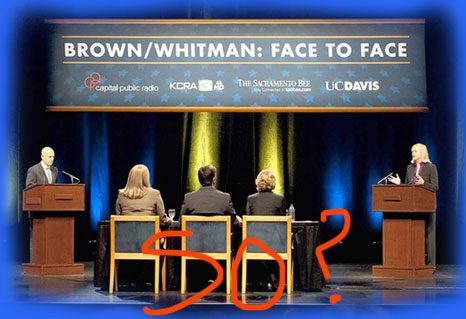 So who won Tuesday's gubernatorial debate?
Look, I admit I'm not terribly objective. I don't like Meg Whitman at all as a candidate. Whereas, I've known Jerry Brown for 34 years and think that he's still one of the most interesting people in California political life, and assuredly one of the brightest in this or any other state. Yeah, he's got flaws (everybody does), but he was a governor who advanced a list of prescient policies that both Republicans and Democrats have cribbed from for several decades. More recently, he's been a tough and excellent attorney general—more so, I think, than the public generally knows. More to the point, it may very well be that EGB Jr. is readier than he has ever been in his life to do the job for which he is running.
Plus, at 72, he still has enough energy to light several medium sized cities.
With regard to Whitman, I am bothered by several things. For one thing, I don't like that she makes sh*t up. Virtually all of her attacks against Brown involve either straight out falsities, or taking facts out of context in such a way that they become false, by definition.
To give you an example of the latter, Whitman says Brown took a $6 billion surplus and turned it into a $1 billion deficit—the implication being that Brown walked into office when California had a surplus and spent himself and the state into the red. However, Whitman fails to mention the inconvenient facts that it was well-known fiscal conservative Jerry Brown who created the surplus in the first place. As for the deficit, after the passage of Prop. 13, it was only Brown's surplus, combined with his savvy budgeting, that allowed the state to avoid huge deficits—without slashing such basics as schools and highways.
In addition, in watching the debate, I saw that Whitman was well rehearsed, whereas Jerry has a bone-deep grasp of issues.
That is not to say that Jerry didn't misstep. I think it was a mistake to only talk only about green jobs, while Whitman gave the impression that she has ways to create jobs in the broader sense—although she is short on practical details as to how she would accomplish all this job creation.
In general, Whitman made promises that are not within her power to deliver. Shwarzenegger made a lot of promises too and, unlike Whitman, whom I find disingenuous, I think he fully intended to keep them—but he had no idea how to get the cooperation of the legislature. In that Whitman's management experience has been limited to the context of a employees who depend upon her for their paychecks, there is nothing that tells us she could do any better. Yet she comes to the task with the same narcissistic arrogance.
But, like I said, I'm biased. I know and like him. I don't like her.
So….what did you think? Who do you feel won the debate and why?
While you're contemplating the question, some debate highlights:
---
MOST HUMOROUS REMARK BY A CANDIDATE

(It was noted that Brown ran for president of the United States twice before, one of those times when he was only a year into his term as governor. So what kind of assurances could Jerry offer the voters that he would focus solely on the job of being mayor?)

BROWN: Age.

Hell, if I was younger you know I would be running again.

One more thing, I now have a wife. You know, I come home at night. I don't try to close down the bars in Sacramento like I used to when I was governor of California….

---

SCARIEST STATEMENT THAT PROGRESSIVE CA VOTERS MIGHT WANT TO KEEP IN MIND WHEN THEY GO TO THE POLLS

WHITMAN: I will appoint very conservative judges to the bench….

---

MOST MANGLED USE OF A FOLKSY APHORISM

(Combating Whitman's accusation that Brown was beholden to special interests.)

BROWN: This is a little bit like the kettle calling the pot black….

(First of all, it is the "pot" that calls the "kettle"….. ….. But whatever. We know Jerry meant that Whitman was the sooty kettle, but that leaves him as the pot? And what is our takeaway from that exactly? "I'm screwed but she is too?")

---

2ND MOST HUMOROUS REMARK BY A CANDIDATE:

(Brown talking about how he wouldn't take his pension until he was 80 if he served two terms.)

BROWN: I'm the best pension buy California has ever seen.

---

BEST PRE-REHEARSED "OH, SNAP! TAKE THAT, MO-FO!" LINE, ACCOMPANIED BY A SMUG LOOK

(About whether her opponent can stand up to the state's powerful unions.)

WHITMAN: It's like putting Count Dracula in charge of the blood bank!"

---

MOST SWEARING BY A CANDIDATE:

BROWN: Two "Hells" and one "damn."
---
So there you have it. Opinions?
(Photo by Hector Amezcua / Reuters)
---
---
PS: JUDGE STOPS EXECUTION
The LA Times has the story.
A federal judge Tuesday ordered a halt to the execution of convicted rapist and murderer Albert Greenwood Brown, saying there was "no way" the court could conduct a proper review of new lethal injection procedures before the inmate was scheduled to die Thursday.

U.S. District Judge Jeremy Fogel reversed a decision he handed down Friday that the execution could go forward if the state gave Brown the option of dying by a single-injection method used in other states, rather than the three-drug cocktail prescribed by California's new regulations.
Here's the rest.