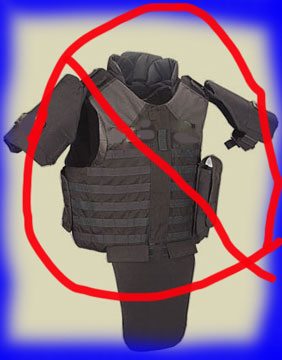 Okay, here's the question: Should those previously convicted of certain violent felonies be able to possess and wear bullet-repelling body armor? Since 1998, both state and federal law said no.
Then, last Thursday, California's Second Circuit Court of Appeals, decided that the state law was not clear enough, and overturned it.
The decision has made law enforcement groups up and down the state understandably unhappy. The ruling will get people hurt, said LA Police Protective League president, Paul Weber.
Weber has precedent to back up his opinion. The law was originally passed in response to the infamous, 1997, North Hollywood shootout between officers and heavily armed and armored bank robbers, plus an earlier fatal shootout in San Francisco.
Yesterday, San Francisco Police Chief George Gascon upped the ante when he sent letters to Attorney General Jerry Brown and SF Board of Supervisors President David Chiu asking for help in overturning the decision.

Here is how the SF Chronicle explains some of the details of the controversy.
The law, passed in 1998, was intended to protect police against flak-jacketed criminals such as Lee Boutwell, who fatally shot San Francisco Officer James Guelff in November 1994 and wounded another officer before being killed in a shootout. Congress passed a similar federal law in 2002.

The state law makes it a crime, punishable by up to three years in prison, for felons with violent offenses on their record to possess or wear body armor. State regulations define body armor as apparel that provides "ballistic resistance to the penetration of the test ammunition" for certain types of guns, a standard also used to certify armor for police.

[SNIP]

In Thursday's ruling, the Second District Court of Appeal in Los Angeles said even someone who owned a device that had been sold as a bulletproof vest wouldn't know, without testing or expert advice, whether it fit the law's definition of body armor.

"We do not see how, without providing something like an official list of prohibited vests, the statute can be said to provide either fair notice to a defendant or meaningful guidelines to the officer on the street," Presiding Justice Joan Dempsey Klein said in the 2-1 ruling.
The decision could go next to the California supreme court. In his letters, George Gascon is pressing for such an appeal.
Of course, any further appeals could be rendered unnecessary if the state legislature simply got itself together long enough to amend the law by making the definition of prohibited items a little clearer.
Let us hope they do so.
I'm with the cops on this one.

---
And speaking of cops, in Tuesday's LA Times, Tim Rutten has a nice column on the twinned topics of Charlie Beck and Special Order 40.