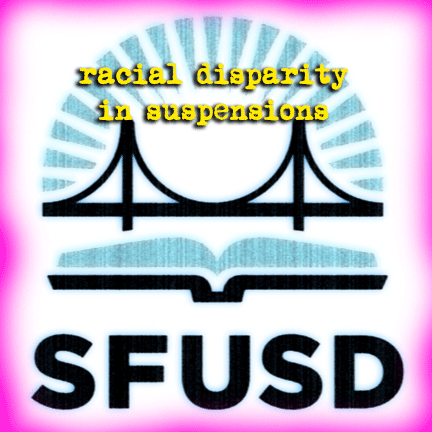 SF SCHOOL DISTRICT MOVES TOWARD ELIMINATING SUSPENSIONS FOR "WILLFUL DEFIANCE" AFTER ALARMING STATISTICS SURFACE
While African-Americans teenagers comprised just 8% of San Francisco's public high school students in 2012, they accounted for a whopping 50% of suspensions for "willful defiance," according to SF Unified School District data obtained by Public Counsel.
On Tuesday, in light of this data, a member of the district's Board of Education introduced a resolution that would end suspensions for "willful defiance" by the beginning of the next school year, in addition to discipline alternatives like "trauma-informed counseling."
Susan Ferriss of the Center for Public Integrity has more on the data and what it means for San Francisco. Here's a clip:
Willful defiance is a vague, catchall category for disruptive student behavior that can range from arriving late to using foul language to refusing to obey instructions.

The district's black and Latino students are 10 percent and 23 percent, respectively, of the student population. Together, however, students of these ethnic backgrounds comprised 77 percent of all student suspensions and 81 percent of all suspensions for willful defiance.

Just as The City by the Bay is challenged by sharp income divides, its schools, too, suffer from a wide gap in academic achievement between white student and those who are black or Latino.

High rates of suspension result in poor academic performance as out-of-school kids fall behind and disengage from school, said Laura Faer, Public Counsel's California statewide education rights director.

"These go hand in hand," she said. "They are not separate."

Suspensions, Public Counsel has said, are like an "unsupervised vacation" from school, with damaging consequences for students.

On Tuesday, the San Francisco Unified School District's Board of Education began considering a resolution introduced by a member to eliminate, by next fall, the option to suspend students for willful defiance.

"We've made some progress in reducing suspensions overall," said Matt Haney, who introduced the "Safe and Supportive Schools" resolution.

Despite that, Haney said, "the numbers for African American students remain not just troubling, but shocking."
---
SUPES DISCUSS LASD ARRESTS AND POSSIBLE FUTURE OVERSIGHT
On Tuesday, LA County Supervisors held a closed-door meeting to discuss the controversial arrests of 18 current and former LASD officers Monday morning. (Read the backstory here, and here.) In the regular Tuesday board meeting, the Supervisors did not report that any decisions were made during the closed session.
In an interview with the LA Times' Seema Mehta and also with Warren Olney of Which Way LA? on Tuesday, Supervisor Mark Ridley-Thomas called again for a citizens' commission to oversee the sheriff's department. The potential blue ribbon commission will be up again for consideration by the board next month, though a third vote is needed to move forward. At the moment, only Ridley-Thomas and Molina are in favor of the commission.
Here's more on the issue from Abby Sewell and Seema Mehta. Here are some clips:
Supervisors Mark Ridley-Thomas and Gloria Molina earlier this year proposed setting up a citizens' panel similar to the one that oversees the Los Angeles Police Department, which was hit by misconduct convictions during the so-called Rampart scandal in the 1990s.

The other supervisors did not support the plan, saying the inspector general's office — which was set up at the recommendation of a panel that studied jail violence — would be a more effective watchdog. Ridley-Thomas said he hopes the recent arrests will lead them to reconsider. The proposal for a citizens' commission is slated to come back before the board next month.

"There is a model that has made [LAPD] better. It would seem to some that the county of Los Angeles would be anxious to do something similar if not better, particularly in light of today's revelations," Ridley-Thomas said. "…This is a cultural problem, fundamentally so, and this is tantamount in some ways to the stench of Rampart."

[SNIP]

Supervisor Michael D. Antonovich, who does not support creating a citizens' oversight commission, said during the board's weekly meeting Tuesday that he does support continuing efforts to hold wrongdoers in the Sheriff's Department accountable.

"We know that continuing investigations are going on and very likely this is only the tip of the iceberg and it's going to go higher up the chain of command," he said.

Molina, a longtime critic of Baca, said in a biting statement, "Reform starts at the top, and strong leaders don't simply embrace reform — they initiate it. Unfortunately, strong management has been absent from the Sheriff's Department for years."
We also wanted to make sure you did not miss the excellent Monday LA Times editorial about the arrests and underlying "deep-seated" culture of abuse in LA County jails. Here's how it opens:
Any lingering doubt about whether there are deep-seated problems of abuse at Los Angeles County jails should be put to rest by Monday's arrests following the unsealing of formal charges against 18 current or former sheriff's deputies. Any inclination to pass off more than two years of news reports and official probes detailing inmate beatings as simply the result of a few rogue deputies should be shelved.

Some of the allegations are familiar, involving inmates suffering unwarranted abuse and beatings. One of the challenges in coming to grips with civil rights violations perpetrated against convicted criminals is that the victims receive little sympathy from most of the voters and taxpayers who put the sheriff in office and who pay his department's bills; after all, the thinking goes, criminals deserve punishment.

They do not, however, deserve to be beaten. A civilized society is entitled to punish lawbreakers, but officials with badges, guns and the authority to ensure safety and order are not vested with the right to abuse those they guard. Nor are all inmates criminals; many are in jail awaiting trial, presumed innocent until the jury verdict…
---
CALIFORNIA GIVEN 53 EXTRA DAYS TO FIX PRISON OVERCROWDING
On Wednesday, federal judges granted Gov. Jerry Brown an extension on the deadline to reduce the California prison population, moving the date to April 18 (from February 24). The judges also pushed back the deadline for negotiations on how to solve the overcrowding problem to January 10, but also said that they intended it to be the final extension. The good news is that the extra time does strongly suggest that the judges are rooting for the more progressive solution (rehabilitation, reentry programs), not solely the simple reduction of the numbers in the short term. (For previous WLA posts on the issue go here and here.)
Don Thompson of the Associated Press has the story. Here's a clip:
The judges previously moved the deadline to February while a court-appointed mediator works to find a long-term solution with Gov. Jerry Brown's administration and attorneys representing inmates who say crowding leads to conditions so poor that they violate constitutional standards.

The judges ordered that those talks continue until Jan. 10. But their one-paragraph order warns that they plan no further extension in the negotiations "absent extraordinary circumstances."

"The court is bending over backward to accommodate the state," said Don Specter, director of the nonprofit Prison Law Office and one of the attorneys representing inmates in the case. "We're anxious to either complete the negotiation process, or if that's not successful, to resume litigation at the earliest possible time."