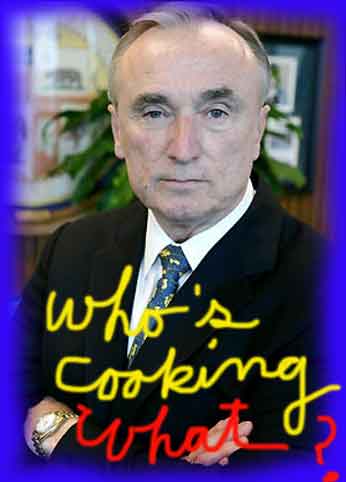 Late yesterday afternoon, I got a note from a couple of staffers at the LA Weekly that read:
"We thought you would be interested in the following piece of hot LOL:

Chief Bratton responds to LA Weekly's recent cover story "Bratton: L.A. Is as Safe as 1956" by saying "I think they were smoking a little weed when they wrote that article," and then "It's kind of voodoo reporting."
The subject head for the email read: LA Police Chief Calls Us Stoners.
Indeed I was interested. Who could resist?
When I followed the embedded links I learned that on Wednesday's Ask the Chief segment of Patt Morrison's show on KPCC, Chief Bill Bratton came back with a few testy retorts when asked about a recent LA Weekly cover story that stated Bratton was manipulating LAPD crime stats for political purposes.
Then on Thursday, the Weekly's Steve Mikulan posted a short take on Bratton's remarks. (Mikulan has done a remarkable job as a one person news machine for the Weekly's website. I have become convinced that Steve never sleeps.)
Here is the relevant excerpt:
"Actually," said Bratton, "I think they were smoking a little weed when they wrote that article."

The crack got a chuckle from Morrison, but the chief did not seem to be in a jovial mood about the story, and soon sounded darker motives behind it.

"The reporter that wrote that piece had a conclusion that he was writing to," Bratton said. "Quite frankly I read that article and I couldn't figure out what the hell he was talking about . . . We stand by our numbers."

[SNIP]

"L.A. Weekly," he intoned, "seems to have it in for the mayor, so anything he says they try to question. . . . the L.A. Weekly, in their effort to go after the mayor seized on this, spent a lot of time writing about it."

When Morrison asked if it may be a little misleading to compare per capita statistics that are separated by half a century, Bratton defended his department's figures while taking one more swipe at the Weekly:

"It's kind of voodoo reporting," he said of McDonald's cover story. "I'm very happy to rely on our statistics, which are audited by the FBI."
(You can listen to the whole radio segment here.)
Here's the thing. Yeah, Bill Bratton at times has the fastest mouth in the West. It's part of his…um… charm. But on the matter of the Weekly article, I must admit I agree with him. I read the 6600 word story by Patrick Range McDonald when it appeared in in the LA Weekly at the end of April. And I found it to be pretty much a hit piece.
In his initial thesis McDonald had a point. He said that Bratton claimed that crime in LA was down to levels of the 1950's.
On January 5, 2006, for example, Bratton sent out a press release noting that the 2005 "preliminary crime rate" was "364 Part I crimes per 10,000 residents."

"You'd have to look back to 1956 to find a comparable crime rate for Los Angeles," the chief said in the press release. He did it again in 2008, this time saying that L.A.'s crime rate in 2007 had repeated the amazing achievement of 2005, once again dropping so low that it matched 1956.
Technically Bratton was right, but only if he looked at Part I crimes in a particular way: Murders and robberies are much higher now per capita than they were in 1956. (Duh! I'm sure you are shocked—shocked—at this news.) But right now rapes and burglaries are way down in comparison to the 50's. So if one averages all those figures together, Bratton can back his claim—in a number-pretzeling kind of way.

In other words, Bratton's not cooking the figures, but he's spinning them. It's a sales trick. He's making the numbers say something that he finds useful.

Okay, fair enough. I think Bratton's 1950's gambit is a dopey, disingenuous comparison too. Hey, Chief! Catchado!
And that's probably worth a single column to whack Bratton on the wrist. But a 6600 word piece? Seriously?
And oh, yeah, and did I mention that McDonald's editor, Jill Stewart, already did that column two months earlier?
With nearly all the same sources.
Moreover, the LAPD's FBI verified crime stats are up on the department's website for anybody to check. You can do your very own comparisons. In fact, short of the US DOJ, the LAPD has some of the easiest to access law enforcement stats in the nation.
So why did the Weekly decide to do this cover story on a retreaded column that had a very, very small point to make?
Well, McDonald did have two other points in mind:
1. He said that law enforcement in general and Bratton in particular often take credit for drops in crime that are really probably the result of widespread trends. Or partially the result of widespread trends. Crime ups and downs are complicated, dontcha know.

Yeah. And yawn. This point has been made around 47 gazillion times in the last couple of decades, by nearly every news outlet that covers crime trends. So the Weekly considers it cover-worthy news now why exactly?
2. McDonald's second point, was the big one. He suggested that Bratton is cooking the department's statistics for real, particularly gang statistics. By the end of the article, one is left with the impression that the Chief is actively shaving the dice, when it comes to numbers, and putting pressure on his district captains to do it too. Implication: So those numbers on the LAPD site? You can't trust 'em. The chief of police is a liar.
And in the way of facts to prove this thesis the writer offered.... nothing. Zero. Zip. There was innuendo aplenty. But facts? Even circumstantial, ominously suggestive, tangential facts….?
None.
McDonald did have one retired LAPD cop (whom Jill Stewart also quoted) who opined mightily.
Like I said. A hit piece.
Look, as readers here know, I'm critical of the department on a semi-regular basis, and critical of individual officers' actions on many more occasions.
I have also been critical of the Chief. Ask him.
It is part of my job. It is part of the Weekly's job.
But only when the facts show that he deserves it.
Yet the Weekly did not approach the issue of LAPD statistics and Bill Bratton with a question in mind. It looks to me as if they instead leapt in already knowing the answer they wanted, and then went about looking for people who would give them the opinions they needed to support their pre-manufactured thesis. (And yes, they had the requisite "other side" quoted too. We all know how to do that one.) But start yanking things apart, and the whole structure falls.
I'd show you specifics, but this is too long already, and I've got student papers to grade. (Read it and see what you think.) And while we're on the subject, I wouldn't let a student of mine get away with this kind of agenda-driven nonsense.
Hey, listen. I have a long and excellent relationship with the LA Weekly and count many of its writers and editors as personal and/or professional friends, as well as respected colleagues. That includes Jill Stewart.

And just to give a plug along with a slam, I should tell you that the paper is up for a bunch of Association of Alternative Newsweeklies Awards. (The finalists were announced on Tuesday.) It will likely—and deservedly—win a fair share.
But on this matter, I'm sorry. I'm with the Chief. He is not perfect. (Who is?) But he's wickedly smart, and unafraid to hire the best around him. And guess what? He has lowered crime in LA–even if there's still a long way to go. We are lucky to have him.
And if and when we need to criticize him—which sometimes we have, and sometimes we will in the future— it would be nice if my fellow journalists at the Weekly used facts, not mud.
Oh, yeah, and just to be clear, I don't think those involved were smoking anything weed-related.
Unfortunately, I think they were stone, cold sober.