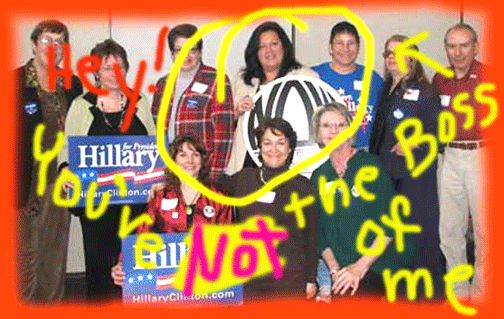 It turns out that in our fair democracy in the year 2008, we women have come so brilliantly far in our journey of political empowerment that we have no possible option but to vote for Hillary Clinton or face the certainty of being labeled Spitters in the Eye of Feminism.
And if a (gasp!) guy has the huevos to vote-for/endorse/say-something-pleasant-about Barack Obama, or any other candidate for that matter, why then it's worse; he is a betrayer of women everywhere.
Or so said Marcia Pappas the president of the New York branch of the National Organization for Women in a press release this past Monday afternoon after Ted Kennedy announced his Obama endorsement. The Times Union had the story first. Then it migrated to a flabbergasted Ben Smith at Politico who printed the statement in it's entirety because, as he pointed out, it is not easy to adequately excerpt or paraphrase. To wit:

"Women have just experienced the ultimate betrayal. Senator Kennedy's endorsement of Hillary Clinton's opponent in the Democratic presidential primary campaign has really hit women hard. Women have forgiven Kennedy, stuck up for him, stood by him, hushed the fact that he was late in his support of Title IX, the ERA, the Family Leave and Medical Act to name a few. Women have buried their anger that his support for the compromises in No Child Left Behind and the Medicare bogus drug benefit brought us the passage of these flawed bills. We have thanked him for his ardent support of many civil rights bills, BUT women are always waiting in the wings.

"And now the greatest betrayal! We are repaid with his abandonment! He's picked the new guy over us. He's joined the list of progressive white men who can't or won't handle the prospect of a woman president who is Hillary Clinton (they will of course say they support a woman president, just not "this" one). 'They' are Howard Dean and Jim Dean (Yup! That's Howard's brother) who run DFA (that's the group and list from the Dean campaign that we women helped start and grow). They are Alternet, Progressive Democrats of America, democrats.com, Kucinich lovers and all the other groups that take women's money, say they'll do feminist and women's rights issues one of these days, and conveniently forget to mention women and children when they talk about poverty or human needs or America's future or whatever.

"This latest move by Kennedy, is so telling about the status of and respect for women's rights, women's voices, women's equality, women's authority and our ability – indeed, our obligation – to promote and earn and deserve and elect, unabashedly, a President that is the first woman after centuries of men who 'know what's best for us.'"
Okey-dokey.
Um…does this mean that all African American voters must vote for Obama or risk betraying their race? Just curious.

By Tuesday evening, Prez Marcia Pappas' mouth-frother of a statement had spread everywhere from the AP to Drudge. In response, the national headquarters of NOW issued an tepid little press release indicating that they supported women's right to "express their opinions and exercise their right to vote."
How nice.
Okay, Marcia, honey, listen up because I'm going to tell you what the guys and evidently the other NOW grrllls won't: With your idiotic, female-demeaning, crazy-ass pronouncement you are helping to alienate an entire generation of women from the genuine cause of feminism. Because, see, young women with any brains and self respect seem to think—silly them!—that as intelligent, responsible adults they should the support the person whom they feel is the best candidate…..not the one with the correct combination of chromosomes.

Bottom line, next time you have the urge to tell the rest of us how we ought to think/feel/act/vote: STFU!