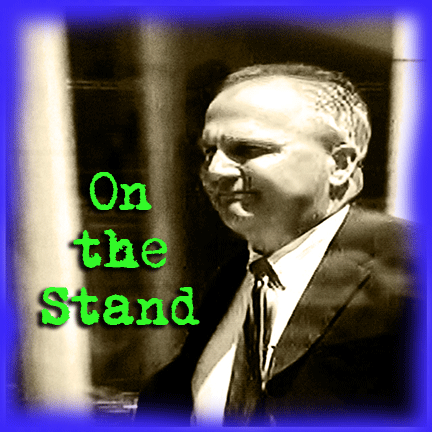 OPERATION PANDORA'S BOX GOES TO TRIAL: LEAVINS TAKES THE STAND
Last December, seven members of the LA County Sheriff's Department were indicted for conspiracy to obstruct justice pertaining to the alleged hiding of federal informant Anthony Brown from his FBI handlers, and related actions, an assignment that came, unofficially, to be be called "Operation Pandora's Box."
In total, 20 members of the LA County sheriff's department have been indicted as part of the FBI investigation into allegations of civil rights violations and corruption, a probe that U.S. Attorney Andre Birotte described last year as "ongoing and wide-ranging."
In May of this year, Deputy James Sexton, one of the seven obstruction defendants, was tried separately. The result was a mistrial. The remaining six—deputies Mickey Manzo and Gerard Smith, sergeants Scott Craig and Maricella Long and lieutenants Greg Thompson and Stephen Leavins—are on trial now.
---
---
On Friday morning, closing arguments commenced in the trial of the six defendants who are all members of the Los Angeles Sheriff's Department, and all charged with obstruction of justice and conspiracy to obstruct justice.
Yet, on Tuesday, Wednesday and Thursday of last week, Lieutenant. Steve Leavins and Sergeant Scott Craig, both defendants in the trial, went on the stand to testify.
This six-defendant trial is a complicated one that is difficult to reduce to bullet points. Thus as we analyze the closing arguments, it might help to take a look at some of the previous testimony that the jury has heard—which likely both helped and harmed the defense.
With that in mind, here's a rundown of the testimony of Lt. Steve Leavins.
On one hand Leavins and Craig were able to articulate some points that supported a part of the defense's theory of the case, namely that they believed that the hiding of Anthony Brown and the investigating, surveilling and threatening to arrest special agent Leah Marx were necessary and righteous acts. (Both Leavins and Craig worked at the time for ICIB, the department's unit that investigates criminal wrongdoing by department members.) They also made clear that, in most cases, they were generally ordered to do what they did by others, which is another part of the theory of the defense. Yet, at the same time, they each may also have damage to their respective and and collective cases in the ways they handled the prosecutors' more discomforting inquiries.
But first to recap a bit:
In the first part of his testimony (which began the Friday before last on June 13) Leavins had reported very convincingly that, in most instances, he was ordered by then-Sheriff Lee Baca and/or former-undersheriff Paul Tanaka to do the things that are the basis for the charges against him—at least in the broad strokes. The details of his actions, Leavins reported, he discussed with either Tanaka or Baca, or both, usually at in person meetings where he received his bosses' approval and, often, their input and direction. In many cases, he also got approval or direction from his immediate boss, Captain Tom Carey.
Paul Tanaka and Carey each testified still earlier in the trial and reinforced much of what Leavins contended when he took the stand, although Tanaka in particular employed a lot of protective "I don't recalls," when asked if he had approved or directed anything that might be legally borderline.
Since Baca and Tanaka, and Carey are—for now—unindicted-–and in Tanaka's case, actually running for sheriff—-one wonders exactly what the jury will make of this troubling discrepancy when it comes time to decide on verdicts.
Another big score Leavins made during the first half of his appearance on the stand came when he testified that he met frequently with two attorneys who have an association with the sheriff's department and that they essentially cosigned on his crucial courses of action when it came to participating in hiding federal informant Anthony Brown, and in launching a criminal investigation into the actions of FBI special agent Leah Marx, causing her to be surveilled and confronted at her home with the threat of arrest by ICIB Sergeants Scott Craig and Maricela Long, who work directly under Leavins.
Here's a clip from WLA's account:
One of the attorneys Leavins said he consulted multiple times was Paul Yoshinaga, a deputy county counsel who was assigned to the sheriff's department and had his office in the sheriff's headquarters in Monterey Park. (Yoshinaga is reportedly also a long-standing personal friend of former undersheriff Tanaka, with the friendship dating as far back as high school when the two were in the same 1976 graduating class from Gardena High.)

The other attorney with whom Leavins said he consulted on repeated occasions about the legality of his actions was Mike Gennaco, head attorney for the Office of Independent Review (OIR). According to Leavins, at one point in a meeting in which the sheriff was also present, Gennaco said that "the FBI was going to be in trouble for smuggling that phone," meaning the contraband cell that LASD deputy Gilbert Michel had brought in illegally to informant Brown as part of the FBI's undercover sting. Baca, said Leavins, was in agreement.

"This furthered my belief that we were on firm legal ground to proceed," Leavins testified of that meeting with Gennaco and Baca.
The matter of the attorneys' reported approval is a big deal, because if Leavins acted in good faith on the advice of counsel, even if those actions turned out to be legally problematic, the approval of counsel—and as Leavins told it, not any counsel but two knowledgeable and experienced attorneys who both were at the time employed by the County of Los Angeles, would be something the jury members would have to consider, and they would likely be instructed to do so by the judge.
---
ATTORNEY APPROVAL, A MEETING WITH THE U.S ATTORNEY, & BEING TOLD TO "BUTT OUT"
The government made points as well during the first day of Leavin's testimony when prosecutor Brandon Fox showed that, in significant ways, the timeline of events did not support the defense's contentions that the sole motivation for using such elaborate means to hide inmate/informant Anthony Brown was to protect the man from wrongdoer deputies who might see Brown's informer status as a threat. Neither did the timeline support the contention that Anthony Brown/Gilbert Michel/cell phone operation was some kind of rogue action as opposed to a legitimate undercover investigation run by Leah Marx, that was both sanctioned and sorely needed.
The contention that Leavins and his team, most particularly Craig and Long, were perfectly justified in investigating Leah Marx had been damaged on Friday when Leavins admitted in cross examination that he'd been present at a meeting in late August between members of the LASD including Lee Baca and members of the US Attorney's office including Andre Birotte himself who, according to Leavins, said things to Baca and the group that made clear Birotte's thoughts on the FBI's investigation:
It was at that meeting that Birotte told the sheriff to—as Leavins put it—"butt out" of the feds' civil rights investigation into wrongdoing in the LA County Jails. Birotte further said, according to Leavins, that he didn't want any more discord in the matter, and that he hoped the sheriff's department would cooperate.

Yet, despite what was made clear at the August 29 meeting, according to Leavins' earlier testimony, he kept on, as ordered, with a criminal investigation of FBI agent Marx and, in late September, with the sheriff's encouragement and approval, sent Craig and Long to Marx' home where the two sergeants falsely threatened to arrest her.
---
DISMANTLING THE ATTORNEY DEFENSE
So that was part one of Leavins' testimony.
Then on the following Tuesday, June 16, when the cross-examination of Leavins continued, followed by redirect from the defense, a couple of rather interesting things happened.
The first occurred when Prosecutor Fox questioned Leavins about his conversations with Deputy County Counsel Paul Yoshinaga, whom Leavins had described as having approved his team's actions regarding Anthony Brown and Leah Marx, and even codified his approval by helping him refine a memo summarizing those actions.
However, it seems, when queried a bit more closely, Leavins admitted that the actions that Yoshinaga "approved" failed to include any discussions of the repeated changing of Anthony Brown's name, the deliberate failure to allow him to be fingerprinted when he was moved, and the other elaborate strategies that made Brown vanish from the reach of any federal agents who wished to find him.
With regard to meetings with the OIR's Michael Gennaco, Fox asked if Gennaco had ever told him that Leah Marx had committed a crime. Leavings conceded that Gennaco had not.
Well, Fox wanted to know, did Leavins ever ask Gennaco if it was okay to move Anthony Brown and to change his name multiple times and all the rest. No, Leavins admitted. He'd not mentioned any of that. And, no he hadn't asked if it was okay to hide Brown from the FBI.
Leavins also had conversations with Sergio Gonzalez, who was at the time, the head deputy of the Justice System Integrity Unit for the Los Angeles District Attorney's office, and someone Leavins had worked with before. Fox wanted to know if Leavins actually asked Gonzalez if charges could be filed against Leah Marx for conducting a covert operations in the jails. No, said Leavins, he'd not asked.
Well, did he ask if it was alright to instruct deputies not to cooperate with a federal investigation—as he and Sergeants Craig and, to a lesser degree, Long, appeared to have instructed both Deputy Gilbert Michel and Deputy William David Courson not to talk to the FBI. (In recorded interviews, clips from which members of the jury—along with the rest of us—have now heard played loudly at least three times, they also bad-mouthed the FBI and, with Michel especially, made cooperating with the feds sound like a path that was both disloyal and weak.)
No, said Leavins, he'd not asked Gennaco anything like that.
And did he research the penal codes that he'd contended that Marx had violated, specifically 4575, which is a misdemeanor prohibiting bringing cell phones into jails—unless authorized by a law enforcement agency. With regard to penal code 4575 (a misdemeanor that, incidentally, was punishable with a fine, not jail time), did Leavins ever find out if the FBI could authorize Mr. Brown to possess a cell phone as part of a covert operation?
No, he didn't.To the extent they're ever charged, that's for another jury to consider on another day."
And so it went. By the time the topic was at last yanked apart, detail after detail, Fox appeared to have demolished the argument put forth in Leavins' earlier testimony that he had sought and received approval by lawyers Yoshinaga and Gennaco, and had relevant discussions with Gonzalez from the DA's office.
---
"IDIOTS" & MORE "IDIOTS"
In an increasingly harsh cross examination, Fox pushed Leavins about his attitude toward outsiders investigating wrongdoing in LASD's house.
"You testified that deputy abuse [of inmates] disgusted you," said Fox, and yet in September 2011, you did not want another law enforcement agency shining a light on abuse in the Los Angeles Sheriff's Department?….You called Deputy Michel an 'idiot for admitting to the beating of deputies."
Fox provided an email in which Leavins also called the FBI agents looking into abuse in the jails "idiots." In another email, he opined that LA Times reporter Robert Faturechi, was "a young reporter who is [looking] for the next Pulitzer" when Faturechi wrote a story about alleged abuse in the jails.
---
REDIRECT AND REHABILITATION OF LEAVINS
When Leavins' attorney Peter Johnson got up for redirect, he asked his client a series of questions about the meeting at which Lee Baca, Andre Birotte and others had been present and that, according to Leavins, who was also at the meeting, Birotte had told the sheriff to, as Leavins paraphrased, to "butt out" from the ongoing criminal investigation that the feds were conducting inside the LA County Jails. This was the conversation that made clear that the FBI's undercover investigation run by agent Leah Marx and involving Brown and the cell phone, was legitimate in the eyes of the U.S. Attorney's office, thereby arguably removing any reason for the LASD to investigate agent Marx, much less to confront her outside her home, threatening her with arrest, all of which would occur a few weeks after this meeting that Leavins had said on Friday had occurred in late August. (The meeting date was August 29.)
Under redirect questioning by Johnson, the story Leavins had told on his first day of testimony suddenly changed. Now Leavins said that he had in fact attended, not one, but two meetings with the U.S Attorney, and the the meeting where all this stuff had been said by Andre Birotte was not, in fact, the first meeting on August 29, but at a second meeting in the first week of October—in other words after the surveillance of and confrontation with Leah Marx was already finished.
At this second meeting, Baca had calmed down, said Leavins. And by October 3, Leavins had received an email from Sergio Gonzalez from the DA's office stating that the District Attorney would be unable to pursue charges against Anthony Brown or any FBI agents regarding the matter of the cell phone due to statute known as the Supremacy Clause, but that he would like to file on Deputy Gilbert Michel for accepting a bribe.
After this series of events, Leavins said he believed he could no longer pursue his investigation.
In further redirect Johnson reestablished that he had moved Anthony Brown out of Men's Central Jail based on orders from Lee Baca and that anything that he, Craig and Long had said to deputies Michel and Courson was in no way intended to dissuade either deputy from cooperating with the FBI but merely to gain their cooperation.
Finally, Leavins reiterated that he had launched an investigation into the actions of the FBI because the sheriff asked him too and because he thought it made sense, "on the face of it."
---
RECROSS ABOUT THAT CRUCIAL MEETING
In recross, prosecutor Fox moved directly to the matter of when the crucial meeting took place with the "three highest people" in the sheriff's department, the Los Angeles FBI office and the U.S. Attorney's office, namely Lee Baca, Steve Martinez, and Andre Birotte—in which Birotte told the sheriff in so many words to stand down.
Fox read Leavins' testimony from the cross examination on Friday, in which he described the meeting as having occurred in late August, and desribed Birotte as saying to Baca ""I don't want any more talk about the arrest of FBI agents."
Fox continued to pound. "And yet you continued to investigate Leah Marx until early October, and continued to try to build a case against FBI agents."
Fox also reread Leavins' Grand Jury testimony, during which the lieutenant also stated that the meeting in which Birotte laid down his boundaries as having occurred in late August.
Without a blink Leavins continued to insist that, he was not good with dates and that when he was in front of the Grand Jury and when he talked about the meeting on Friday, he had "misremembered" the date. But that now he was sure. The meeting occurred in early October—nevermind his two rounds of earlier testimony.
There were a few more rounds of hammering on such issues as Leavins and company attempting to get the two deputies not to cooperate with the FBI and on meetings with Baca and Tanaka in Tanaka's bug swept office regarding moving Anthony Brown, the cell phone, Leah Marx, and the FBI. (Leavins finally admitted that the paranoia about listening devices in LASD offices came, not from him, but from the former undersheriff and the sheriff).
After a short re-re-direct by defense attorney Johnson, Leavins stepped downt.
---
Okay, now onward to closing arguments.