A new white paper from Million Dollar Hoods dives into LA County data detailing jail bookings occurring between 2010 and 2016.
The number of people booked into the LA County Sheriff's Department's jail dropped from 150,948 in 2010 to 119,821 in 2016. Yet, the county ramped up its enforcement efforts against homeless individuals during that time, and disparities remain deeply embedded in the system.
Twenty-two percent of people who entered jail during those years reported that they were unemployed at the time of their booking.
The most common home zip codes among people jailed by the county were in South LA, Compton, Long Beach, and the Antelope Valley–communities that are "home to some of the County's highest unemployment rates and lowest incomes," according to the report.
Not only did many of the people locked up from "struggling" communities, but the number of homeless people booked into jail jumped 41 percent, from 11,725 in 2010, to 16,567 in 2016.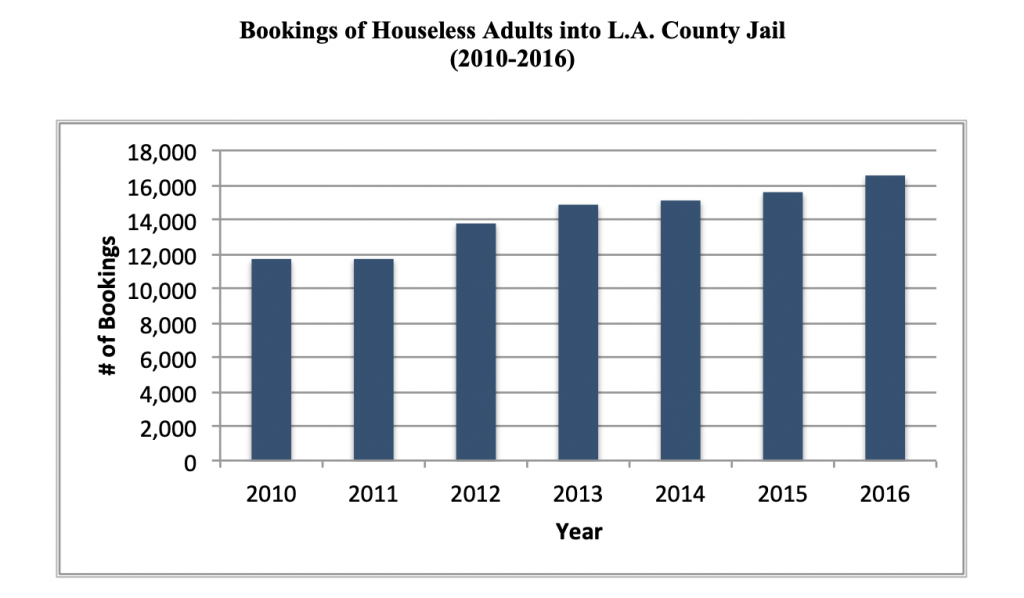 And while black people comprise 8 percent of LA County's population, they made up 29 percent of those sent to jail between 2010 and 2016. In comparison, white people accounted for 27 percent of the county population, but 18 percent of jail admissions. Latinx booking numbers mirrored their population percentages, but still rose during those years, "revealing an upward trend in Latinx bookings into the County jail."
For the 59 percent of bookings (567,124) between 2010 and 2016 that were for single charges, men were most likely to head to jail for violating the terms of their supervision, DUI, possessing a controlled substance, driving on a suspended or revoked license, and spousal abuse. The top five single charges for women were possession of a controlled substance, DUI, driving on a suspended or revoked license, prostitution or solicitation, and theft or shoplifting. (Black women were far and away the most likely to be booked into jail on prostitution/solicitation charges.)
The county coughed up at least $315 million over the six years to incarcerate single-charge defendants for DUIs and drug possession. Despite the fact that, following the passage of Proposition 47 in 2014, LA's deputies booked far fewer people into jail for simple possession, "Los Angeles County continued to spend tens of millions of dollars to jail persons booked on substance-abuse related charges," the report states. "In 2015 and 2016 alone, Los Angeles County spent at least $49 million incarcerating individuals booked on a single charge for either DUI or possession of a controlled substance."
The sheriff's department spent at least $389 million locking people up for ten days or less, according to the report. (Ten days was the median number of days spent in jail. The average was 47 days.)
Thirteen percent of all of the jail entries based on single charges were for supervision violations. These violations landed Angelenos in jail for an average of 32 days (median of 19 days).
In addition to more serious violations like committing additional crimes, individuals on probation and parole are often re-incarcerated for missteps that include missing their appointments, failing drug tests, and not having employment, which, according to criminal justice experts, unnecessarily pushes people deeper into the criminal justice system cycle.
Moreover, experts increasingly agree that the number of people on probation and parole across the nation could be cut back significantly, while still maintaining public safety.