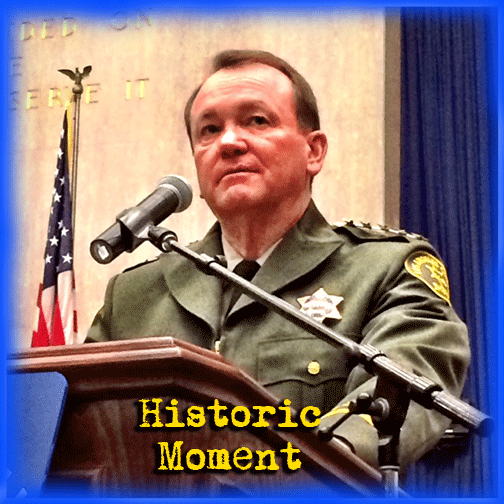 "A LONG PERIOD OF UNCERTAINTY AND TRAUMA"
After a day of much needed rain, the weather had cleared and the city seemed once-again washed clean as, just after 2 pm on Monday, Jim McDonnell was sworn in as the 32nd Los Angeles County Sheriff.
McDonnell made his way up to the stage of LA's completely packed Hall of Justice to the music of live bagpipes. The bagpipes are becoming a new tradition for the Irish cop who came to LA from Boston to join the Los Angeles Police Department nearly 34 years ago, then worked his way up the ranks until he was second in command to that other Bostonian cop, Bill Bratton. After being shortlisted for the job of chief twice, McDonnell left the LAPD to head up Long Beach's ailing department. Now he is poised to lead the complex and spectacularly troubled LASD, the fourth largest law enforcement agency in the nation.
It is job for which many feel he is unusually well suited.
After the requisite welcome remarks were delivered by presiding LA County Superior Court Judge David Wesley, followed by an invocation by LA Archbishop Jose Gomez, and still more remarks from Supervisor Mike Antonovich, the main event arrived: LA District Attorney Jackie Lacey administered the oath of office to McDonnell. (Although most of LA County's major elected officials would come to endorse him, Lacey was one of McDonnell's earliest and most ardent supporters.)
Next, the newly-minted sheriff's wife, Kathy McDonnell, along with Megan McDonnell, one of his two daughters, pinned the LASD's six-pointed star on their man's chest.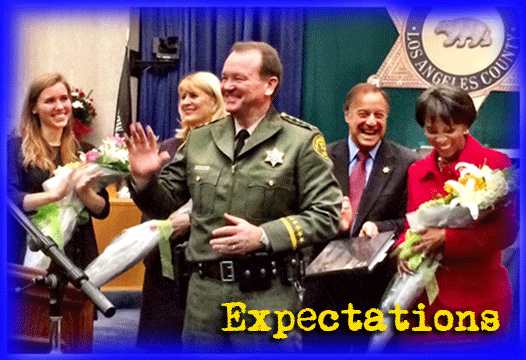 When finally was time for McDonnell to give his own speech. it didn't take him long to get to the heart of the matter:
"This organization has been through a long period of uncertainty and trauma…." he said.
"I have seen the despair in many of you who sought to rise above the divisions and the turbulence of recent years.
"Many of you felt you were being asked to choose between what was best for the organization and what was best for a few people who were only trying to serve themselves."
McDonnell paused for a beat, then went on.
"I am telling you that, as of today, those days are gone."
It was the biggest applause line of the afternoon.
"You have been through a Civil War that has torn the department apart," McDonnell continued. "Now is the time for us to move beyond past divisions and fractures, to heal, and to emerge as a better and stronger organization. Today, we have the opportunity to start fresh, to hit the reset button and to welcome in a new era at the Sheriff's Department."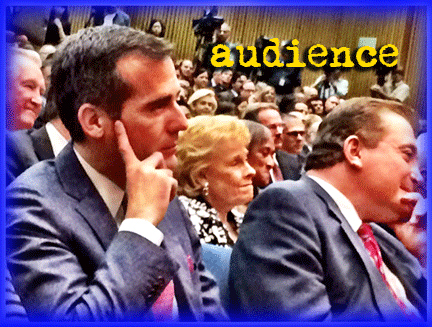 For much of the speech, the new sheriff spoke directly to the department's 18,000 employees, several hundred of whom had showed up in their dress uniforms to see the new guy sworn in.
"I want to be crystal clear about my expectations of you, as well as what you can expect of me," McDonnell told them.
Then he ticked off some of those expectations:
* We will set aside disputes and factions of the past and focus, together, on our core mission and building our future.

* We will identify and build upon our strengths, and also be equally forthright in identifying – and working to address – our weaknesses.

* We know that Patrol is important, but so is Custody. We will treat Custody as an equally vital mission of the Department and respect this key aspect of our work, just as we respect those entrusted to us and in our care within our jails.

* We will welcome the watchful eye of our community and work with our federal partners to address past problems. We will embrace oversight as a mechanism to help us move beyond our challenges and to help achieve our shared goals.

* We will develop a culture in which career paths and promotions in the Department are the result of character, competence and compassion, as performed with a sense of humility and based on a foundation of respect.

* Everyone will be afforded a fair chance to succeed—and merit, not external considerations, will serve as the guideposts for success in this Department.
At this last, many of the rank and file who stood along the back and side walls of the hall looked relieved and actually hopeful.
Yet, some of department's higher ups who sat together near the front, still wore expressions that were serious and difficult to read.
NOTE: You can find a full text of Sheriff Jim McDonnell's speech here.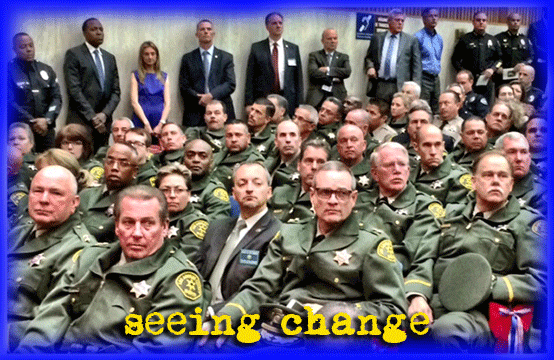 The LA public officials who filled the front three or four rows of the hall, however, were uniformly effusive.
"This is historic," said former district attorney Steve Cooley. "He's a very special person…. The right man at the right moment."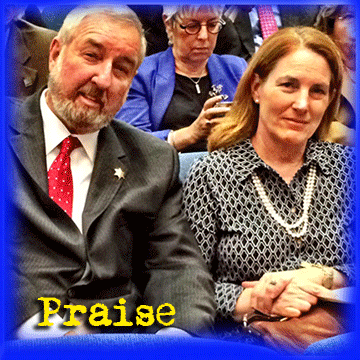 LAPD Chief Charlie Beck agreed. "The right man for the moment."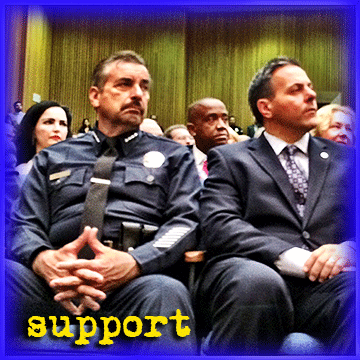 ---
THE TONE COMES FROM THE TOP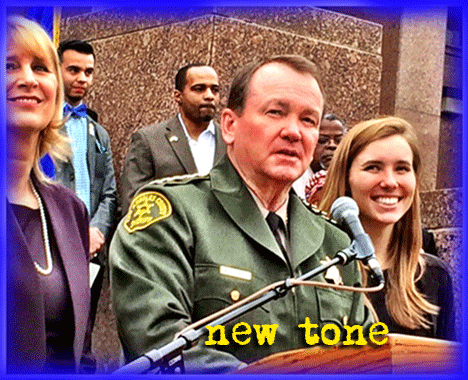 There was a reception following the swearing in, but before he went off to socialize, McDonnell first took twenty minutes to field questions from the reporters who clustered around him on the steps outside the building.
When asked if he had talked to officials at the U.S. Attorney's Office about whether there would be further indictments of department members—present or former—McDonnell said he had not. "I needed to wait until today in order to have standing."
But he would be having conversations, he said—then brought up the still looming spectre of a federal consent decree. His goal would be to work as closely with the feds as possible "to make whatever agreement as productive as it can be.'
He answered questions about body cameras (he's for them), and about the diversion programs he favors for many of the mentally ill inmates, whom he said comprise 20 percent of LA's jail population. "Diversion is a critical element," he said.
WitnessLA asked McDonnell how he plans to undo the pay-to-play, patronage culture that became so deeply entrenched in the department. McDonnell said the change would start right now, today, "by setting the tone from the top." Department members, he said, are "looking for clear direction."
As to whether there are parts of the existing command structure that he'll need to dismantle:
"As I go forward, I want to give everybody a fair shot," McDonnell said, adding that he and his team would also take "a hard look" to see if people are where they are supposed to be.
"We'll take care of it on a case-by-case basis."
---
LEE BACA WEIGHS IN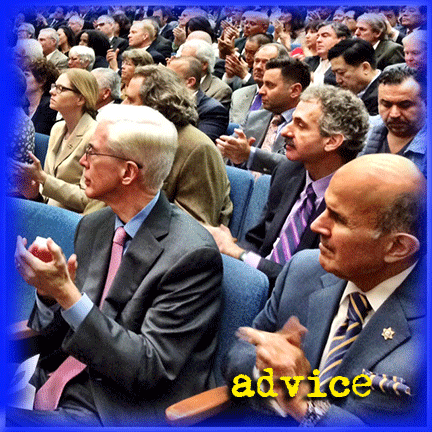 Former sheriff Lee Baca was also present at the swearing in. He sat in the front row with former California governor Gray Davis.
After the swearing in was over, Baca praised McDonnell's speech, and chatted volubly about the challenges the new sheriff would face. Then, when when asked to reduce his advice for his successor to elevator pitch-length, Baca thought for a moment, then offered the following:
"Being the sheriff is very personal. It's not just a professional experience. Its failures are personal. The key is to stay in the center of what is positive. A strong sheriff knows what pain is and can handle it."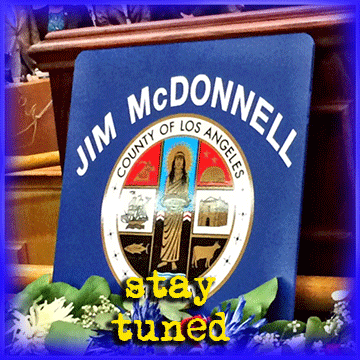 All photos by WLA
MCDONNELL OATH OF OFFICE SPEECH TEXT VERSION DELIVERED FINAL