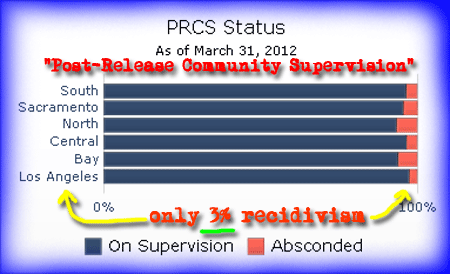 PREVIOUS REALIGNMENT DOUR REPORTS WERE OVERSTATED
According to a new report from the Chief Probation Officers of California, realignment is actually faring better than has been previously reported by news media sources (and even local officials). CPOC collected probation data from all 58 CA counties and found that, in many ways, realignment has statistically eclipsed the old parole system.
AP has the story. Here's how it opens:
Fewer felons are skipping out on probation under California's new criminal justice realignment than under the state's old parole system, according to a report released Wednesday.

The report obtained by The Associated Press [and also by WitnessLA] is the first six-month snapshot of trends in all 58 counties.

It found that less than 4 percent of felons failed to report to their county probation officers after their release from state prison, compared to 14 percent who faced fugitive arrest warrants for failing to report to their parole officers under the old system.

More than 23,000 ex-convicts are supervised at the county level instead of by state parole agents after a law took effect in October to save the state money and reduce prison crowding.

The report by the Chief Probation Officers of California said early concerns that many felons might go unsupervised under the new law appear to be overstated.
Take a look at the Chief Probation Officers of California's report, as it has more great data (and graphs!).
---
CDCR AND LAW ENFORCEMENT ARREST 69 PAROLEES UNDER OPERATION GUARDIAN
Meanwhile, the state officials have gotten busy: the CDCR, along with local law enforcement officers, conducted a compliance sweep on 340 parolees with known gang ties. The sweep, called "Operation Guardian" resulted in 69 arrests and large quantities of seized weapons, drugs, and paraphernalia.
The CDCR Star has the press release. Here's how it opens:
Agents from the California Department of Corrections and Rehabilitation (CDCR) and their local law enforcement partners have just concluded Operation Guardian, one of the largest and most comprehensive sweeps in recent years focusing on parolees who have known ties to criminal gangs.

So far, Operation Guardian has resulted in the arrests of more than 69 parolees in Los Angeles County with known gang ties. One compliance check prompted an investigation after a naked parolee was found in bed with three children. There were 59 instances of guns, a shotgun, semi-automatic handguns and ammunition seized. More than 35 knives, four swords and a machete were also confiscated. CDCR agents and their law enforcement partners also confiscated 20 fully grown marijuana plants, 156 grams of marijuana, 30 grams of cocaine, a possible meth lab, drug paraphernalia and hundreds of dollars of suspected illegal drug money. Sixty out of 340 compliance checks are still being tabulated.

"This morning, while many of the potential suspects were still asleep, more than 400 CDCR agents and local law enforcement partners fanned out across Los Angeles County and searched the homes of parolees who are affiliated with criminal street gangs," CDCR Secretary Matthew Cate said. "The number of parolees who were arrested and the number of guns, ammunition and drugs taken off the streets show how important these proactive searches in cooperation with our local law enforcement partners are to public safety."
---
CDCR HOLDS PUBLIC FORUM ON REHABILITATION
On a more upbeat note, the CDCR held a much-needed public forum for suggestions on improving inmate and parolee rehabilitation programs on Tuesday.
Mercury News' Scott Johnson has the story. Here's a clip:
The CDCR has tried to reform in years past, but those efforts were stymied, most recently by problems of prison overcrowding and statewide budget shortfalls. But over the past two years, as part of the realignment effort, some 40,000 inmates have been transferred from state prisons to county jails, freeing up space and resources for more aggressive rehabilitation efforts. At the same time, California has set aside $190 million this year alone to improve resources for inmates at all stages of their re-entrance to society. The goal, said Sessa, is ultimately to provide wrap-around re-entry services for at least 70 percent of the current prison population, starting the moment they enter to the first 12 months of their release.

As part of this effort, CDCR plans to build special facilities at three prisons within the next three years where outgoing inmates will receive special attention. Other services will be rolled out once CDCR has heard from the criminologists, community members, ex-offenders and members of the faith-based community who spoke Tuesday.

"We've waited so many years, literally prayed, and I wasn't sure I would still be alive to see this day," said Leslie Arroyo, 62, the director of the "Open Arms" Transitional Care Facility, speaking of the CDCR's realignment initiative. Arroyo has worked in prisons across California and says the biggest problem is the inability of inmates to build and sustain lasting relationships with the people who want to help them the most.

"I think this is a beginning, but unfortunately every initiative we've seen in the past has gotten lost in the bureaucracy," Arroyo said. "We are begging you at this point in time, please listen to us; we're all trying to go in the right direction."

Kyle Dunson, 44, a supervisor at a Richmond homeless shelter, spent 13 years behind bars for various crimes, including burglary and petty theft. Speaking at the panel Tuesday, he urged CDCR staff members to consider re-implementing programs that once worked, but were cut due to budget issues. He cited one such initiative, the Alternative Sentencing Program, a kind of bootcamp for inmates, which he said resulted in a drastically reduced recidivism rate for participants — 13 percent versus 83 percent for the San Quentin general population. "I think they should reinstate it," he said. "Until that point, it was the hardest thing in my life."

Other speakers repeatedly urged the CDCR to implement re-entry classes and programs long before inmates were released.

"We're releasing men and women into crisis situations," said Randy Haskins, who runs a ministry for ex-offenders. "Time has stopped for that inmate; it has kept going for everybody else, and that's a burden we need to help fix."
---
CA PARKS AND REC. HIDING ENOUGH CASH TO KEEP PARKS OPEN FOR TWO MORE YEARS
The CA Dept. of Parks and Recreation has been threatening closure of 70 CA state parks for quite some time now. Recently, (and after much fund-raising by concerned Californians) it has come to light that Parks and Rec. have been hiding almost $54M from the governor's budget office.
LA Times has an excellent op-ed on the matter. Here's how it opens:
Californians are feeling betrayed after learning that the Department of Parks and Recreation, while pleading abject poverty and begging for donors to keep 70 state parks from closing, was hoarding nearly $54 million in special accounts, underreporting its holdings to the state. Much of the money was earmarked for specific purposes, but even the remainder is enough to keep the 70 parks open for close to two years. Some of the donors who generously stepped forward to form nonprofits to run parks complain that they were duped. We on the editorial board were misled into calling for Gov. Jerry Brown to provide more money to keep most of the parks open. Taxpayers feel they were put through the wringer with baseless threats about the closures. (As it turned out, with various deals and fundraising, all but one of the parks are still open.)

The department appears to have concealed the money in two accounts for 12 years, reporting accurate figures to the state controller and inaccurate information to the governor's budget office, an indication that this was intentional and not just incredibly bad bookkeeping. One account was funded by park fees, the other by fees assessed on off-road vehicles, which must be used for facilities or services for off-roaders. Traditionally, special funds have not undergone the same level of state scrutiny as money from the general fund. But that clearly has to end.
---
LASD SERGEANT SUSPECTED OF STEALING THOUSANDS
And, more hoopla for Sheriff Baca to address prior to testifying before the jails commission this Friday: LASD Sgt. Bonnie Bryant was arrested Wednesday on suspicion of heisting thousands of dollars from drug investigations.
LA Times has the story. Here's a clip:
Sgt. Bonnie Bryant III, a 28-year department veteran, allegedly was stealing the cash during investigations, not from evidence lockers, said sheriff's spokesman Steve Whitmore.

The arrest of Bryant on Wednesday afternoon came after a two-week probe by the sheriff's internal criminal investigators. Whitmore declined to say what stoked suspicions into Bryant, saying the investigation is ongoing.

"This department is bringing people that break the law, that are supposed to represent the law, to justice," he said.