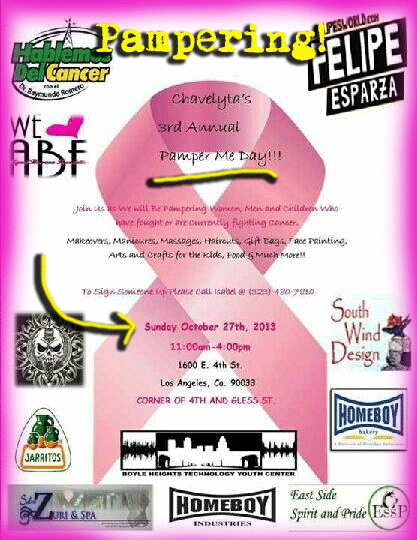 BREAST CANCER SURVIVOR ORGANIZES "DAY OF PAMPERING" FOR OTHER WOMEN STRUGGLING WITH THE DISEASE

Isabel Guillen was 32-years-old and was raising her four kids on her own when, on February 7, 2010, she was diagnosed with stage 3-B breast cancer, and nobody seemed to be able to tell her what her chances were of surviving.
In the year before her diagnosis, Isabel gone to the doctor multiple times, worried about a lump in her breast. Yet, incredibly, the docs she saw kept telling her the lump was nothing to worry about. A cyst. Nobody bothered with a needle biopsy. Even when the thing grew from 1 centimeter to 9 centimeters.
It was only when an alarmed nurse cornered a doctor who was examining Isabel, and pestered the man into finally doing a biopsy, that the cancer was discovered. By then, Isabel was told there was no choice but to do unilateral mastectomy. The surgery was followed by 7 months of chemo and radiation."
Isabel got so sick with the chemo that she had to ask to be laid off by both of her jobs, working for LAUSD, and also for Homeboy Industries. Since she was also too sick to go on job interviews, she was denied unemployment.
So while Isabel worried about what might become of her kids if she died, she also had to worry about how in the world she would pay her bills.
"But I was lucky," she told me. "I had a lot of friends and family around me who were really supportive. My friends even put on a fundraising benefit for me, which helped me through the worst months. But when I went for my treatments, I saw a lot of women who were as sick as I was, and were from the same kind of neighborhoods I grew up in, but they had no support. They had nobody."
(Isabel grew up in what were then the Pico-Aliso housing projects of Boyle Heights, a community that, at the time, was one of the poorest and most violence-haunted in Southern California. I first met her in Pico-Aliso when she was 15-years-old, and I was reporting on the area's gangs.)
Now, three-and-a-half years after her surgery, Isabel is thus far cancer free. She is back working at Homeboy, where she just finished doing field interviews for a substance abuse/mental health project grant project.
But she hasn't forgotten the needs of the women she met during the months of her doctor visits and treatment.
So this Sunday, Isabel is putting on the 3rd of what she calls "Chavalyta's Pamper Me Day." (Chavela and Chavalyta are Spanish variants on the name Isabel.)
This means that 20 women (and a few men) who are struggling with (or recovering from) cancer will receive a day of "pampering." They'll get massages, facials, hair-styling, hair and beauty makeovers, and other forms of happy indulgences—plus a gift basket stuffed with goodies to take home.
"We've found it really lifts the women's spirits, and raises their self-esteem," Isabel told me. "Just feeling good about yourself for a little while can make a big difference."
All this pampering will take place Sunday, Oct. 27, from 11 am to 4 pm, Aliso-Pico Recreation Center at the corner of 4th and Gless Streets in Boyle Heights.
So for anyone desiring to donate gift items for Sunday's pampering project, Isabel may be reached at Homeboy Industries, 323-526-1254.
---
HOMIE STORYTELLING NIGHT: FORMER GANG-INVOLVED MEN AND WOMEN TELL THEIR STORIES
Also on this coming Sunday, Oct. 27, at 7 pm, a special storytelling night with homeboys and homegirls who have transformed their lives.
Father Greg Boyle will be there (and so will WLA.) All proceeds from the night benefit Homeboy Industries.
Sun, October 27, 7:00 pm at The Echoplex
1154 Glendale Blvd. Los Angeles, CA 90026. All tickets: $20.00
---
MORE ON THE SUPPORTERS OF FORMER LASD UNDERSHERIFF PAUL TANAKA & THEIR RETALIATION LAWSUITS
Several news outlets have followed up on our story earlier this month about the various members of the Los Angeles Sheriff's Department who are newly suing the department. They claim that Sheriff Lee Baca is retaliating against them because they have openly declared their support for former undersheriff Paul Tanaka, who is challenging Baca for the office of sheriff.
Here are some clips from the LA Times story by Seema Mehta.
….Capt. Louis Duran, has filed a complaint against Baca with the state Department of Fair Employment and Housing, a precursor to a possible lawsuit. Of the nine captains who have publicly backed former Undersheriff Paul Tanaka in his bid to replace Baca, four were transferred to other jobs earlier this month, according to documents obtained by the Times.

Attorney Brad Gage, who represents Duran and other members of the department claiming to be victims of retaliation, said he expected to sue the Sheriff's Department next month.

[SNIP]

A representative of Baca said any transfers were driven by the department's needs and the employees' performance.

"There is absolutely no retaliation. This is politics at its lowest form, and the facts will bear that out," said spokesman Steve Whitmore.

[SNIP]

Duran said in a phone interview that he was a long-time supporter of Baca's who decided to back Tanaka because of his work righting the budgets of both Gardena, where Duran grew up, and the Sheriff's Department.

The 33-year veteran of the Sheriff's Department said his career has suffered since summer, when he publicly backed Tanaka. He said he first was removed from his post of five years, as a captain of the Aero Bureau, and assigned to the vehicle theft program, which he said resulted in a "considerable" loss of salary. Earlier this month, he said he was transferred again, to the office of the assistant sheriff, where he has no assignment, no staff, no office, no desk and no chair.

"There is no job for me there. There's nothing. Lately I've been so disheartened, I've been burning time, I just haven't been going in," he said. "It's basically purgatory."
We spoke to Attorney Brad Gage who told us he is representing Louis Duran and several other veterans of LASD's Aero Bureau (Serg. Casey Dowling and Lt. Robert Wheat), along with Commander David Waters, and others.
According to Gage, still more Tanaka supporters, such as Captains Kevin Hebert and Robert Tubbs, are filing lawsuits with another local attorney, Arnold Casillas.