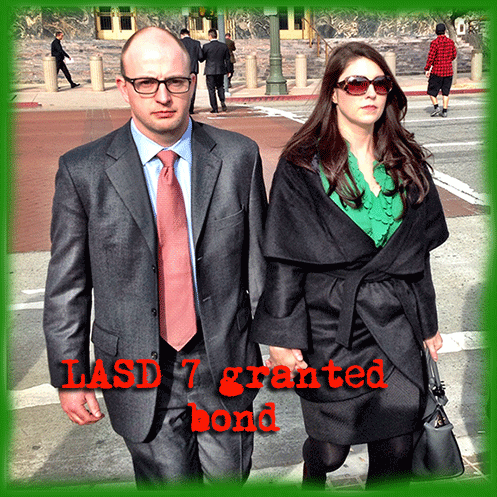 On Friday, the 9th Circuit Court of Appeals granted bond to the seven former members of the Los Angeles Sheriff's Department convicted last year of obstruction of justice for their part in hiding FBI informant Anthony Brown from his federal handlers, and related actions.
The 9th first granted bond to former LASD deputy James Sexton, who was tried separately from the other six. (Actually, he was tried twice. Although he was convicted in September, 2014, his first trial, in the spring of last year, resulted in a six-six hung jury.) Then attorneys for the others were notified.
Sexton and the six were scheduled to surrender early this year to begin their various prison sentences—ranging from 18 to 41 months—but, although they were denied bail by Judge Percy Anderson, the original presiding judge in their respective trials, before their surrender dates arrived, the 9th granted all seven a stay—meaning their lock-up dates were put off while the appeals court figured out whether or not it was going to hear the cases.
---
OKAY, SO WHY DO WE CARE ABOUT BAIL?
The grant of bond—or bail as it is more commonly known—is significant, because, according to a source knowledgeable about the matter, this means that the three judge panel that issued the bond order thought, as the source put it, "there is a significant issue likely to result in reversal on appeal."
The source cautioned, however, that the panel that granted the motion most likely won't be the same three judges who will hear the case, so views of these three may not hold sway.
Yet, there is a possibility that the panel will stay the same, said our source. "I'm pretty sure the panel will shift, but sometimes on an expedited appeal (which this is) they may keep it."
---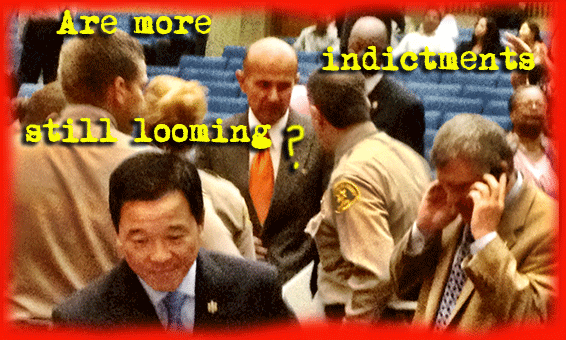 YES, BUT WILL THIS AFFECT FUTURE FEDERAL INDICTMENTS?
As we noted earlier, various members of the LA County Sheriff's Department—present and former—were subpoenaed to testify in front of a federal grand jury in December of last year, and at the beginning of 2015. According to sources, those questioned were asked almost solely about the obstruction of justice issues for which the seven former LASD members just granted bond were convicted, in particular the actions of former sheriff Lee Baca, former undersheriff Paul Tanaka, and Captain Tom Carey who was relieved of duty in December of last year, pending an unnamed investigation.
One presumes that all this grand jury testifying has been in pursuit of some kind of additional indictments, although there is, of course, no guarantee.
Several we spoke to speculated, therefore, that the feds might be waiting to see the outcomes of the above appeals before moving forward with any new, high profile charges—if there are to be any such charges.
There has been, and continues to be, much criticism that, in indicting the seven convicted of obstruction—three of whom were deputies at the time, two were sergeants, and two were lieutenants—the feds were picking low-hanging fruit, so to speak, while leaving those who actually gave the orders that reportedly set the obstruction in motion, completely untouched.
In any case, this story is far from over, so…stay tuned.