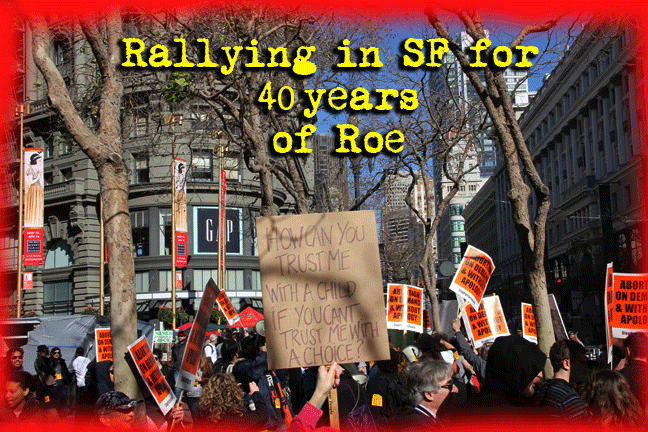 40 YEARS OF ROE V. WADE MARKED WITH RALLIES AND COUNTER RALLIES IN SF AND ELSEWHERE
THere were rallies marking the 40's anniversary of Roe v. Wade all over the county this past weekend. Matthai Kuruvila from the San Francisco Chron has an account of the rally and counter rally in San Francisco. Here's a clip:
The account of the events in San Francicso. Abortion activists on each side of the issue converged on San Francisco Saturday, creating parallel universes testifying to what 40 years of reproductive rights have wrought.

At Justin Herman Plaza, pro-choice activists danced and spoke about liberating women from the horror of back alley abortions conducted by coat hanger-wielding quacks.

Before legal abortions, what might happen to you "was a terror in the back of your mind," said Chris Malfatti, 64, of San Francisco, who knew someone who lost her fertility to an illegal abortion.
Katheryn Smith of Politico covered the events in DC.
---
RELEASE OF CORONER'S REPORT FUELS CONTROVERSY OVER CULVER CITY MAN SHOT MULTIPLE TIMES BY DEPUTIES
The newly released autopsy report on the shooting death by sheriff's deputies of Jose De La Trinidad shows that De La Trinidad was shot 7 times, all from the rear, five of the shots striking the Culver City father in the back.
The LA Times Wesley Lowery has more on the story. Here's a clip:
A Culver City man who was fatally shot by Los Angeles County sheriff's deputies after a pursuit in November was struck by bullets five times in the back and once each in the right hip and right forearm, also from behind, according to an autopsy report obtained by The Times.

Jose de la Trinidad, a 36-year-old father of two, was killed Nov. 10 by deputies who believed he was reaching for a weapon after a pursuit. But a witness to the shooting said De la Trinidad, who was unarmed, was complying with deputies and had his hands above his head when he was shot.

Multiple law enforcement agencies are investigating the shooting.

De la Trinidad was shot five times in the upper and lower back, according to the Los Angeles County coroner's report dated Nov. 13. The report describes four of those wounds as fatal. He was also shot in the right forearm and right hip, with both shots entering from behind, the report found.

"Here's a man who complied, did what he was supposed to, and was gunned down by trigger-happy deputies," said Arnoldo Casillas, the family's attorney, who provided a copy of the autopsy report to The Times. He said he planned to sue the Sheriff's Department…
---
THE PRICE OF A STOLEN CHILDHOOD
In a deeply affecting story for this week's New York Times Magazine Emily Bazelon writes about two young women with the first names of Nicole and Amy who, as children, were sexually abused, with their rapes recorded on video and distributed to thousands of men. In the cases of Nicole and Amy, however,the court has ruled that they can both obtain monetary restitution from those who downloaded the videos of them to mitigate the harm that was done to them. Bazelon's article explores, among other things, if financial restitution actually helps victims of child pornography.
Here's a clip:

The detective spread out the photographs on the kitchen table, in front of Nicole, on a December morning in 2006. She was 17, but in the pictures, she saw the face of her 10-year-old self, a half-grown girl wearing make-up. The bodies in the images were broken up by pixelation, but Nicole could see the outline of her father, forcing himself on her. Her mother, sitting next to her, burst into sobs.

The detective spoke gently, but he had brutal news: the pictures had been downloaded onto thousands of computers via file-sharing services around the world. They were among the most widely circulated child pornography on the Internet. Also online were video clips, similarly notorious, in which Nicole spoke words her father had scripted for her, sometimes at the behest of other men. For years, investigators in the United States, Canada and Europe had been trying to identify the girl in the images.

Nicole's parents split up when she was a toddler, and she grew up living with her mother and stepfather and visiting her father, a former policeman, every other weekend at his apartment in a suburban town in the Pacific Northwest. He started showing her child pornography when she was about 9, telling her that it was normal for fathers and daughters to "play games" like in the pictures. Soon after, he started forcing her to perform oral sex and raping her, dressing her in tight clothes and sometimes binding her with ropes. When she turned 12, she told him to stop, but he used threats and intimidation to continue the abuse for about a year. He said that if she told anyone what he'd done, everyone would hate her for letting him. He said that her mother would no longer love her.

Nicole (who asked me to use her middle name to protect her privacy) knew her father had a tripod set up in his bedroom. She asked if he'd ever shown the pictures to anyone. He said no, and she believed him. "It was all so hidden," she told me. "And he knew how to lie. He taught me to do it. He said: 'You look them straight in the eye. You make your shoulders square. You breathe normally.' "

When she was 16, Nicole told her mother, in a burst of tears, what had been going on at her father's house. Her father was arrested for child rape. The police asked Nicole whether he took pictures. She said yes, but that she didn't think he showed them to anyone…..
The idea of the kind of restitution Bazelon's story describes is not without controversy. It seems that, as terrible as such crimes are, creating tough laws that don't also capture in their net the wrong people along with the predators, can be challenging, as Jennifer Bleyer of Slate points out.
---
THREE STRIKERS NEWLY RELEASED FACE A MULTITUDE OF CHALLENGES, OFTEN WITH NO HELP
Tracey Kaplan at the Contra Costa News has the story. Here's a clip:
In an unforeseen consequence of easing the state's tough Three Strikes Law, many inmates who have won early release are hitting the streets with up to only $200 in prison "gate money" and the clothes on their backs.

These former lifers are not eligible for parole and thus will not get the guidance and services they need to help them succeed on the outside, such as access to employment opportunities, vocational training and drug rehabilitation.

The lack of oversight and assistance for this first wave of "strikers" alarms both proponents and opponents of the revised Three Strikes Law — as well as the inmates themselves.

"I feel like the Terminator, showing up in a different time zone completely naked, with nothing," said Greg Wilks, 48, a San Jose man who is poised to be released after serving more than 13 years of a 27-years-to-life sentence for stealing laptops from Cisco, where he secretly lived in a vacant office while working as a temp in shipping and receiving.

[SNIP]

"We want these people to succeed," said Michael Romano, director of Stanford's Three Strikes Project. "We don't want them committing crimes and creating more victims."

Proponents say the main reason they didn't foresee the situation is that the rules regarding parole changed significantly — after officials had already approved the ballot language for Proposition 36.

Under California's realignment of its criminal justice system, the role of supervising most nonviolent offenders is shifting in stages from the state to county probation officers. But neither the realignment statute nor the Three Strikes Law made provisions for monitoring released strikers.

Romano said the issue is now being litigated in Los Angeles County, where a prosecutor claims strikers should be supervised by probation officers. But even if they are, he said, many counties lack the resources to help the mostly male population of former lifers make a successful transition….
---
---
Photo of San Francisco rally for 40 years of Roe v. Wade by Christine Duong