[W]hile [a pros­e­cu­tor] may strike hard blows, he is not at lib­er­ty to strike foul ones. It is as much his duty to refrain from improp­er meth­ods cal­cu­lat­ed to pro­duce a wrong­ful con­vic­tion as it is to use every legit­i­mate means to bring about a just one.
U.S. Supreme Court Justice George Sutherland, in Berger v. United States (1935).
---
In the last few years there has been a lot of much-needed discussion about holding district attorneys and other prosecutors accountable for their actions. 

It is heartening that much of the progress in prosecutorial reform is being made by the prosecutors themselves.   Yet, there is a long way to go.  And, despite all the excellent prosecutors, it appears that, for many others, winning big is still the gold standard, not seeking justice.

Matters have not been helped by the fact that district attorneys—and those who work for them—are rarely held answer for ghastly errors, or straight-up misconduct.

One disturbing new view of the cost of prosecutorial misconduct is illuminated by a new report released last Thursday, June 30, by the Death Penalty Information Center (DPIC), which has identified more than 550 instances of reversals and exonerations in death penalty cases that were based on prosecutorial misconduct. 

To look at the numbers another way, this means that at least 5.6% of death sentences imposed in the U.S. since 1972—i.e. the half century after the U.S. Supreme Court struck down existing death penalty statutes—have been reversed for prosecutorial misconduct or resulted in a misconduct exoneration.
"The data on wrongful convictions has long shown that prosecutorial misconduct is a significant source of injustice in the criminal legal system," said DPIC executive director Robert Dunham.
The DPIC's new research, said Dunham, documents a situation that some judges have described "as an 'epidemic' of misconduct, is even more pervasive than we had imagined."
Furthermore, said Dunham, the new report provides only a glimpse of the prosecutorial misconduct "that occurs in the death penalty context," 
For example, the list of instances the DPIC researchers have compiled does not include cases in which prosecutors committed misconduct "but courts denied relief on grounds of supposed immateriality or harmless error."

Nor does the report include misconduct reversals of crimes that were charged as capital offenses, but that didn't result in life sentences.

The DPIC report helpfully breaks its more than 550 misconduct reversals and exonerations into seven main categories of prosecutorial misconduct, with an additional catchall category of "other." which covers types of misconduct that are less common. 

The seven main categories are:
withholding favorable evidence
jury discrimination
improper argument
improper questioning
  false evidence
improper evidence
the presentation of evidence obtained "in violation of the right to counsel."

The DPIC found that the most common of these seven categories of misconduct, was the withholding of potentially exculpatory evidence, in violation of the U.S. Supreme Court case, Brady v. Maryland, which the researchers said was implicated in 35 percent of the reversed convictions or sentences. 
The second most common was improper argument, which was present in 33% of the reversed sentences.
And in 16% of the misconduct reversals or exonerations the researchers found that more than one category of misconduct was involved.

Unsurprisingly, according to the report, a common form of the second category of prosecutorial misconduct, "jury discrimination," came in the form of the exclusion of people of color from juries, in violation of the U.S. Supreme Court case of Batson v. Kentucky.

This particular category, noted the researchers, was additionally problematic in that, statistically, all-white and nearly all-white juries have been found to be more conviction-prone "and more likely to impose death sentences."

State to state and county to county

When the report looked at the matter regionally, Los Angeles County had 13 of the 550 cases of prosecutorial misconduct in death penalty exonerations, a number that was high, but not when compared to Philadelphia County, PA with 28 such cases.  Cook County, Ill, also beat LA County in this painful race with 19 cases.  Mobile County, AL, had one more case than LA did with 15 death penalty cases brought about by prosecutorial misconduct, which eventually resulted in exonerations.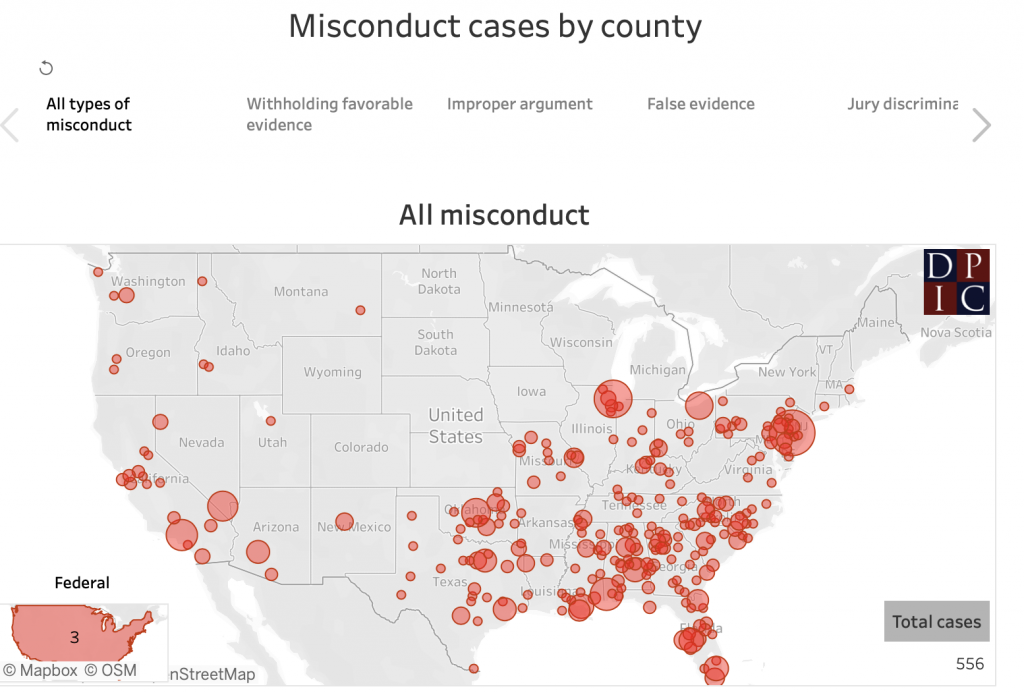 On a state level, California had 34 death-penalty exonerations featuring prosecutorial misconduct, according to the new report, with five states scoring a higher number. (See chart above story.)

The DPIC points out, however, that the fact that some states and counties have much higher numbers than other similarly populated states and counties, when it comes to exonerations in capital cases that prominently feature prosecutorial misconduct, doesn't mean that such scores let other regions off the hook. 

According to Dunham and the DPIC researchers,  the number of these cases depends on a combination of factors, including "how willing courts and other decision makers are to reverse or exonerate in cases involving prosecutorial misconduct."

The tight-rope walk of death-row exonerations

The matter of the willingness—or lack thereof—of courts and other decision makers to pursue exonerations, is particularly sobering when considering the 121 cases on the new report's list in which prosecutorial misconduct was discovered that eventually led to an exoneration, occurred when the wrongfully convicted person was on death-row.

In some death-row exonerations, the misconduct turned up in multiple trial proceedings, such as in the notorious case of Mississippi death-row survivor Curtis Flowers.
Race, misconduct, and exoneration
One more thing. In the DPIC's 2021 Special Report: The Innocence Epidemic researchers found that 69% of death-row exonerations have included misconduct by some kind of official or officials. Sometimes the misconduct was committed by prosecutors, other times the misconduct was by police, or other government officials.
Unsurprisingly, the 2021 report also found that significant misconduct was "disproportionately prevalent" in death-row exonerations of defendants of color, "especially Black defendants."
While official misconduct was also a significant factor in exonerations of white death-row survivors, said the DPIC researchers, and present in 58% of those cases, it contributed to 79% of the wrongful convictions of Black death-row exonerees and 69% of Latinx death-row exonerees.
And on a related but slightly different topic, if you've never listened to the podcast series, In the Dark, Season 2, about the many prosecutions of the above-mentioned Curtis Flowers, give it a try. It's painful, but brilliantly done.
In the podcast you'll get to know District Attorney Doug Evans the Mississippi prosecutor who tried Curtis Flowers six different times for the same crime of murder, over multiple decades in Winona, Miss., with the last of the six convictions overturned by the U.S. Supreme Court.
In November 2022, however, the longtime Mississippi prosecutor hopes to change jobs. District Attorney Doug Evans is running for District Court Circuit Judge