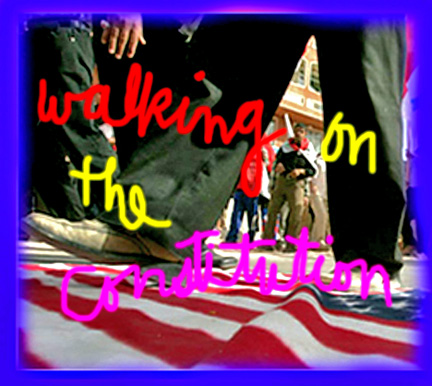 Today the Surpreme Court will decide whether of not to hear the case of Ali Marri, who has spent nearly 2,000 days locked up a Navy brig in South Carolina, without charges or a trial .
He is locked up solely because George W. Bush has designated him an enemy combatant.
According to the Bush administration's interpretation of its powers, Mr. Marri could be held in this state of imprisoned limbo for the rest of his life, with no legal recourse whatsoever—-even though he was a legal resident at the time of his arrest and has been tried and convicted of exactly nothing.
Mari's attorney, Jonathan Hafetz, has written a very troubling Op Ed about his client's situation for today's Los Angeles Times. Here are some excerpts:
Ali Marri is now 43 years old. He came to the United States in September 2001 with his wife and five children to study for a master's degree at Bradley University in Peoria, Ill.

Three months later, two FBI agents came to Marri's home in Peoria and arrested him. They believed he had information that could aid the government's investigation of the Sept. 11 attacks and detained him as a "material witness." Two months later, the government filed the first of three indictments against him, claiming that Marri had engaged in credit card fraud and lied to the FBI.

Marri maintained his innocence and prepared to contest the accusations against him. The district judge scheduled a trial date for July 2003.

But the trial never took place. Less than a month before the trial was scheduled to begin, Marri was taken in the middle of the night to a military prison in South Carolina. He was no longer a man accused of a crime. The president had signed an order declaring him an "enemy combatant." All of the Constitution's protections had been erased with the stroke of a pen.

Once removed from the criminal justice system, Marri was deprived of any contact with the outside world, paving the way for a brutal interrogation regime. He was shackled in a fetal position to the floor of a freezing cell, kept from sleeping for days on end, and threatened with violence and death — all in a deliberate attempt to create a sense of hopelessness and despair. Guantanamo Bay, Cuba, had come to America.

The interrogations continued for 16 months before Marri was finally allowed to see a lawyer. Recordings from those months of interrogations, meanwhile, were destroyed by the Defense Department.
The New York Times ran an editorial yesterday urging the Supremes to hear Marri's case, the stakes for which go well beyond the life of Mr. Marri.
…The federal appeals court made clear that its ruling upholding the president's power to detain enemy combatants applies equally to American citizens. If the ruling stands, presidents would be able to throw out due process, habeas corpus and other basic constitutional and statutory rights for anyone they declared to have terrorist ties. That is an intolerable reading of the law — and one that the Supreme Court should quickly reverse.
Intolerable is exactly the right word. It has been intolerable to have our democracy highjacked by an administration so drunk on its own unchecked executive power that it has crossed a line, the crossing of which, as British historian Andy Worthington put it, ".. cannot be accepted in a nation, like America, committed to basic human rights and the principles of its Constitution."
***********************************************************************************************

REASON NUMBER 4768 THAT WE ARE HAPPY OBAMA WON: Because we will soon have a president who will not repeatedly fill us with shame and dread by imprisoning people without due process.