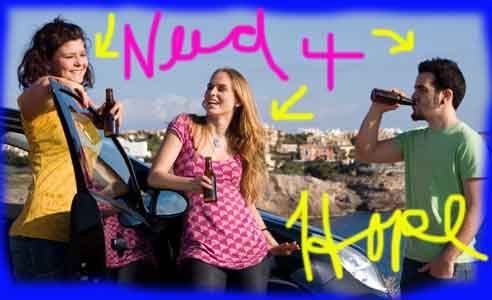 In a brand new study published in the July issue of Pediatrics, University of Minnesota pediatrics expert, Dr. Iris Wagman Borowsky, found that almost 15 percent of American teens believe they will die before age 35.
Dr. Borowsky also found that the adolescents who were the least hopeful that they would survive past 35, were the most likely to engage in risky behavior.
Those of us who have worked around at-risk kids have long noted that a hopeless kid is the one who is most likely to act out in dangerous ways. But seeing quantified the sheer numbers of American teenagers who believe that they will die young cannot help but shock us.
Dr. Borowsky arrived at her conclusions after she and her team analyzed reams of data collected by the National Longitudinal Study of Adolescent Health, in which the attitudes and behaviors of 20,594 adolescents in 7th through 12th grade, were tracked over a three year period.
One of the reasons the study is important is that it topples a common fallacy that most kids engage in risk-taking behavior because of their naive belief that nothing bad will happen. The reality, Borowsky found, is actually quite the opposite—and far more complex.
"While conventional wisdom says that teens engage in risky behaviors because they feel invulnerable to harm [italics are mine], this study suggests that in some cases, teens take risks because they overestimate their vulnerability, specifically their risk of dying," Borowsky said. "These youth may take risks because they feel hopeless and figure that not much is at stake."

Nearly 25 percent of youth living in households that receive public assistance and more than 29 percent of American-Indian, 26 percent of African-American, 21 percent of Hispanic, and 15 percent of Asian youth reported believing they would die young—compared to just 10 percent of their Caucasian peers.

"Our findings reinforce the importance of instilling a sense of hope and optimism in youth," Borowsky said. "Strong connections with parents, families, and schools, as well as positive media messages, are likely important factors in developing an optimistic outlook for young people."
No kidding.
Borowsky noted specifically that the kids who believed they would die young were more prone to drug use or to acquire STDs.
Yet, this same model applies when we look at the likelihood of joining or staying in gangs.
In and around the gang world, the least hopeful kids are always the most deeply involved and the most dangerous—either to themselves or others.
"Hey, you gotta die sometime.….." I've heard kids say right before they go do something life-theateningly stupid. These were the same kids who told me how they had already planned what they were going to wear to their own funerals.
It is for the above reasons that programs like "Scared Straight" and the ever more draconian juvenile laws that are aimed at getting young gang members or gang wannabes to "think twice"—are so entirely ineffective.
These strategies work wonderfully for the kids who don't need them—the hopeful kids.
But if we want to help the kids who are the most at risk (and it seems according to Borokwsky and company, there are a great many of them) we need to find much more effective methods for infusing them with hope.