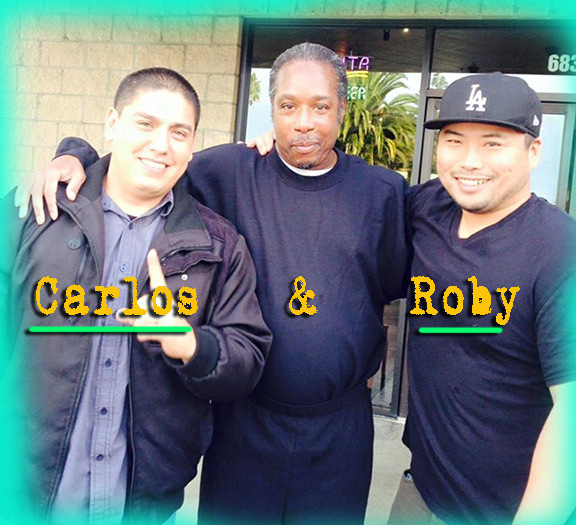 THE ANTI-RECIDIVISM COALITION'S ROBY SO & CARLOS CERVANTES GIVE MEN LEAVING PRISON A RIDE HOME & HELP THEM ACCLIMATE
Carlos Cervantes and Roby So, members of the Anti-Recidivism Coalition (ARC), pick up men newly released former third-strikers from prison to help them through their often overwhelming first day on the outside.
Through their Ride Home Program, Carlos and Roby, who spent 11 and 12 years in prison themselves, often travel hours to meet people exiting prison, to help them acclimate and bring them up-to-date on what they missed while they were locked up.
When men and women come out of lock-up, they are often given just $200 to start over with, and if they don't have family waiting to meet them, they have to navigate the unfamiliar alone.
NY Times' Jon Mooallem has a great longread (and documentary video) on Carlos and Roby and their Ride Home program. Here are some clips:
Unlike typical parolees, third-strikers are often notified of their release just before it happens, sometimes only a day in advance. (It can take months for a judge to rule after papers are filed.) They're usually sent out the door with $200, a not-insubstantial share of which they often pay back to the prison for a lift to the nearest Greyhound station: An inmate might be released from a prison outside Sacramento and expected to find his way to a parole officer in San Diego, 500 miles away, within 48 hours. Stanford's Three Strikes Project was setting up transitional housing for its clients, but initially, a lot of the third-strikers weren't making it there — they were just blowing away in the wind. Then, Carlos and Roby started driving around the state and waiting outside to catch them.

The job started as a simple delivery service, to carry some of these discombobulated bodies from one place to another. In late 2013, the director of the Three Strikes Project, Michael Romano, contacted a nonprofit called the Anti-Recidivism Coalition, which has built up a close community of formerly incarcerated people in Los Angeles. (Romano, who is also an A.R.C. board member, is a friend of mine.) Romano asked if A.R.C. could dispatch one of its members to pick up third-strikers and drive them to their housing near the Staples Center in Los Angeles. A.R.C. recommended Carlos, a dependable young man just three years out of prison himself, who — most important — also had his own car and a credit card to front money for gas. Carlos was hired, for $12 an hour, to fetch an old man named Terry Critton from a prison in Chino. On the way back, Critton asked if Carlos wouldn't mind stopping at Amoeba Records, so he could look at jazz LPs — he'd been a big collector. They wound up spending almost two hours in the store, just looking. Then, Critton wanted a patty melt, so Carlos found a place called Flooky's, where they ordered two and caught the end of a Dodgers game. It was extraordinary: All day, Carlos could see this man coming back to life. He wanted to do more pickups, and he wanted to get his friend Roby involved. He told his bosses he needed a partner.

By now, Carlos and Roby — officially, A.R.C.'s Ride Home Program — have done about three dozen pickups, either together or individually, waking up long before dawn and driving for hours toward prison towns deep in the desert or up the coast. Then they spend all day with the guy (so far they've picked up only men), taking him to eat, buying him some clothes, advising him, swapping stories, dialing his family on their cellphones or astonishing him by magically calling up Facebook pictures of nieces and nephews he's never met — or just sitting quietly, to let him depressurize. The conversation with those shellshocked total strangers doesn't always flow, Roby told me. It helps to have a wingman.

''The first day is everything,'' Carlos says — a barrage of insignificant-seeming experiences with potentially big consequences. Consider, for example, a friend of his and Roby's: Julio Acosta, who was paroled in 2013 after 23 years inside. Acosta describes stopping for breakfast near the prison that first morning as if it were a horrifying fever dream: He kept looking around the restaurant for a sniper, as in the chow hall in prison, and couldn't stop gawking at the metal knives and forks, ''like an Aztec looking at Cortez's helmet,'' he says. It wasn't until he got up from the booth and walked to the men's room, and a man came out the door and said, ''How you doin'?'' and Acosta said, ''Fine,'' that Acosta began to feel, even slightly, like a legitimate part of the environment around him. He'd accomplished something. He'd made a treacherous trip across an International House of Pancakes. He'd peed.

But what if Acosta had accidentally bumped into a waitress, knocking over her tray and shattering dishes? What if that man had glared at him, instead of greeting him, or snapped at him to get the hell out of the way? Ann Jacobs, director of the Prisoner Re-entry Institute at New York's John Jay College of Criminal Justice, told me that even the smallest bungled interactions on the outside leave recently incarcerated people feeling ''like they're being exposed, like they're incompetent. It's feeding into their worst fear, their perception of themselves as an impostor who's incapable of living a normal life.'' Carlos and Roby have learned to steer their guys through that perilous newness — and to be nonchalant about it, to make the sudden enormity of life feel unthreatening, even fun. On one ride home earlier this year, I watched a third-striker venture inside a convenience store, alone, to buy a candy bar while Roby pumped gas. The man seemed emboldened after a few hours of freedom, actually hopping a bit as he walked. But then he tripped over the curb and tumbled forward, arms thrashing, nearly face-planting in front of the door. Roby just shrugged and said, ''Well, you've got to get that one out of the way.''

''Been a long time since I looked at a menu,'' Dale Hammock said. He was sheltered in a corner of a booth at a Denny's near the prison. The restaurant was overcrowded, loud and full of the kind of hyperdifferentiated nonsense that ordinary Americans swim through every day, never assuming it can or should be fully understood. But Hammock was having trouble sorting the breakfast menu from the lunch menu, and the regular Denny's menu from the Denny's Skillets Across America limited-time menu. There were two kinds of hot sauce and four different sweeteners on the table. On the Heinz ketchup bottle, it said: ''Up for a Game? Trivial Pursuit Tomato Ketchup.''

The first meal after a long prison sentence is an ostensible celebration laced with stress. The food tastes incredible. (Roby gained 60 pounds after his release, desperate to try the Outback Steakhouse Bloomin' Onion and other fast-casual delicacies he'd seen commercials for on TV.) But ordering — making any choice — can be unnerving. Waiters are intimidating; waitresses, especially pretty ones, can be petrifying. So at Denny's, Roby started things off, ordering a chocolate milk. Hammock ordered a chocolate milk, too. Then he reconsidered and said: ''I want a milkshake! I'll just have that!'' He ordered a Grand Slam. Then he changed it to a Lumberjack Slam. And when the waiter shot back with ''Toast: white, wheat or sourdough?'' Hammock went stiff momentarily, then answered: ''Toast, I guess.''
---
KEEPING KIDS IN SCHOOL (AND AWAY FROM THE JUSTICE SYSTEM) IN FRESNO
The Chronicle of Social Change's Lisa Jenkins looks at efforts in California to steer kids away from the juvenile justice system, with a particular focus on the Keeping Kids in School Project and the Victim Offender Reconciliation program (VORP), an important part of the restorative justice efforts in Fresno schools. Here's a clip:
The 2013 KKIS conference was the first concrete step in changing the tone of the conversation around truancy. At the core of the 2013 conference was a recognition that students need to be physically in school in order to receive the state's educational services. Being deprived of these services, as inevitably happens when one is chronically absent, has been tied to other problems; research presenters at the conference utilized statewide data showing a direct link between missing school, suspension from school and ultimately dropping out.

Making this link clear to parents, guardians and other stakeholders is the most important part of the work that KKIS is doing, said Gordon Jackson, director of the coordinated student support division in the California Department of Education, in a phone interview.

"Of course, all across the span of economics or earned income, there is this common thread among parents of wanting good things to happen for their kids," Jackson said. "There is really a focus on the challenge of catching students early, before they develop truancy patterns, and involving the parents."

This idea has been taken to heart in Fresno County, where the regional KKIS focus group and other stakeholders are working to improve academic performance of elementary and middle school students in order to prevent their eventual court-system involvement. This means targeting those with complicated home situations, and even creating personalized plans for how students will get to school. There is a particular focus on literacy, as studies have shown that students with strong reading engagement experience less absenteeism.

According to education specialists, one promising solution to this excessive absenteeism (and to numerous other justice questions) is a coordinated system of restorative justice.

Restorative justice programs involve two crucial components: a discussion among those involved with the crime or truancy, and a concrete plan for rectifying the situation. The oldest such program in the state, VORP of the Central Valley, was founded in 1982 by Ron and Roxanne Claasen, but has only relatively recently gained the momentum to become a part of the local juvenile justice vocabulary.

For the Claasens, who also founded the Discipline That Restores program at Fresno Pacific University, these techniques are an important part of getting students to reconnect with their school communities. After involvement with restorative justice techniques, VORP estimates that eight of every ten juvenile offenders successfully move on from crime and return to school. Instituted across school districts, these results are significant; when comparable California communities have instituted district-wide restorative justice policies, they have cut suspensions by up to 60 percent in just five years.
---
WHAT THE CITIES WITH THE BIGGEST POLICE FORCES PAY FOR MISCONDUCT SETTLEMENTS & COURT JUDGMENTS
The ten cities with the largest police departments paid out a total of $248.7 million last year in officer misconduct settlements and court judgments. That number is up 48% from 2010's grand total of $168.3 million. Between those five years the ten cities paid out a combined $1.02 billion. New York City was responsible for a whopping $601.3 million, more than half of that 2010-2014 grand total. In comparison, Los Angeles, while still among the top three cities that spent the most, had a five year total of $57.1 million.
Los Angeles, Baltimore, Phoenix, unlike the other seven cities, experienced a decline in payout amounts between 2010-2014. And in LA, 39% of payout dollars were spent on misconduct cases. In Chicago, misconduct cases accounted for 89% of the total.
The Wall Street Journal's Zusha Elinson and Dan Frosh have more on the numbers.
Cities are cutting more checks to people who were wrongfully imprisoned years ago because of police misconduct. As more wrongful convictions come to light, jury verdicts have risen, with some now exceeding $2 million a year behind bars.

New York City agreed last year to pay $41 million to five black and Hispanic men imprisoned for the 1989 beating and rape of a jogger in Central Park, then freed after another man confessed and DNA evidence confirmed his story. City lawyers under former Mayor Michael Bloomberg had fought a lawsuit brought by the five men, which alleged that detectives coerced confessions from them as teens. Under current Mayor Bill de Blasio, the city agreed to a settlement equal to about $1 million for each year each man spent behind bars.

New York City Corporation Counsel Zachary Carter said the settlement "should not be construed as an acknowledgment that the convictions of these five plaintiffs were the result of law-enforcement misconduct."

Chicago has been trying to resolve cases stemming from allegations that detectives, led by former commander Jon Burge, tortured black and Hispanic suspects with implements like electric cattle prods, coercing confessions from them and putting them behind bars from the 1970s to early 1990s for crimes they didn't commit. Those cases have cost the city more than $60 million in payouts. In May, Chicago launched a $5.5 million reparations fund for some of the victims.

A Chicago police spokesman called Mr. Burge's actions a "disgrace." Mr. Burge was convicted of federal perjury and obstruction charges in 2010. Mr. Burge, who has been released from prison, declined to comment.

In New York, settlements and judgments in misconduct cases hit $165 million in fiscal 2014, up from $93.8 million in 2010. Both New York and Los Angeles, which paid out $10.7 million on such cases last year, now are tracking claims more closely and trying new approaches to risk management.

New York City's government-run hospitals were for years the city's leading source of liability payouts, primarily because of medical-malpractice settlements. But beginning in the 2010 fiscal year, the police department surpassed the city hospitals in total liability payouts.

The trend caught the attention of New York City Comptroller Scott Stringer, who launched a program to track legal claims called ClaimStat. "Instead of accepting rising claims and settlements as the cost of doing business," Mr. Stringer says, the city can use the data to identify underlying problems and make changes to prevent future suits.

The number of new claims filed against New York City police, including allegations of police misconduct and damage from car crashes, rose 71% between 2004 and 2013, according to the comptroller.

"While the filing of a lawsuit does not prove any misconduct on the part of an officer, the department is aware of the increasing number of actions filed against the NYPD," a spokeswoman said, adding that the department is "addressing these very real concerns" with the creation of a risk-management bureau and police litigation unit.

The settlement with Mr. Garner's estate came nearly a year after his confrontation with officers who accused him of selling untaxed cigarettes—a scene captured in a widely viewed video. Mr. Stringer said the settlement "acknowledges the tragic nature of Mr. Garner's death while balancing my office's fiscal responsibility to the city."
---
OBAMA GOES TO PRISON
On Thursday, President Barack Obama became the first sitting president to visit a federal prison. NPR's Scott Horsley has the story on the president's visit.