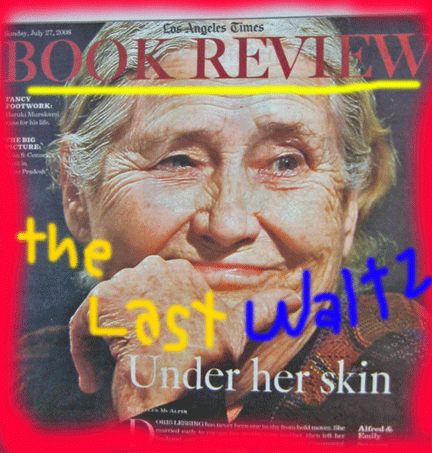 UPDATE: Book review editor, David Ulin was on Larry Mantle's show today, (you can listen online here), and both LA Observed and Romanesko note that the slashing and burning of the Book section is also being discussed tonight on the NewsHour with Jim Lehrer. Evidentally some people actually think the loss of so much of the coverage of, you know, literature is genuinely of consequence.
************************************************************************************************************

Recently departed and extremely well-liked Editorial pages editor, Jim Newton, was the author of Sunday's sad editorial, which explained that, while the Sunday Opinion was no longer a free standing section, it wouldn't cease to exist. Opinion would be incorporated into the A section.
What Newton did not say is that things are about to get worse. Within the next two or three days, 8 people on the Editorial/Opinion pages will lose their jobs. (At first there was going to be only one person cut from editorial. Then four. Now it's eight.)
That is exactly one third of the combined Opinion staff and LA Times editorial board.
(This ongoing DRIP-DRIP-DRIP of firings does wonders for morale, of course.)
Confusing matters further, the Opinion and Editorial departments do not report to the paper's editor-in-chief, but instead report directly to the publisher. (The idea is to keep a fire wall up between reporting and opinion.)
But of late, there is one small problem with this system. The LA Times has no publisher. He was fired.
Oh, yeah, and the LA Times also has no advertising director. That position has reportedly been vacant for a couple of months.
Meanwhile, over on the Books side of things, David Ulin wrote an elegant editor's note explaining that the Book Review would be moved to one of the Calendar-ish sections, which would be renamed Arts and Books, but that quality wouldn't suffer:
Literature is essential to the well-being of our culture; it is the substance of our collective dreams. That has long been part of this newspaper's legacy, and even in the midst of changes, we will continue to honor it — as we have since the days of Robert Kirsch and Art Seidenbaum
The good news is that the Book Review has no more staff cuts in the offing. The bad news: this is because it's already lost half its staff (and its freestanding section) with the cuts announced earlier this month. Oh, yes, and as of today, the combined number of pages allotted to books will be roughly half what it was up until Sunday.

In today's Publisher's Weekly, David U. talks to PW's Sara Nelson and outlines in more detail how he intends to make the lemon of Zell's cuts into genuine lemonade:
He anticipates three full broadsheet pages of reviews (admittedly just over half of the space he used to have); he also says some columns—including Susan Salter Reynolds's "discoveries" —and the bestseller list will remain. "Editorially and aesthetically, we are going to be producing the same kind of work," says Ulin. "We are generating our own content and are not reducing the quality of the reviews." In addition, Ulin will continue to edit and "grow" the book coverage on the Web site; the paper will continue to award its annual book prizes and sponsor the very popular Festival of Books in the spring.
"I have been extremely anguished about this," Ulin said to Nelson.
Yep. Us too, David. Us too.
**********************************************************************************************************************
PS: Speaking of editorials, today's Times has a smart editorial about capital punishment and the movement to get the Supreme Court to reconsider a complicated and messy case known as Kennedy v. Louisiana in which it appears that they screwed up.
PPS: Kevin R. at LA Observed points to a very funny send up of the LA Times by former Times feature writer, Roy Rivenburg.