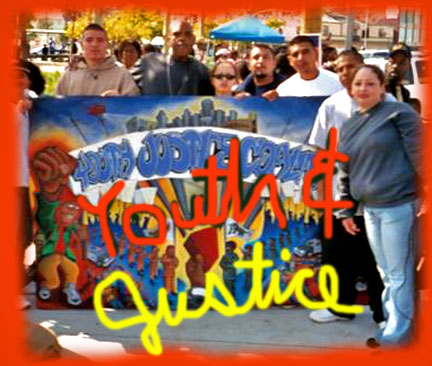 This Saturday, an unusual Los Angeles high school, called FreeLA High, is putting on a car wash to help gather the necessary bucks to pay for the school's first ever graduation ceremony.
FreeLA High is an offshoot of the Youth Justice Coalition, a youth led activist organization that has become a genuine force in the realms of juvenile justice in LA. Most of YJC's young members—kids who range in age from 7 to 24— have, in some way, run afoul of the criminal justice system, or have a family member who has been locked up (or both).
The Youth Justice Coalition aims to empower such kids to work for changes in public policy as it relates to juvenile justice.
In the past, YJC worked successfully to precipitate the shut-down of the much-criticized youth module in the LA County jail, and to improve the conditions of confinement in LA's juvenile facilities. YJC's larger goal is "…for every dollar spent on locking up young people, that the state and county [provides] an equal or greater allocation of funds to support community-based, owned and operated alternatives to arrest, court, detention and incarceration."
In order to further this aim, in the fall of 2007, YJC along with the John Muir Charter School (a unique organization in its own right) began a new charter school for some of the YJC kids whom LAUSD had written off.
I've been a YJC fan for some years, but knew nothing about the school. So I called the YJC offices yesterday afternoon to get a few details, and spoke to sixteen-year-old Maritza Galvez, who is both a youth organizer for YJC and a student at FreeLA High.
I asked how she landed at FreeLA and Maritza told me that she was attending Locke High School when her mother was arrested and jailed for eight months on the a charge that she was smuggling Illegal immigrants from Mexico.
After her mom's arrest, Maritza was sent to live with her older sister, who was barely an adult herself. Freaked and angry, Maritza started misbehaving. She flunked tests, skipped classes, and began ditching school. But, according to Maritza, when she suddenly went off the rails, none of the adults at Locke seemed to notice or care all that much. "Why don't you stay home? You've already flunked this grade," Maritza said one irritated administrator told her when her attendence dropped off precipitously. Although she had ambitions to go to college, the unhappy girl missed more and more school, and finally dropped out altogether.
(NOTE: Just to be clear, we're talking about the pre-Green Dot version of Locke H.S.)
Fortunately, around this same time someone told her about YJC and Maritza called the organization hoping they might help her mother with her case. YJC came through with legal assistance and her mother was eventually released. (According to Maritza, the authorities found that a neighbor was the real smuggler.)
In the meantime, volunteering for YJC gave the girl a sense of purpose and community.
Thus when her mother came back home, Maritza's ambitions for her future resurfaced, and she realized she wanted to go back to school.
But not to an LAUSD school. When she mentioned the issue to some of the YJC leadership, they told her they had always wanted to start an alternative charter school for the kids who felt they had no place in conventional high schools.
And so it was that, with the help of Muir Charter School, FreeLA High was born.
Presently the school has fifty students ranging in age from 15 to 24 (plus another 15 on home study). It's not a huge number. But that's 65 people who are actively choosing a better future for themselves rather than the dead end that was predicted for them.
This June, ten of those students, kids on whom other LA schools had already given up, will be ready to graduate.
Maritza is among them.
"After I graduate, I'm going to community college for two years," she told me. "My dream is then to transfer to UCLA or to an Ivy League school. I don't know if I'll get in, but it's what I'm aiming for. Right before you called, I was on the Internet looking for scholarships."
Like many of the FreeLA students, Maritza will be the first person in her family to go to college.
For the moment, however, what the shoestring-budgeted school needs is a little extra cash to pay for the June graduation ceremony.
Hence the car wash.
"We're not planning anything fancy," said Maritza. "We just want a ceremony that lets us know that we've passed through that gate. That we did it."
"Ritual is important," I agree.

So, about that carwash…… I figure my Escape Hybrid is so covered with Topanga mud and grime it can use at least two washes. Maybe three.
Perhaps you too have a dirty car…….
***********************************************************************************
The car wash will take place this Saturday, from 10 a.m. to 4 p.m., in front of Chuco's Justice Center, 1137 E. Redondo Blvd, Inglewood, CA 90302
(Cross-street West Blvd, One block north of Florence, three blocks west of Crenshaw)