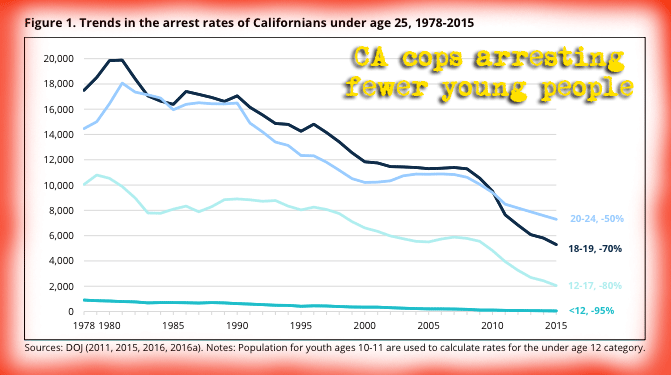 CALIFORNIA ARRESTED FEWER KIDS AND YOUNG ADULTS IN 2015 THAN 2014
The arrests rates of young Californians are still dropping and "now stand at the lowest level ever reliably recorded," according to a new analysis of California Department of Justice data by the Center on Juvenile and Criminal Justice.
Between 2014 and 2015, the arrest rate for people under the age of 25 fell by 31,500 (8%). When compared with the data from 1978, the rates fell 66%.
Felony arrest rates were 42% lower in 2015 than 2010. CJCJ Senior Research Fellow Mike Males says these numbers may be attributed, in part, to the decriminalization of marijuana possession and to Proposition 47, which downgraded six non-serious drug and property-related felonies to misdemeanors. Males points out that other non-related crimes, including violent felony arrests, also saw decreases during that time.
And when you break down the numbers further, the biggest reduction was in arrest rates for kids between the ages of 12 and 14, which dropped by 95% from 1978 to 2015. Considering juvenile justice system-involvement often leads to contact with the adult justice system, Males suggests this welcome change may mean that arrest rates will decline further as these California kids become adults.
"The causes of these declines in arrest remain unknown, but trends suggest that high rates of incarceration are not required to protect public safety," writes Males.
---
BILL TO HOLD BACK VIDEO AND AUDIO OF OFFICER DEATHS
On Monday, the California Senate narrowly passed a bill that would bar the release of video or audio recordings of an on-duty law enforcement officer's death unless the officer's family approves it for release.
Proponents of AB 2611 say the bill would protect families' privacy. Opponents argue that the bill is another barrier to public transparency as the use of body-cams spreads and law enforcement agencies establish policies regarding release of footage.
CA Governor Jerry Brown's Department of Finance is opposing the bill, and says in a bill analysis that AB 2611 is unnecessary because of the peace officer exemptions in the California Public Records Act. AB 2611 "provides privacy protections to peace officers which are greater than those provided to the general public, and moreover implies that the privacy interest of a peace officer's family outweighs public interest in the events of an officer's death," says the Department of Finance.
The bill has to head back to the state Assembly for a vote, where it will likely pass.
The LA Times' Liam Dillon has done a good job of explaining the issues raised by AB 2611. Here's a clip:
"Body cameras are necessary to not only protect potential victims but to also protect the men and women wearing them," said Sen. Cathleen Galgiani (D-Stockton). "No one should have to worry about an audio or video recording of graphic sounds or morbid images be open to the public to be viewed over and over again, nor should the surviving families of any officers."

Senators engaged in lengthy debate about the bill on the floor, with opponents arguing that the measure would create a special exemption for police officer families and could result in unforeseen circumstances where there was overriding public interest in the release of such footage, but law enforcement agencies would be unable to disclose it.

Sen. John Moorlach (R-Costa Mesa) said the bill could harm efforts to build trust between the public and law enforcement.

"Transparency in public safety and law enforcement is so lacking," Moorlach said. "The issues that it creates actually I believe hurts our public safety officials because we're saying, 'No, you can't have this,' or 'You can't see that,' or 'You don't get this video.' And so we see the public extremely frustrated. Now we're going to create this bill, another barrier that just raises angst among our constituents."

The bill passed with a slim majority of 23 senators in favor, with many abstaining. Multiple senators both for and against the bill noted the sensitivity of measures related to the death of law enforcement officers.
---
STATUS UPDATES ON OTHER NOTEWORTHY CALIFORNIA BILLS
A bill that seeks to clarify and affirm the voting rights of individuals who are locked-up for non-serious felonies serving time in county jails because of California's prison realignment (AB 109) has passed out of the state Senate. AB 2466, coauthored by Assembly Member Shirley Weber (D-San Diego) and Senator Holly Mitchell (D-Los Angeles) now heads to Governor Jerry Brown for signature.
Another reform bill from Assembly Member Weber, AB 2590, which would ramp up use of restorative justice, and encourage more rehabilitation and education opportunities for all inmates (not just non-violent offenders), has passed out of the Senate Appropriations committee with amendments, and is poised for a Senate floor vote.
Senator Mitchell's Asset Forfeiture Reform bill only has one more hurdle before joining the voting rights bill on Brown's desk, after Mitchell found a compromise with law enforcement groups on the bill, which would rein in police officers' ability to seize money and/or property that may be tied to a crime (usually a drug crime).
Originally, the bill would have required a criminal conviction for nearly every instance of asset forfeiture. The changes to the bill, which were introduced earlier this month, would require a criminal conviction for assets under $40,000, but a the current lower burden of proof for permanent seizure of assets over that amount. Because of the changes made in the Assembly, the bill will now go back to the Senate for a final vote.
A bill that aimed to hold law enforcement accountable for the backlog of untested rape kids in California has stalled in the Senate Appropriations Committee. AB 1848, which was introduced by state Assembly Members David Chiu (D-San Francisco) and Autumn Burke (D-Inglewood), would have required local law enforcement agencies to count the number of collected rape kits to the state Department of Justice, and provide reasons for any rape kits that went untested.
Another stalled criminal justice-related bill, AB 1869, would called a special election to have voters change a criminal justice reform law passed in 2014 to make stealing a firearm punishable by a state prison sentence of either 16 months, or two or three years.
The bipartisan bill, introduced by Assembly Members Melissa Melendez (R-Lake Elsinore) and Adam Gray (D-Merced), was introduced as a response to California's voter-approved Proposition 47, which reduced six low-level felonies to misdemeanors. One of those former felonies is theft valued under $950.
Those supporting the bill say that opens the door for increased gun theft with minimal consequences. But according to Californians for Safety and Justice (the group behind Prop. 47), says Prop. 47 only applies to non-serious and non-violent crimes crimes.
Gun theft does not fall into those categories, says CSJ. "Dozens of felony provisions related to gun crimes are maintained by Proposition 47, including (but not limited to): possession of a concealed stolen gun or possession of a loaded stolen gun; use of a firearm to facilitate any crime (including when the gun involved is being stolen and theft is crime in question); stealing guns from residences, stores during non-business hours, or locked automobiles; taking a firearm from the person of another with force or fear; or possession of a concealed stolen weapon by a gang member or possession of a gun by a felon," CSJ says.