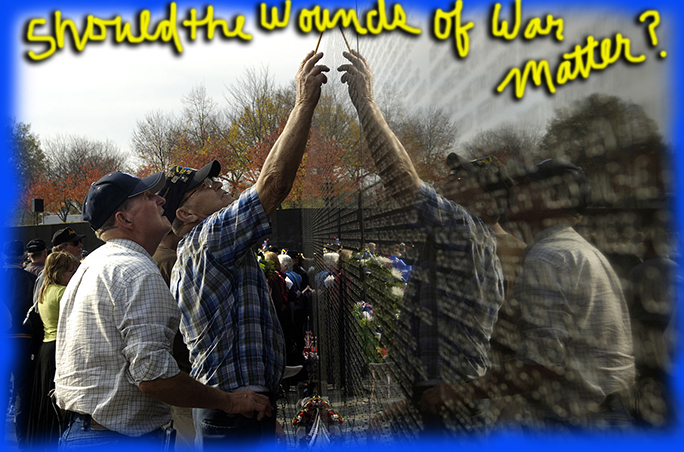 THE DISCOMFORTING MATTER OF THE 300 VETERANS ON DEATH ROW
According to a new report by the Death Penalty Information Center, approximately ten percent of those on death row in America right now are military veterans. In terms of numbers that means approximately 300 inmate veterans are awaiting execution.
Legal rulings have tended to dismiss the connection between battle trauma and violence that occurs when the traumatized warrior returns home, notes the report, never mind an 89 percent rise in homicides by veterans following the invasion of Afghanistan, compared with a six-year period before 9/11.
According to the report, over 800,000 Vietnam veterans suffered from PTSD. At least 175,000 veterans of Operation Desert Storm were affected by 'Gulf War Illness,' which has been linked to brain cancer and other mental deficits. Over 300,000 veterans from the Afghanistan and Iraq conflicts have PTSD. "In one study, only about half had received treatment in the prior year."
The report's author, Richard C. Dieter, writes that "when many of these veterans faced death penalty trials, their service and related illnesses were barely touched on as their lives were being weighed by judges and juries."
In an Veteran's Day Op Ed written for USA Today, three retired U.S. military generals also express concern about the high number of military veterans on death row, many of whom, they say, have diagnoses that should have been considered at sentencing time. The generals note that "the first person executed in the United States this year, Andrew Brannan, was a Vietnam veteran who had been granted 100% disability because of his Post-Traumatic Stress Disorder and other problems stemming from his military service."
So is this really what we want to be doing? The three former generals think not, and they are an impressive group. Retired Brig. Gen. James P. Cullen, is also a former judge for the U.S. Army Court of Criminal Appeals. Retired Brig. Gen. David R. Irvine,is a former Deputy Commander of the 96th U.S. Army Reserve Command, and retired Brig. Gen. Stephen N. Xenakis, is a physician and an adjunct clinical professor at the Uniformed Services University of Health Sciences.
They point to other death row vets, such as James Davis, also a Vietnam veteran with PTSD.
"[Davis} belatedly received his Purple Heart medal on death row in North Carolina, thanks to the work of a fellow veteran and therapist and a pastor, Jim Johnson, who visited Davis. When Johnson pinned the medal on him, Davis saluted proudly, before retreating back into the darkness of his mental problems. He could still be executed today for the murders he committed in 1995, and he has all but given up his appeals."

And then there is John Thuesen, a veteran of the Iraq conflict, who is on death row in Texas. According to the generals, Thuesen's PTSD was not properly diagnosed or treated. And his lawyers did little "to explain his condition to the jury that convicted him of murdering his ex-girlfriend."
Surely men who murder their girlfriends must be held appropriately to answer, no matter how disturbed they are, or why. And, it needs to be said that, most military vets who come home with emotional wounds do not hurt anybody.
But a few do.
Thus, the question is, should the mental and emotional damage they sustained in the service of their country be taken into consideration if they have done something so horrific that capital punishment is on the table?
Many think the answer is: Yes. But not everyone. Yet, the three generals—and the new report—-say we need to revisit this issue:
"In a criminal sentencing hearing, PTSD should be a strong mitigating factor," write the generals. "It's not an excuse or a demand for acquittal. However, the very symptoms that define PTSD can be frightening to a jury if not carefully explained by a mental health expert familiar with the illness. Defense attorneys are often not adequately prepared to investigate and present this kind of evidence; prosecutors or judges might dismiss it because others with similar combat experiences did not murder anyone."
And "perhaps," the generals conclude, "some of the blame should be more broadly shared, because we sometimes choose to look away when a veteran's scars are not the kind that we know how to cope with."
Report author Dieter agrees. "We want smiling veterans returning home," Dieter says in an interview with the Christian Science Monitor. "But the side of somebody who goes off to the dark side and commits murder, we don't … want to explore those wounds."
No one is suggesting we should walk away from punishment, Dieter says. "…This is all about how extreme the punishment should be, and the understanding that people who served and who have been wounded mentally deserve help."
---
ORANGE COUNTY SUPERVISORS VOTE TO WATCHDOG THEIR EMBATTLED DISTRICT ATTORNEY'S OFFICE
In a 3-2 vote on Tuesday, the Orange County Board of Supervisors voted to extend the oversight that is presently newly focused on the Orange County Sheriff's Department, to also include oversight of the OC District Attorney's office—along with the Public Defender's offices, probation and social services.
But, to be clear: the main focus of this expansion of watch-dogging activity is aimed at the embattled DA's office, and its snitch scandal.
Not surprisingly, District Attorney Tony Rackauckas is opposed to the new oversight.
In fact, Rackauckas appears to be fighting the watch-dogging in what ever way he is able. Most recently, the DA shot off a 14-page letter to the OC Supes detailing why he won't agree to an attorney-client relationship in which an oversight office would have access to confidential files.
Despite the widening scandal on the use of jailhouse informants, Rackaukas and his office have planted their collective feet and insisted they have not done anything wrong, even after Orange County Superior Court Judge Thomas M. Goethals recused the entire DA's office in March from the case of the Seal Beach killer, People v. Scott Dekraai, because of the agency's unconstitutional use of snitches to attempt to question defendants.
The body that will be doing the oversight is the Orange County Office of Independent Review, which is part of the larger group, the Office of Independent Review Group (OIR), which is located in Los Angeles, and which—up until 2014—oversaw the Los Angeles Sheriff's Department. In short, they are veterans of such wars for access to information, and appear to have benefited from their battle scars.
KPCC's Erica Aguilar has more on the matter of Tuesday's vote. Here's a clip from her story:
"We don't know the extent of the scandal in the District Attorney's office. We don't know how many convictions are tainted because of it " said, Erwin Chemerinsky, dean of UC-Irvine's Law School.

Unlike the county public defender, which is appointed — the District Attorney and Sheriff are elected officials. Rackauckas and Sheriff Sandra Hutchens' terms end in 2018.

Chemerinsky continues to call for the U.S. Department of Justice to investigate potential wrongdoing in the OC District Attorney's in regards to jailhouse informants. The U.S. Attorney's Office said it continues to keep an eye on law enforcement in the county. Chemerinsky's also called on the Attorney General Kamala Harris to investigate Orange County's jailhouse informant scandal but that hasn't happened.

He said an inspector general model–like that adopted for the L.A. County Sheriff's Department— would be one way to provide prosecutorial oversight of the district attorney in Orange County. The U.S. Attorney's Office also has an inspector general within the department.

Ideally, an oversight body would have the ability to investigate and subpoena, said Chemerinsky.

"Often the way in which wrongdoing is learned is through whistleblowers," he said. "And you need somebody for the whistleblower to go to and you need protection for the whistleblower."
Instead, District Attorney Tony Rackauckas continues to send letters to the OC Board of Supervisors wailing about the idea of oversight, calling it redundant and overreaching.
Fortunately, a majority of three of the OC Supes were wise enough not to listen.
For more on the history of the OC Snitch Scandal read the remarkable coverage by Scott Moxley of the OC Weekly, which is compiled here.
---
ATLANTIC MAGAZINE HOLDS SUMMIT ON RACE & JUSTICE IN AMERICA
Following Ta-Nehisi Coates' October 2015 cover story, "The Black Family in the Age of Mass Incarceration," which explores "the devastating impact decades of mass incarceration has had on African-American families," Atlantic Magazine holds an all day summit in Washington D.C., on the same topic, that live screens here.
The summit's panelists include advocates, police, district attorneys, academics, writers, representatives from the White House, and more.
The summit is live streaming right now, but we'll link to post-summit coverage when it's over, so check back.