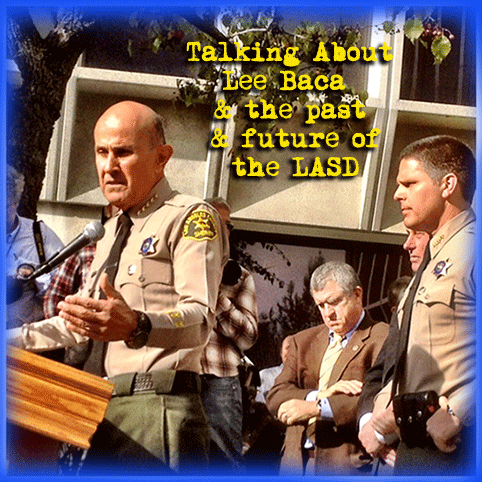 WITNESSLA ON MADELEINE BRAND SHOW AT 12 NOON WED TALKING ABOUT LEE BACA & THE LASD: UPDATED
I'll be on KCRW's new Madeleine Brand show on Wednesday at 12 noon, 89.9 FM. We'll be talking about my lengthy article on former Sheriff Lee Baca that is in the March issue of Los Angeles Magazine (due out Wednesday).
UPDATE: I originally thought it was going to be broadcast Tuesday, but although it was taped Tuesday morning, it'll be broadcast on Wednesday.
You can listen in real time. I'll also link to the podcast after the show.
(And here's a link to a sort of teaser interview that my editor at LA Mag, Matt Segal, did with me about the story.)
Obviously, I'll let you know when the story itself is out!
---
CLOSING THE CAMP KILPATRICK SPORTS PROGRAM?
The LA Times' Sandy Banks has a story on the possible closure of the famous juvenile sports program at LA County's Camp Kilpatrick.
We'll have a lot more on this issue in the next few days, but in the meantime, here's a clip from Banks' column:
A sports program that brought national acclaim to a Los Angeles County probation camp is headed for extinction — unless it can prove that it helps youthful offenders stay trouble-free.

For more than 20 years, Camp Kilpatrick in Malibu has been the only juvenile correctional facility in the state to field teams that compete against public and private schools in the California Interscholastic Federation.

The camp's football team inspired the 2006 movie "Gridiron Gang" and sent several players to college. Its basketball team has come close to being a regional champion. Its soccer program produced this year's Delphic League MVP.

But Camp Kilpatrick is being torn down next month and will be rebuilt on a new model — one that stresses education, counseling and vocational training over competitive sports.

It's part of a long-overdue shift in the county juvenile justice system, from boot-camp style to a therapeutic approach to rehabilitating young people.

Still, it would be a loss to the young men incarcerated at Camp Kilpatrick if sports are a casualty of reform….
We agree. Read the rest here.
---
NY TIMES' BILL KELLER ASSESSES OBAMA ON CRIMINAL JUSTICE RECORD & HOLDER SEZ SENTENCING REFORM WILL BE DEFINING
In his final column for the paper, outgoing NY Times editor-in-chief, Bill Keller grades President Obama on his criminal justice reform record.
Here's a clip:
I DOUBT any president has been as well equipped as Barack Obama to appreciate the vicious cycle of American crime and punishment. As a community organizer in Chicago in the 1980s, he would have witnessed the way a system intended to protect the public siphoned off young black men, gave them an advanced education in brutality, and then returned them to the streets unqualified for — and too often, given the barriers to employment faced by those who have done time, disqualified from — anything but a life of more crime. He would have understood that the suffering of victims and the debasing of offenders were often two sides of the same coin.

It's hard to tell how deeply he actually absorbed this knowledge. In the Chicago chapters of his memoir, "Dreams From My Father," Obama notes that in the low-income housing projects "prison records had been passed down from father to son for more than a generation," but he has surprisingly little to say about the shadow cast by prisons on the families left behind, about the way incarceration became the default therapy for drug addicts and the mentally ill, about the abject failure of rehabilitation.

Still, when the former community organizer took office, advocates of reform had high expectations.

In March I will give up the glorious platform of The Times to help launch something new: a nonprofit journalistic venture called The Marshall Project (after Thurgood Marshall, the great courtroom champion of civil rights) and devoted to the vast and urgent subject of our broken criminal justice system. It seems fitting that my parting column should address the question of how this president has lived up to those high expectations so far…..

[HUG SNIP]

"This is something that matters to the president," [US Attorney General Eric] Holder assured me last week. "This is, I think, going to be seen as a defining legacy for this administration."
---
A FAREWELL TO HAROLD RAMIS….TOO SOON! TOO SOON!



Radiantly, brilliantly, humanely funny. It seems terribly wrong that Harold Ramis is dead.
Above is writer, actor, director Ramis talking to students about "good comedy." With his films such as Ghostbusters, Caddyshack, Animal House, Stripes, Groundhog Day, Analyze This, and more, Harold Ramis showed how it was done.