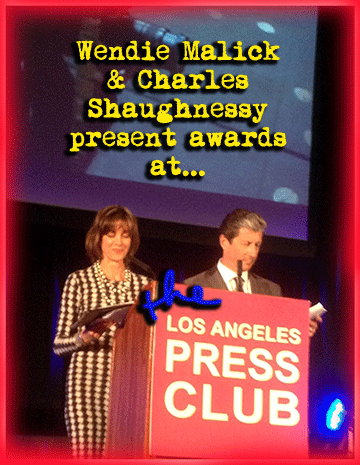 WOOO-HOOO!
We were extremely honored (and kinda blown away) when WitnessLA won 1st Place in both catagories in which we were finalists at in the Southern California Journalism Awards, given out Sunday night at the LA Press Club gala dinner.
Specifically, Matt Fleisher won in the category of best Database Driven Online Journalism for his excellent story PAY TO PLAY: Does the Los Angeles Sheriff's Department have an unofficial quid pro quo promotion system? (This story was done, by the way, with the help of a grant from the Fund for Investigative Journalism, which allowed us to hire our smart UCLA numbers whizzes.)
The judges said, "While Fleischer collected and used information drawn from readily available public records to support his story, the results were presented in an especially effective way for the reader with easy to understand charts and graphs, along with supporting descriptions. Other entries made use of more complicated research and analyses. But ultimately, this entry was the best at communicating the findings in a clear and concise manner."
And then Matt and I together won in the catagory of best Investigative Online Journalism, for the series of articles we did last year investigating corruption and dysfunction in the Los Angeles Sheriff's Department.
The judges said: "When a well-researched, fair and balanced piece of journalism results in … reform and justice, you know it must be good. Reporters Fremon and Fleischer did their homework in this multi-part series and it paid off."
Thank you judges, and thank you LA Press Club!
PS: When it comes to prizes, WLA has been extremely fortunate in the past few years. (Here's 2012, 2011, and 2010) But this year, getting two 1st places was both a giganzoid surprise and very happy-making.)
---
LOTS OF CHEER-WORTHY WINNERS
There were many other heartening wins on Sunday night, which felt like a good night for journalism. Among them:
Warren Only & Which Way LA? won for Public Service with their amazing week-long series: "Special Programming: 20 Years After the Riots"
LA Weekly's Gene Maddaus was deservedly named Print Journalist of the Year (over 50,000 circulation)
Warren Olney walked away with the Radio Journalist of the Year prize (as we hoped he would!)
The LA Times' Molly Hennessy Fisk won for best News Feature for her deeply affecting series "Standing Up: Davien's Story."
The excellent Gustavo Arellano of OC Weekly, won for best Business Reporting for "Is Aaron Kushner the Pied Piper of Print?"
Neon Tommy reporters did deservedly well in a bunch of categories.
And there were many other worthy winners.…columnist Amy Alkon….Marty Kaplan at the Jewish Journal…reporters from The Downtown News and the Hollywood Reporter…Deanne Stillman….KCET's So Cal Connected and more.
In addition, special awards went to KNBC4's Fred Roggin and Sue Laris of the Downtown News.
Comedy legend Carl Reiner recieved the club's President's Award.
The Daniel Pearl Award for Courage and Integrity went to the astonishingly brave Mexican journalist Sandra Rodriguez Nieto.
AND my beautiful neighbor and pal, actress Wendie Malick, was one of the celeb presentors!
---