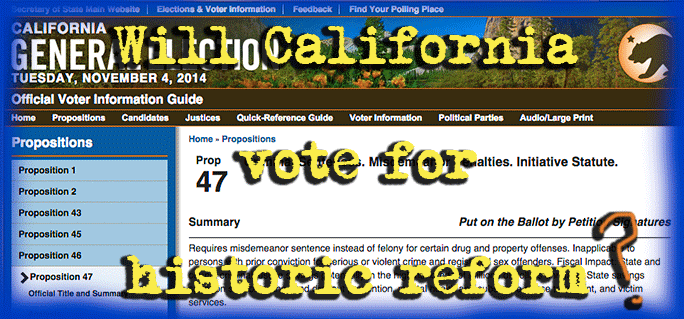 NY TIMES SEZ CALIFORNIA POISED TO LEAD ON CRIMINAL JUSTICE REFORM WITH PROP 47
For decades, tough-on-crime proponents cowed lawmakers into passing ever more stringent sentencing statutes that, in turn, resulted in state and federal prison systems metastasizing to disastrous proportions.
Yet, any attempt at correcting the most problematic of the laws inevitably triggered shrieking from the same tough-on-crime folks who predicted that sentencing reform would surely result in a ghastly rise in crime.
The shriekers turned out to be dead wrong.
In fact, multiple recent studies showed that crime drops were greater in states that had taken steps to reduce their prison populations—California included, with it's far-from-perfect realignment strategy.
Now it appears that California is likely on the verge of passing Proposition 47, a voter initiative that, if successful, will reportedly lower our prison population still further. With Prop 47 specifically in mind, the New York Times editorial board has weighed in with a new essay praising the state for leading the way "on justice reform."
Here's a clip:
An encouraging example [of crime drops accompanying prison population reduction] comes from California, the site of some the worst excesses of the mass incarceration era, but also some of the more innovative responses to it.

For five years, the state has been under federal court order to reduce extreme overcrowding in its prisons. In response, voters in 2012 overwhelmingly approved a ballot measure to scale back the state's notorious "three-strikes" law, leading to the release, so far, of more than 1,900 prisoners who had been serving life in prison — in some cases, for petty theft.

Dire warnings that crime would go up as a result were unfounded. Over two years, the recidivism rate of former three-strikes inmates is 3.4 percent, or less than one-tenth of the state's average. That's, in large part, because of a strong network of re-entry services.

The 2012 measure has provided the model for an even bigger proposed release of prisoners that California voters will consider on the ballot next week. Under Proposition 47, many low-level drug and property offenses — like shoplifting, writing bad checks or simple drug possession — would be converted from felonies to misdemeanors.

That would cut an average of about a year off the sentences of up to 10,000 inmates, potentially saving the state hundreds of millions of dollars annually. To keep people from returning to prison, or from going in the first place, the savings would be invested in anti-truancy efforts and other programs like mental health and drug-abuse treatment. Some would go to victims' services, a perennially underfinanced part of the justice system.

Law-enforcement officials, not surprisingly, oppose the measure, warning that crime will go up. But they've already been proved wrong on three-strikes reform….
---
HOW DID OUR BORDER CONTROL SPIN SO OUT OF CONTROL?
"We made some mistakes," said former Customs and Border Protection Commissioner Ralph Basham. "We found out later that we did, in fact, hire cartel members."
Between 2001 to the end of George W. Bush's second term, the U.S. Customs and Border Protection—the Border Patrol— grew from 9500 agents to 18,000. The force jumped again to 21,000 agents in Barack Obama's first term.
Now some officials are admitting that, in response to executive and congressional pressure, the CBP grew too fast, meaning that many of those brand new green-uniformed agents were not properly trained and vetted, a problem that was compounded by the fact that an adequate number of experienced supervisors was in short supply.
The consequence was a burgeoning problem of corruption, brutality, unnecessary uses of force and, in some cases, out-and-out infiltration by some true bad guys. In fact, from 2005 through 2012, nearly one CBP officer or Border Patrol agent was arrested every single day for misconduct.
Yet, when the FBI tried to investigate instances of wrongdoing, or when, due to urging by Congress, The Police Executive Research Forum, a law enforcement think tank, examined CBP methods and actions then wrote a highly critical report, the Border Patrol management mostly just closed ranks.
Politico senior staff writer Garrett M. Graff has the deeply reported and well-written special investigation into the problems of the agency that some are calling The Green Monster.
Here are some clips:
The corners cut during the hiring surge were becoming clear by the final months of the Bush administration. There was the Miami CBP officer who used his law enforcement status to bypass airport security and personally smuggle cocaine and heroin into Miami. There was the green-uniformed agent in Yuma, Arizona, who was caught smuggling 700 pounds of marijuana across the border in his green-and-white Border Patrol truck; the brand-new 26-year-old Border Patrol agent who joined a drug-smuggling operation to distribute more than 1,000 kilograms of marijuana in Del Rio, Texas; the 32-year-old Border Patrol agent whose wife would tip him off on which buses filled with illegal immigrants to let through his checkpoint on I-35 in Laredo, Texas. Some cases were more obvious than others, like the new Border Patrol agent who took an unusual interest in maps of the agency's sensors along the border and was arrested just seven months into the job after he had sold smugglers those maps for $5,500.

In November 2007, CBP official Thomas Winkowski wrote an agencywide memo citing numerous incidents, or, as he called them, "disturbing events," and saying that the leadership was concerned about the "increase in the number of employee arrests." The memo, never made public but obtained by the Miami Herald, reminded officers and agents, "It is our responsibility to uphold the laws, not break the law."

Although the allegations concerned just a fraction of the force, the work CBP did made it especially susceptible to corruption, and made that corruption uniquely damaging. "There's a huge vulnerability there with employees who control the flow of goods and people on the border," explains James Wong, the CBP internal affairs investigator. "You've got undocumented immigrants, contraband or even worse—a weapon of mass destruction."

Which is why, acknowledges Basham, who oversaw the hiring surge as CBP commissioner, the border region is considered the "highest threat environment for government corruption."

In fact, CBP was uncovering dozens of cases of criminal organizations like Mexican cartels and street gangs such as MS-13 infiltrating its ranks with new hires.

[SNIP]

What concerned Skinner, the DHS inspector general, was the possibility that he was hearing only about the most egregious misconduct. "We were getting more and more complaints, but our biggest concern was that there was a culture as to not report allegations to us," Skinner says. "Out in the field, there was a culture to keep things to themselves. You're familiar with 'What happens in Vegas stays in Vegas?' They had a 'What happens in the field stays in the field.'"

Agents traditionally worked lonely patrols, with help far away and a strong tradition of frontier-style justice. The agency motto, "Honor first," is a statement of both machismo and integrity, and its responsibilities require a mind-set far different from most law enforcement agencies. "Their mentality is everyone they encounter is a bad guy, which is totally different from other law enforcement," Basham says.

[SNIP]

In the summer and fall of 2012, [FBI Assistant Director of Criminal Investigations Ronald] Hosko attended a series of meetings at CBP headquarters that left him stunned. CBP officials, just coming off the huge hiring surge that had doubled the size of the Border Patrol and increased Customs officers by thousands, had grave concerns about the people that they had hired.

Hosko heard senior CBP officials say at the meetings that they believed roughly 10 percent of the agency's workforce had integrity problems, but he was even more stunned when they batted around a range of numbers, going as high at one point as 20 percent, of those who might deserve to be removed from the force.

"That's a shocking number and chilling. If I have the senior leaders of an organization like CBP—with 40,000 uniforms and guns—saying 20 percent, that's shocking," Hosko told me. "Let's say that's a gross exaggeration. Let's cut that in half. Let's say it's just 5 percent. That's still thousands of people." (Asked about Hosko's numbers, CBP officials denied that the force had such systemic problems but refused to confirm whether the meetings he cited had taken place.)
Be sure to read the rest of this excellent and alarming story.
"Not a single Border Patrol agent for the last eight years has been disciplined for excessive use of force," CBP internal affairs investigator James Wong told Politico's Graff. "With a workforce that large, that's amazing."
---
WHY ARE SOME OF AMERICA'S IMPOVERISHED INNER CITY NEIGHBORHOODS SO PLAGUED BY VIOLENCE? RESEARCH SHOWS THAT OVER-INCARCERATION IS A BIG PART OF THE PROBLEM
In the discussions about events in Ferguson, Missouri, this summer, the high level of violence in America's low income inner city neighborhoods often became part of the conversation. This was especially true among TV's talking heads who frequently opined as to why so many young people of color were falling victim to gun violence in their communities.
Writing for the Atlantic, Heather Ann Thompson, looks at some of the less obvious causes, over incarceration prominently among them.
On first bounce this may sound counterintuitive. But, Thompson points to the research of Todd Clear, which is now famous in the criminal justice world.
(In brief: in a series of studies of various urban neighborhoods around the country, Clear—a Distinguished Professor at John Jay College of Criminal Justice— and his colleagues noted that when a certain number of lawbreakers were arrested in a community, crime went down. But there was a tipping point. If the percentage of community members arrested and incarcerated continued to increase, eventually the community became destabilized and crime actually went up.)
In any case, there's a lot in Thompson's interesting and thought provoking essay that is worth your time.
Here's a clip:
The quadrupling of the incarceration rate in America since 1970 has had devastating collateral consequences. Already economically-fragile communities sank into depths of poverty unknown for generations, simply because anyone with a criminal record is forever "marked" as dangerous and thus rendered all but permanently unemployable. Also, with blacks incarcerated at six times and Latinos at three times the rate of whites by 2010, millions of children living in communities of color have effectively been orphaned. Worse yet, these kids often experience high rates of post-traumatic shock from having witnessed the often-brutal arrests of their parents and having been suddenly ripped from them.

De-industrialization and suburbanization surely did their part to erode our nation's black and brown neighborhoods, but staggering rates of incarceration is what literally emptied them out. As this Pew Center of the States graphic on Detroit shows, the overwhelmingly-black east side of the Motor City has been ravaged by the effects of targeted policing and mass incarceration in recent years with one in twenty-two adults there under some form of correctional control. In some neighborhoods, the rate is as high as one in 16.

Such concentrated levels of imprisonment have torn at the social fabric of inner city neighborhoods in ways that even people who live there find hard to comprehend, let alone outsiders. As the research of criminologist Todd Clear makes clear, extraordinary levels of incarceration create the conditions for extraordinary levels of violence….
---
LOS ANGELES COUNTY IS USING MORE SPLIT SENTENCING….BUT STILL LAGGING BEHIND OTHER COUNTIES
Yes, LA County is finally getting a little bit better when it comes to split sentencing, according to data coming out of District Attorney Jackie Lacey's office, but LA still has a long way to go.
Split sentencing, if you'll remember, means that low-level offenders spend half their time in jail, and the other half on probation where they can receive supervision and services to help them stay out of jail in the future.
Lacey has been strongly encouraging her prosecutors to use the strategy.
KPCC's Andrea Gardiner has more on the story. Here's a clip:
Many counties throughout the state have used the policy, called split sentencing, to reduce overcrowding in their jails, after a wave of inmates were transferred there from state prisons. Riverside and Orange County reportedly use split sentencing in more than 50 percent of cases.

New numbers from the Los Angeles District Attorney's office shows in September, 14 percent of cases resulted in split sentences. That's up from 3 percent in June, when District Attorney Jackie Lacey first issued a directive ordering prosecutors to give split sentences when appropriate.

[SNIP]

State law mandates split sentencing become the presumptive punishment for low-level felons starting in January. That means each low-level felon who is eligible for a split sentence will get one unless a judge states a reason for denying it on the record.