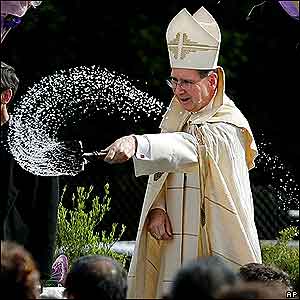 Even water tricks won't remove the stain of Roger's reign
Cardinal Roger "I belong in Hell" Mahony, in a statement issued from his prison cell… (Ok, strike that. But we all can dream and hope for justice for this world-class pedophile protector!) attacked the very legal gay marriages about to be performed in California. But why should we be surprised that the Man in Red and his brethren refuse to embrace the law on gay marriages? Roger is the same guy who wouldn't call the cops to report heinous sex crimes against children. Abiding by the law seems to be optional for him, and subject to the fund-raising whims of his corporation-like church.
In case you're looking for some liner for the cage of your rabid pet pig, print out the archdiocese's statement right here and hope your printer doesn't cry in shame.
UPDATE: For a radical twist on my crusade for justice for Big Bad Roger, see Joe Mailander's blog here.