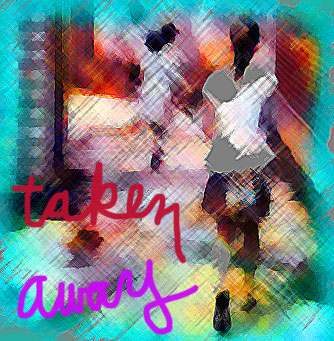 Nina Montoya is a student in writer/teacher Dennis Danziger's English class at Venice High School.
She is also part of PEN in the Classroom, a program that sends professional writers into their classrooms for creative writing residencies. In Danziger's class the kids worked on personal essays, and the professional writer also happened to be Danzinger's wife, Amy Friedman.
Ten of those students will be performing the essays that resulted in a spoken word setting on Monday, March 8, at the Powerhouse Theater in Santa Monica. (I'll remind you again when the date is closer.)
But in meantime, I thought you would enjoy reading the biographical essay that the talented Nina has written.
It is a called: Never to be Seen Again.
Keep in mind as you read it that Nina, a senior, is an honor student, a cheerleader, on staff of the yearbook and has been accepted by Cal State, Northridge for Fall 2010.
Ten years ago I was sitting in my third grade classroom at Noise Elementary School picking up my school things, shoveling them into my Lion King backpack. Before I whisked out the classroom door my teacher caught my eye. I can hardly remember what she looked like, all I can remember was thinking she looked pretty and her hair was a dark brunette. She had just received a phone call and ordered me to accompany her to the office.

I cannot recall when I first remember seeing my older sister Kirin. Kirin, age nine, was either already in the police car or we stepped into the cruiser together. We were not allowed to go home and pack our things; it was straight off to foster care again, except this time I was seven, old enough to remember. I had been there once before, but did not remember anything about that place. My only knowledge of having been there before was from what my sister had told me.

My memory is foggy as to what exactly happened. I do not remember my sister's reaction to any of this. We knew we would not go home anytime soon and that upset us. Home was in Pasadena, California and to me always seemed prefect. With warm weekends and seemingly endless sunny days. Most of those sunny days we spent on the perfectly manicured, bright green lawn, running crazy and wild through the sprinklers in the front yard.

While we were being driven away, I was trying to recognize something, anything, grasping for some kind of hint, but I never did figure out where we were headed. The vehicle slowly pulled up in front of a small one-story house with an attached garage on the left side of our unwanted new home.

My sister and I walked into the place overrun with children; thankfully I learned they were just visitors. My first thought of the place as we walked was it was a madhouse.

There was so many kids that it looked like a daycare and felt like a zoo.

We were given the full tour by our soon to be foster mother. She was nothing special to look at. Not so much chunky or fat but a little on the thick side as I remember, Hispanic. Worse, the entire time we were shown around I heard nothing but nonsensical "blah blah blah " and we both knew they were talking about us.

The tour seemed pointless because my head was spinning. I wanted to run right out of that house, grab my sister's hand and run home. I did not want to be there with those strangers in that stupid house; they were not my family. I wanted nothing to do with them. I wanted home and this, this definitely was not home and never would be.

Our room was plain. The wooden floors creaked beneath our feet when we walked in. There was a wall with a dresser against it and one on the opposite wall as well. To the right were two beds, one up against the wall in a corner and the other parallel to it. Past the second bed there was a threshold which led to the bathroom that was always cold. Our room was too.

The bathroom there holds memories of torture. I never wanted to take showers in the middle of the day when we were ordered to and I was constantly thrown into the shower still fully clothed as shocking cold water rained upon me. I hated being there but was always too afraid to tell my social worker what I experienced every day. Perhaps it was fear or just plain childish stupidity. Or maybe I thought that if I did tell this was the only place where we could ever live and then what would happen to us?

The pain of pulled hair and slaps, by our foster mother, still bring color to my face; the memories still tug at my mind, and I worry for the children doomed there today, as my sister and I were trapped there a decade ago.

I spoke with my grandma every night on the phone and prayed with her so God could take me back home but it seemed as though my prayers were never answered soon enough. I never did go back home. I never got to go back inside my room, or play in my backyard again. I got to leave the little unwanted house it seemed like I was there for years but it was much less, probably just one year,I cannot recall.

By the time my father obtained custody of my sister and me, he had moved to an apartment near my grandmother's which to me was never home. I would cry when I was angry. I wished to be back in my old room, my true home, the place of my early childhood happiness. But that never happened.

My experience in foster care has made me fight to strive past everyone trying to hold me back. I refuse to let anyone hold me back. I have realized that whatever I may end up doing in life I want to help others in need and let them know that help is there. I want them to know that there is no reason to be afraid. That speaking out is the best thing to do rather than worrying or over analyzing the situation when one is in dire need of assistance.

I will never treat a child the way I was treated. A childhood such as mine is something I would never let anyone endure if there was something I could do about it. Whenever I am out in public and I hear the shriek of a child my heart crumbles. I know their pain, the burning eyes that cry tears that seem as though there cannot be anymore. I yearn to reach out to the child and want nothing more than to help, to stop the tears, to stop the ache. I do not want them to feel pain or sadness; my pain, my sadness.
---