collected by Celeste Fremon & Taylor Walker
---
Charles M. Blow, columnist, New York Times
Son called today to say he was going to a protest in NY to provide bottled water and take first aid kits. Proud of that kid. But, when he told me that he had written my telephone number on his arm "just in case," I damn near cried. Why do our babied have to even think abt this?!

— Charles M. Blow (@CharlesMBlow) May 30, 2020
---
LZ Granderson, Los Angeles Times
— LZ Granderson (@LZGranderson) May 30, 2020
---
Alicia Garza, co-creator Black Lives Matter
First, Black people are exhausted. I'm exhausted. Angry. Devastated. Scared.

— Alicia Garza (@aliciagarza) May 27, 2020
I try really hard not to be enraged at these kind of inquiries. Protest for too many is a performance for someone else's benefit — rest assured people are not facing tear gas to perform for you. They are sick and tired of being stripped of humanity and no one doing anything.

— Alicia Garza (@aliciagarza) May 27, 2020
(see rest of thread)
---
Alex M. Johnson, Program Director, The California Wellness Foundation
They don't know how to deescalate when the topic is the lives of black people. Violence isn't dents and graffiti on police cars paid for by our tax dollars.

— Alex M. Johnson (@AMJ_AlexJohnson) May 30, 2020
---
Ava DuVernay, filmmaker, When They See Us, 13th, and more
White people talking to white people. More of this please. If you're white and you believe yourself not to be racist, yet you don't talk to your white friends like this or stand up beyond tweets for Black people… you simply aren't who you think you are. pic.twitter.com/hUjJsZ0iFv

— Ava DuVernay (@ava) May 31, 2020
---
Isaac Bryan, Director of Public Policy, UCLA Ralph J. Bunche Center for African American Studies
I can tell you first hand… there was no violence until the police batons, tear gas, and rubber bullets came out.

The movement is, has been, and will always be rooted in love and justice. #BlackLivesMatter pic.twitter.com/nITExN4DeH

— Isaac Bryan (@ib2_real) May 31, 2020
---
Natalie Neysa Alund, breaking news reporter, USA Today, Nashville
I cannot believe what I just witnessed. They pulled up onto the square with a police siren on and did this. #Louisville pic.twitter.com/65o2lgZCJh

— Natalie Neysa Alund (@nataliealund) May 30, 2020
---
Michel Moore, Chief of the Los Angeles Police Department
My statement regarding planned protest activities in Los Angeles: pic.twitter.com/rSslocJPJX

— Chief Michel Moore (@LAPDChiefMoore) May 29, 2020
---
Jasmyne Cannick, strategist, journalist
If you allow it, the media will bait you into speaking against your own people. After years of doing this, I don't fall for that.

— Jasmyne Cannick (@Jasmyne) May 31, 2020
The uprising in #Watts in 1965 also including looting and vandalism. 34 died and over 3,400 arrested. Wash, rinse and repeat in 1992 with the #LAriots. Both triggered by the police. And here we are in 2020 and again an uprising triggered by the police. Let's discuss that! pic.twitter.com/RCWlqkSmMM

— Jasmyne Cannick (@Jasmyne) May 31, 2020
https://twitter.com/Jasmyne/status/1266919595136282624
---
Molly Hennessy-Fiske, reporter Los Angeles Times,
Minnesota State Patrol just fired tear gas at reporters and photographers at point blank range. pic.twitter.com/r7X6J7LKo8

— Molly Hennessy-Fiske (@mollyhf) May 31, 2020
---
Mark Ridley-Thomas, Member Los Angeles County Board of Supervisors
We have been notified that all #COVID-19 testing centers throughout LA will be closed until further notified. A troubling consequence of social breakdown prompted by excessive use of force resulting in the death of another unarmed African American man, Mr. George Floyd. Damn!!!

— Mark Ridley-Thomas (@MRTempower) May 31, 2020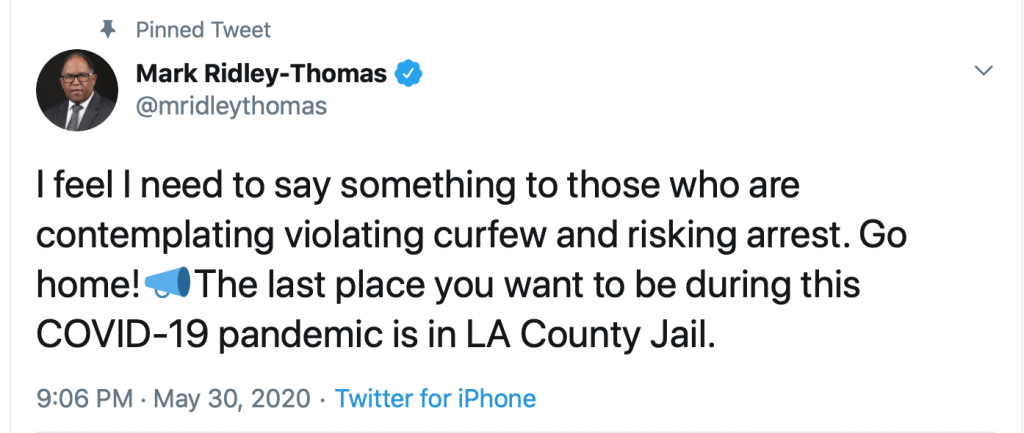 It is not lost on me that protestors are protesting against police violence – which makes a non-violent and de-escalating response by law enforcement all the more important — to not compound the pain and anger that is driving these actions.@DevineNews @Elex_Michaelson pic.twitter.com/nHayb9H30B

— Mark Ridley-Thomas (@mridleythomas) June 2, 2020
---
Marqueece Harris-Dawson, Los Angeles City Councilmember, District 8
— Marqueece (@mhdcd8) May 31, 2020
---
Ishmail Abdus-Saboor, Mitchell J. and Margo K. Blutt Presidential Assistant Professor of Biology, University of Pennsyvania
https://twitter.com/IshmailSaboor/status/1266909373034610688
---
Matthew Ormseth, Los Angeles Times
Fairfax and Clinton pic.twitter.com/Xc4GOciRWe

— Matthew Ormseth (@MatthewOrmseth) May 31, 2020
---
Tanya Kerssen, researcher, author, Minneapolis, MN
Share widely: National guard and MPD sweeping our residential street. Shooting paint canisters at us on our own front porch. Yelling "light em up" #JusticeForGeorgeFloyd #JusticeForGeorge #BlackLivesMatter pic.twitter.com/bW48imyt55

— Tanya Kerssen (@tkerssen) May 31, 2020
---
Alex villanueva, Los Angeles County Sheriff
@LACoSheriff & all of our specialized units are closely monitoring & strategizing to keep LA County safe! I strongly condemn the murder of George Floyd, but burning down our communities does nothing to bring about police reform. Stay safe everyone! pic.twitter.com/TI2FuElrrs

— Alex Villanueva (@LACoSheriff) May 31, 2020
---
Patrisse Cullors, co-founder Black Lives Matter, co-author, When They Call You A Terrorist
Let's be honest.

Black pain, grief and rage are not only dismissed by elected officials, our response to those feelings are also criminalized.

To feel is the most fundamental human desire.

Yet, we are consistently punished for expressing our feelings and desires.

— patrisse cullors (@OsopePatrisse) May 31, 2020
<hr/
Ibram X. Kendi, historian, author, winner 2016 National Book Award, nonfiction
Police murder. People rage. People demonstrate. Some people get violent. Some property is destroyed. The coverage turns from the senseless destruction of Black lives to the senseless destruction of property. Same old news cycle. No need to wonder why police violence continues.

— Ibram X. Kendi (@DrIbram) May 30, 2020
---
John Cusak, actor, in Chicago
Cops didn't like me filming the burning car so they came at me with batons. Hitting my bike.
Ahhm herea the audio pic.twitter.com/tfaOoVCw5v

— John Cusack (@johncusack) May 31, 2020
---
Sal LaBarbera, retired homicide detective, Los Angeles Police Department
Anyone lives nearby Highland and Melrose. Osteria Mozza Restaurant. I'm alone restaurant broken into I'm surrounded. @Venice311 @LAPDHollywood @anblanx

— Sal LaBarbera (@Sal_LaBarbera) May 31, 2020
Well all laugh about this later. Imagine me asking over Twitter for a little help. PS: I could not save the wine. Still have a few people inside. I'm standing outside

— Sal LaBarbera (@Sal_LaBarbera) May 31, 2020
You're going to see muzzle flash from the restaurant that will be me. Highland and Melrose

— Sal LaBarbera (@Sal_LaBarbera) May 31, 2020
I'm still standing @LAPDHollywood Hollywood and Melrose. Officers are west of me they need to come east to Highland

— Sal LaBarbera (@Sal_LaBarbera) May 31, 2020
---
William Bratton, Former Police Commissioner, NYC; Chief, LAPD; Police Commissioner, Boston
As cops across America hold the line for the city's they protect & the peaceful demonstrators — they risk it all at violent protests compounded by the threat of #COVID19. My thoughts are with them as I know these brave men & women will lead those they serve through these crises. pic.twitter.com/aAhwCvSX5S

— Bill Bratton (@CommissBratton) May 31, 2020
---
Dave Cullen, journalist, author, Columbine, and Parkland
I hesitate to post this, because this is not ABOUT journalists. But, journalists play a crucial role in informing us all. This is a danger to us all: "A Reporter's Cry on Live TV: 'I'm Getting Shot! I'm Getting Shot!' "https://t.co/JGekvlpxmd

— Dave Cullen (@DaveCullen) May 31, 2020
---
Madeleine Brand, Host of KCRW's Press Play
Harlem, by Langston Hughes:

What happens to a dream deferred?
Does it dry up
like a raisin in the sun?
Or fester like a sore—
And then run?
Does it stink like rotten meat?
Or crust and sugar over—
like a syrupy sweet?

Maybe it just sags
like a heavy load.

Or does it explode?

— Madeleine Brand (@TheMadBrand) May 31, 2020
---
Kareem Abdul-Jabar, author, N.B.A.'s all-time leading scorer, recipient of the Presidential Medal of Freedom
via Los Angeles Times, via Elizabeth Colvin, Senior advocate, Children's Rights Division, Human Rights Watch.
So maybe…the Black community's main concern rn isn't whether protesters stand 6 apart or loot but that being Black means being murdered by cops & wannabes, & sheltering at home forever b/c the racism virus infecting the US is more deadly than COVID-19.
https://t.co/4rYvhHoxKm

— Elizabeth Calvin (@FairSentencing) May 31, 2020