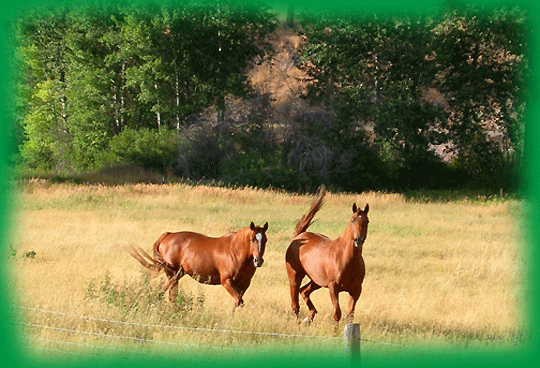 Curious horses on Interstate 90 past Gold Creek, MT, where I stopped because the dog was stir crazy.

This next batch came from the stretch between Butte, MT and West Glacier, MT—gorgeous country even if much of it was on fire. Fortunately, but the time I drove through, most of the fires had calmed.
Kevin and Mike were inside a combination bookstore/coffee bar in Butte, where I went to avail myself of a WiFi connection. They were drinking fancy coffees and philosophizing something fierce.
Kevin, 47, lives in Butte and is a contractor. He said: I think there needs to be more equal treatment between everybody in this world. There's too great a disparity between people who have everything, and those who have nothing. There needs to be more common ground between the two. It seems that especially lately, the rich are getting richer, and the poor are getting poorer. I think global warming, I think are part of that too. The rich just don't give a darn so they keep giving out false information about that. But I think everybody realizes its actually happening. That would be my choice, to come up with more of a common ground between the rich and the poor.
Mike, 64, lives in Butte, and is a retired engineer. He said: . I think something like what Kevin said. What is justice? It means treating everybody fair. Everybody gets a fair shake. But in this country money is what counts. I watched an old interview with Leona Helmsley, and she actually said thought she should get another trial because, "I paid six million in taxes. That should entitle me to something." So Justice. Treat everybody treated equally.

#####
I met these three firefighters when they'd come down for the fire line, south of Missoula. They'd been fighting what is known as the Black Cat fire. The blaze had been huge and dangerous earlier in the week, but now it was moving toward control.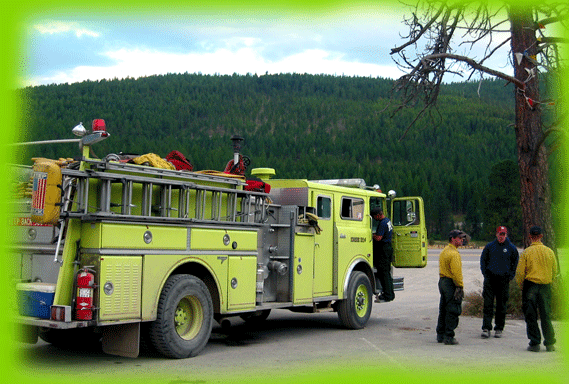 Fen, 37, is from Emporia, KS. He said: The energy problem. Our dependence on fossil fuel.




Lee, 35, Rapid City South Dakota. He said: I agree with Fen. I'd also like to see us do away with our dependence on fossil fuel. We need to spread it out amongst our other resources.
Dennis, 37, is from Colorado. He said: Welfare reform. In my opinion I'd cut welfare reform because there a lot of jobs for people who want to work.

#####
I met Marcia and Rosario when they pulled into the parking lot in front of a gift shop in West Glacier, MT. They were riding a beautiful, candy apple red Harley, and had just returned from the annual motorcycle rally in Sturgis, South Dakota, the place they'd originally met 34 years ago. (They've been married 34 years.) They are both from Pittsburgh, PA.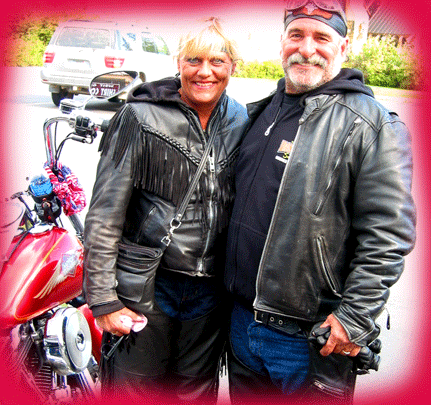 Rosario, 54, said: If I had the chance to help this country with one solution, it would be….for everyone to coexist, to put aside religions and colors, and just get along. I think that would be a peaceful start to a calmer world.
Marcia, 53, said: I'd bring back all the one-on-one customer service, and bring back the old cork board where you actually talk to people. I used to do that, and I miss it. Nobody has customer service anymore. The politicians wouldn't get into that, I realize. But in terms of the politicians…..They should take better care of the environment. Global warming.

#####
Light posting over the weekend. Back on Monday, but likely not TOO early.