At exactly 1:15 p.m. on Thursday afternoon, September 17, the California Board of State and Community Corrections (BSCC) voted unanimously that Los Angeles County Probation's two juvenile halls — Barry J. Nidorf Juvenile Hall and Central Juvenile Hall — were out of compliance when it came to multiple basic standards of care. Thus, these two facilities were declared "unsuitable for youth habitation."
In other words, they were not safe places for kids to be living.
The BSCC, for those unfamiliar, is an independent agency created by state law to provide "leadership to the adult and juvenile criminal justice systems."
Moreover, the BSCC also has significant powers given it by state law. One of its required jobs is to inspect the various counties' adult and juvenile detention facilities to make sure they are in compliance with California's legal standards. And, if they are not in compliance, to lower the necessary boom.
And so it was that, after months of inspections, and resulting reports pointing repeatedly to changes LA County urgently needed to make, on Thursday, the board members found they had no way to avoid voting to declare Barry J. and Central, as the county's two remaining juvenile halls are called, unsuitable for kids.
"We are now in uncharted waters," said Aaron McGuire, the BSCC's legal counsel, right before the vote, his expression decidedly grim. "The BSCC has never done this before."
It is relevant to note here that the while the BSCC includes a few justice advocates among its number, the majority lean in a more traditional direction.
For instance, Kathleen Allison, the Secretary of CDCR (the state's prison system) is a member of the BSCC, as is Guillermo Viera Rosa, the Director of California Adult Parole Operations. Sheriff Dean Growdon of Lassen County is a member, along with Andrew Mills, Santa Cruz's Chief of Police, plus several present or former probation chiefs, including the board's Chair, Linda Penner, the former Chief of Fresno's Department of Probation.
Nevertheless, at Thursday's meeting, all assembled appeared determined to make the right call, even though some of the BSCC members looked a bit gobsmacked as they proceeded toward their historic decision.
Yet despite the BSCC's unprecedented action, LA County will have 60 days to remedy the situation by coming fully into compliance when it is reexamined by the board's inspectors.
However, if by the end of those 60 days, or thereabouts, if LA County Probation is still not hitting the required marks, the kids in the two halls will have to be relocated to some other place that is better able to follow the State of California's set of basic regulations designed to protect the safety and well-being of the teenagers in the county's care.
Where that might be is not at all clear.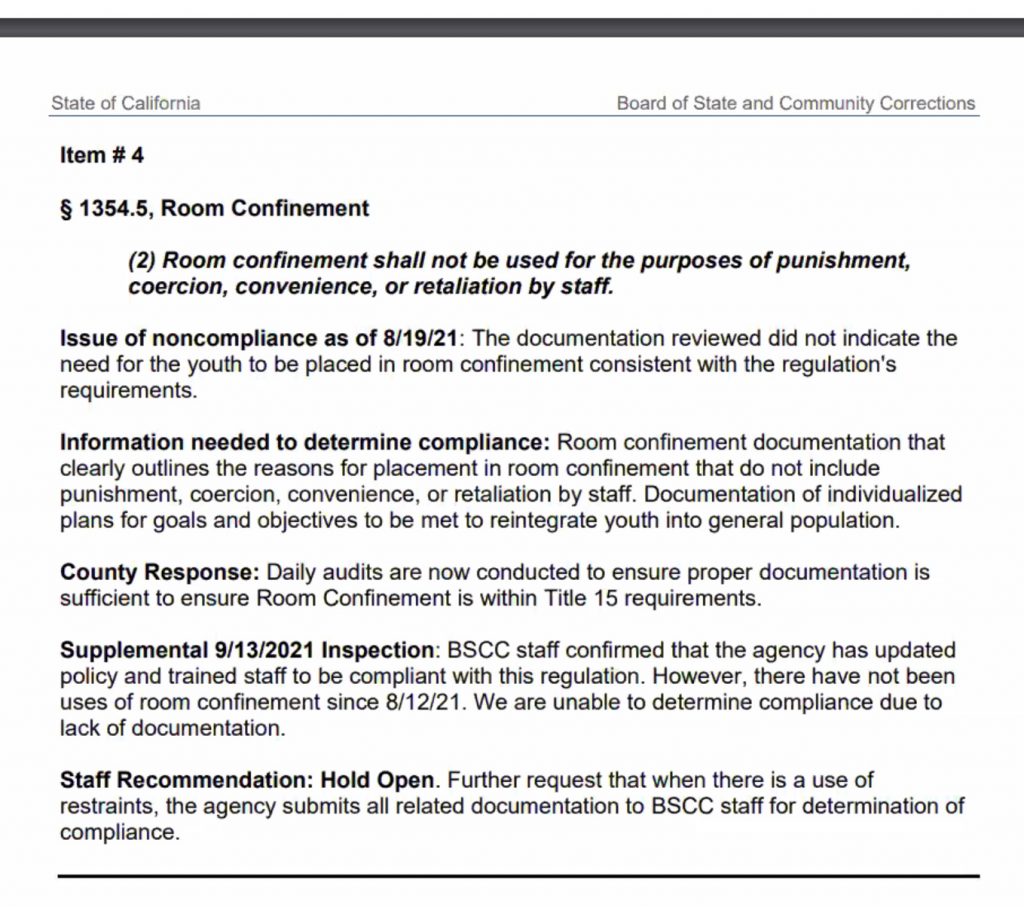 Missed medications, physical restraints, time in solitary, and more
The main areas in which one or both of the two juvenile halls were out of compliance had to do with the mental and physical health of the kids who reside in the facilities.
For instance, at Barry J., staff members failed to keep accurate and up to date information on the medication that was prescribed for kids in the facility, and if medication was prescribed, whether the youth in residence were actually given the meds they were supposed to be taking, or not.
Another out-of-compliance area was the failure to do a medical exam in a timely fashion when kids were admitted to the halls. Presumably, staff had no way of knowing if the child had asthma, or bad allergies (that, if ignored, could trigger anaphylaxis), or if a kid was pregnant, or if there was any other of a zillion medical or physical needs that ought to be addressed.
And there were more problem areas after those two.
At Central Juvenile Hall, one of the categories that was out of compliance, in addition to those relating to physical health, medication, and the use of psychotropic drugs, was the matter of documenting the rationale for the use of physical restraints that are sometimes used to transport kids around the facility.
One more problem area had to do with what is called "room confinement," which is theoretically a more therapeutic form of solitary confinement, which the state mostly outlawed some years ago.
In any case, room confinement cannot, legally, be used for "punishment, coercion, convenience, or retaliation," but only for reasons of safety. Thus, when the "Hope Center" is appropriately used, as the confinement area at Central Juvenile Hall is called, it requires documentation justifying why the kid has been isolated, along with a plan for what is to be accomplished in order to return the youth to his or her unit.
In the most recent inspection — which took place on Wednesday, September 15 — kids had been put into room confinement 13 times during the period examined.
In seven out of those 13 instances, there was proper documentation indicating why the youth had been isolated. In the other six instances, there was no proper documentation — Central Juvenile Hall was out of compliance.
In other words, in just under half of the instances (46 percent) we have no way of knowing if the room confinement was called for, or if it was simply a form of punishment, or an artifact of bad temper or frustration on the part of a staff member.
At Barry J., in the categories of physical restraints for transport, and room confinement, the facility wasn't exactly deemed out of compliance, but nor could the examiners prove that the facility was now in compliance from earlier findings of being out of compliance. So the inspectors asked the board to leave the catagory "open," to be revisited.
The milk carton factor
Before the matter came to a vote, the BSCC board members heard public comment from various youth justice experts and advocates who mentioned other areas of serious concern that did not seem to be covered by the BSCC's check list, and that, if true, pointed beyond themselves to other disturbing problems.
Regulations are being violated every single day," said attorney Aditi Sherikar of the Children's Defense Fund of California, who described accounts from kids who said they hoarded empty milk cartons to use for "urination," because staff members so often declined to let them out of their rooms to use the bathroom in a timely fashion.
The milk carton issue was also mentioned by several youth advocates from the Anti-Recidivism Coalition (ARC), who said that they too had talked to kids who also told them that, when all else failed, and they had no milk cartons, they used the towels in their rooms in order to urinate, which in turn made their rooms smell like urine.
Great.
"Frankly, it's shocking that this is the first time that the issue of unsuitability has come before this board, said Renee Menart, policy analyst for the Center on Juvenile Criminal Justice (CJCJ).
Laura Ridolfi, a former youth public defender who works for the W. Haywood Burns Institute, expressed a similar sentiment.
"They've been given ample opportunity to make the necessary changes." she said. Now, added Ridolfi, "anything but a finding of unsuitability will threaten the board's credibility."
One of the big questions that the report and the vote did not address is why in the world these corrections have not made a long time ago, particularly in view of the fact that, in January of this year, California Attorney General Xavier Becerra announced a legal settlement with LA County requiring a fundamental transformation in the way that Los Angeles County Probation, and the LA County Office of Education (LACOE) treats the kids in Barry J. and Central.
The settlement came after the state's DOJ engaged in a deep probe into conditions in the two halls, beginning in October 2018, in order to determine how well or poorly LA County treats the kids in its youth detention facilities. And what the DOJ found wasn't good.
So why, eight months after the CA DOJ settlement was signed, are conditions at those same two youth facilities still so bad that the Board of State and Community Corrections had no other choice but to legally declare them unsuitable for youth habitation?
Forms of motivation
Board member Scott Budnick, the founder of the Anti-Recidivism Coalition, had some thoughts on the question.
Budnick, a film producer turned justice advocate, was on a plane at the exact moment the vote took place, but sent a written statement to BSCC chair Linda Penner before he left.
(He also kindly texted the statement to WitnessLA while he was airborne.)
"I began going into Barry J. Nidorf juvenile hall in February 2004, and have been inside almost every week for the last 17 years," Budnick wrote.
"I know most of the staff in the facility, and have made friendships with many of the Probation staff who deeply care about the kids in their care."
Yet, despite the many talented and caring people on staff, some kind of hardcore pressure is needed at this moment if anything is to change, according to Budnick.
"After having months and years to correct these issues, it is clear that there are those in LA County Probation that are not taking this seriously, and have undermined the last Probation Chiefs and will continue to undermine Chief Gonzales."
(Budnick was referring to Adolfo Gonzalez, the new and well-liked Chief of LA County Probation who took the helm of the chronically troubled agency on February 1, 2021, after serving as the reformer head of San Diego County Probation.)
"I want the Chief to have the power to tell his staff… 'you have 60 days to get this right, or facilities will close and jobs will be lost,' " Budnick said at the close of his statement.
"Sometimes doing the right things for kids doesn't motivate everyone, and for those that it doesn't, hopefully the potential loss of jobs will."
Budnick's remarks reflect similar statements from a wide variety of WitnessLA's sources, who have long described a toxic culture among some department members who still manage to occupy positions of leadership on the youth side of probation's hierarchical ladder. And it is that toxic culture (which WLA in part described here), that has stood in the way of the kind of reforms that many staff members and youth advocates have repeatedly stated are critical.
Furthermore, even if Thursday's gun-to-the-head vote gets probation to come into compliance in the named categories, according to Dr. Jorja Leap professor at UCLA's Luskin School, a great deal more is required.
"This is an important step," Leap told us, " but it is far from the only step needed for the transformation of the Los Angeles County Probation Department."
No kidding.
Obviously this story has more important chapters ahead so….stay tuned.