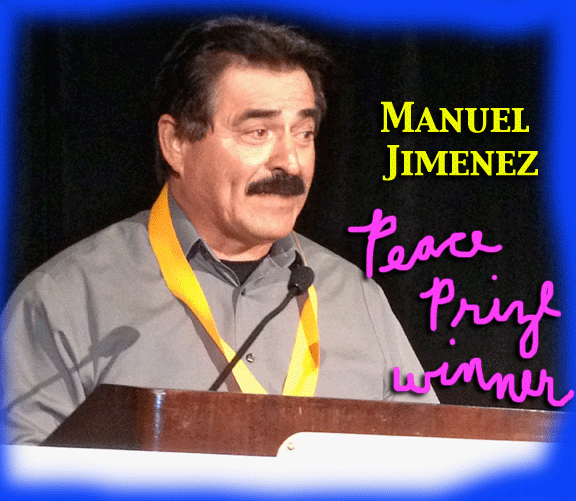 Nearly 20 years ago The California Wellness Foundation was one of the first organizations of consequence to promote the recognition that violence was not merely a crime problem. It was a serious public health issue.
As part of their focus on the topic, every year Wellness puts on a Violence Prevention Conference at which around 300 people drawn from all over the state gather to discuss the myriad complex facets of this problem that so deeply affects the health and well being of California's communities.
Among those who attend are directors of programs that address some aspect of the issue, a smattering of law enforcement (This year Deputy Chief Pat Gannon, head of LAPD's South Bureau, was on a panel), academics, researchers, and other experts in the field.
Each year at the conference, Wellness presents three Peace Prizes, which honor three people with a $25,000 cash award…."in recognition of his or her outstanding efforts to prevent violence and promote peace in their local communities." The 2011 winners were Ray Balberan, Priscilla Carrasquilla, Manuel Jimenez, all of whom work in different capacities with former gang members and/or kids who are headed that direction. (You can read more about the winners here).
The topics vary from year to year. This year, the subject of realignment came up frequently in public discussions and in private conversation. Another big conference topic was juvenile probation. The Chiefs of Probation for Alameda and Yolo counties were both on a panel. In fact, Alameda County's Chief of Probation, David Muhammad, was one of the conference's two keynote speakers and his straight talk about what works and what doesn't for lawbreaking kids had direct and urgent implications for LA County's troubled juvenile camps. (I'll have much more to say about David Muhammad in a later post.)
The other keynote speaker—the one who opened the conference—was LA's own Father Greg Boyle.
I've posted some (very) rough iPhone video snippets from his speech. Please ignore the recurring hand-held jiggles and the less than felicitous framing, and just give yourself and treat and watch. As speakers go, they don't get any better than Fr. Greg.
As the first clip below opens, Greg is talking about an encounter with a particular Homeboy Industries staffer. He also covers why he may title his next book "Barking with the Choir," and why we must stand with the despised and the easily thrown away.
This next clip, #2, contains a story about homeboys and texting.
(NOTE: I turned off the video before the story of texting homeboys was over, so quickly switched it back on for the 55 second tag to the tale that you'll find below.)
You'll find one more instructive (and funny) homeboy story here in clip #4.
This next video opens with a short talke featuring the actress Diane Keaton at the Homegirl Cafe, and ends with…well…..just watch it.
Even for some reason you don't want to watch to all six videos, do watch this last one, # 6. It's only a little over five minutes long. I've heard Greg tell the story encased in the clip many times, but I still can't hear it without crying off all my eye makeup. Thursday night was no exception.
Truth be told, I lived this story along with Greg. I was very close to the kid in the tale known as "Puppet," and even closer to his girlfriend. I remember that Greg was out of state when all this happened. Thus I was the one who rushed to the hospital to hold down the fort, emotionally speaking, in those first hours.
Despite the pain of it, this story is—as are all Greg's stories—about hope, and about why the issues talked about at last week's conference matter so very much.