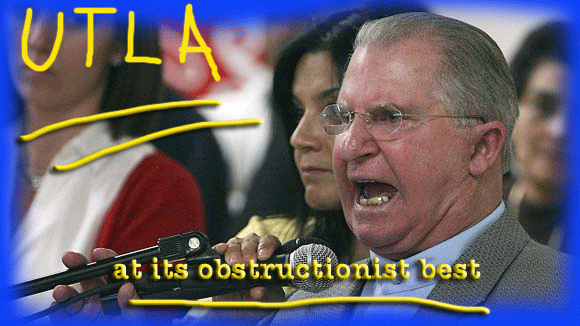 On Friday, the Los Angeles teachers union—UTLA—filed papers with the state's Public Employment Relations Board in the hope that the board will file an injunction to prevent the district from moving forward on two fronts—trying out teacher evaluations, and turning over aClay middle school and more than half of Jordan High school to charter school operators, the main charter group being Green Dot public schools.
Here's a clip of what the LA Times' Howard Bloom reported:
The Los Angeles teachers union is seeking a court order to halt key initiatives favored by the new L.A. schools superintendent, the Board of Education and Mayor Antonio Villaraigosa.

If successful, the legal action would suspend pilot testing of a new evaluation system that would use students' scores on standardized tests as one measure of teacher effectiveness.

The legal action also would thwart plans to hand over all or part of two South Los Angeles campuses to a charter school organization. Los Angeles Unified School District officials want Green Dot Public Schools to take over all of Clay Middle School and about half of Jordan High School.
Throwing a monkey wrench into the district's small foray into teacher evaluation is bad enough (Jason song has more here). But to stop the reconstitution of the two schools is an act that, once again, disregards the urgent educational needs and futures of students in favor of jobs security for Jordan's teachers.
Jordan High in particular is a complete mess. It has a 35 percent graduation rate. Less than 2 percent of its student scored proficient in math. Only 12 percent scored proficient in English.
Jordan suspends nearly 300 students per year.
In other words, Jordan is a very troubled school in an emergency situation. So, the district, to its credit decided to make some big changes. Jordan would be divided into three mini schools, each of which would be run by either Green Dot Public Schools, the Alliance for College Ready Public Schools, or Mayor Villaraisgosa's public education group.
Outgoing LAUSD superintendent, Ray Cortines, gave Jordan's teachers a chance to come up with their own makeover plan for the school but, as GOOD magazine reported, Cortines rejected the plan because, among other things, "it blamed the students."
School reform blogger Whitney Tilson has excerpts from Cortines' letter. And it's clear that he's furious at the faculty's plan.
Here's a snippet.
.…I must be honest and state that I am extremely disappointed that beginning in your second paragraph on the summary page you begin to set up the straw man of blame and excuses. The Watts community is not the only school community within LAUSD that is surrounded by community issues.

It is hard for me to be sympathetic regarding your needs identified in the plan when the school has
had additional money in the form of the Quality Education Investment Act grant, and support from
Talent Development and the Bill and Melinda Gates Foundation. As you know, I had to notify you of
the loss of the generous and valuable QEIA grant because you did not meet your own benchmarks.
These were not benchmarks set by the state or LAUSD, but by your own staff. Everyone bears
responsibility—administrators, school staff and union leadership.

I agree with the words you use when you say, "The transformation of Jordan High School will be built upon Relationships, Relevance, and Rigor so that by the 12th grade, every student will have
developed as an independent learner." Let me remind you that graduation begins in pre-school.
There is no evidence in your plan of ongoing outreach to teachers, students and parents that feed
into Jordan. The school is not an island unto itself but a place of learning that should move students
forward in their educational journey. In addition, we need to be mindful that there is a fourth element to the "Relationships, Relevance and Rigor" framework that helps move schools forward: results.
Green Dot, the Alliance and the mayor's partnership group all did come up with workable proposals—and all have applicable track records to suggest that they can put their proposals successfully in motion. Green Dot in particular can point to the progress they have made since their takeover of once-very troubled Locke High School.
Now any progress that might have been made for Jordan's students is imperiled while the adults jockey for control.
---
TWO LAPD COPS INTERVIEW TARGETS OF SWAT STANDOFFS AFTER THE FACT TO FIND BETTER WAYS TO DEFUSE TENSION
I love these kinds of stories. Good for the NY Times for doing this one about our department. Read it. It's a nice little glimpse of two police pros doing a job well.
---
A DISTURBING TALE FROM THE PALM BEACH POST: HUGE DOSES OF ANTI PSYCHOTIC DRUGS BEING LIBERALLY DOLED OUT IN JAILS FOR TROUBLED KIDS
Here's the opening of the Palm Beach Post investigation:
Florida has plied children in state juvenile jails with heavy doses of powerful antipsychotic medications.

The pills, widely viewed as the "big guns" of psychiatry, can cause suicidal thoughts and other dangerous side effects.

Yet, in state-run jails and residential programs, antipsychotics were among the top drugs bought for kids – and they routinely were doled out for reasons that never were approved by federal regulators, a Palm Beach Post investigation has found.

Reacting to the newspaper's findings, the head of Florida's Department of Juvenile Justice ordered a sweeping review of the department's use of antipsychotic medications. As it stands now, DJJ doesn't track prescriptions and has no way of telling whether doctors are putting kids on pills simply to make them easier to control.

"This is a very important issue," said Broward County Public Defender Howard Fink­elstein, whose office represents children in juvenile court. "If kids are being given these drugs without proper diagnosis, and it is being used as a 'chemical restraint,' I would characterize it as a crime. A battery – a battery of the brain each and every time it is given."

In some cases, the drugs are prescribed by contract doctors who have taken huge speaker fees and other gifts from makers of antipsychotic pills, companies that reap staggering profits selling medications, The Post found.
---
Photo by Brian van der Brug / Los Angeles Times