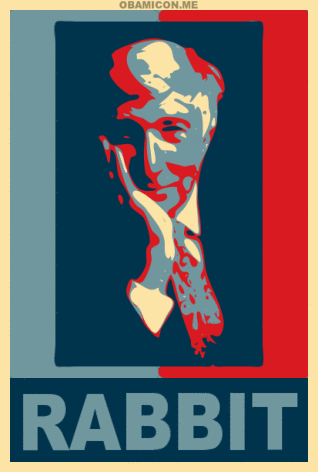 A giant of literature. Although, along with Roth and Mailer, he has been one of the dominant forces in American letters for nearly a half century, he still wrote regularly for the New Yorker and described himself rather endearingly as a freelancer to David Ulin, when Ulin interviewed him onstage at UCLA last fall as part of the tour for his latest novel, The Widows of Eastwick.

On the other hand, in his 1998 essay about John Updike, Certainly the End of Something or Other, One Would Sort of Have to Think, David Foster Wallace, who also describes the author as "the chronicler and voice of probably the single most self-absorbed generation since Louis the XIV," wrote a long and wonderfully grumpy screed about, among other things, the similarity of all Updike's protagonists. (Quoting the gifted dead about the gifted dead feels weirdly comforting rather than the reverse today. Go figure.)
It reads in part:
They tend to have the author's astounding perceptual gifts; they think and speak in the same effortlessly lush, synesthetic way that Updike does. They are also always incorrigibly narcissistic, philandering, self-contemptuous, self-pitying…..and deeply alone, alone the way only an emotional solipsist can be alone. They never seem to belong to any sort of large unit or community or cause. Though usually family men, they never really love anybody—and, though always heterosexual to the point of satyriasis, they especially don't love women. The world around them, as gorgeously as they see and describe it, tends to exist for them only insofar as it evokes impressions and associations and emotions and desires inside the great self….
Yes, well. That pretty much sums up what has always bothered and attracted me about all of Updike's work. And yet, and yet….one cannot help but love his incandescent sentences.
I am deeply saddened that there will be no more of them.
*********************************************************************************
William Pritchard, the author of Updike: America's Man of Letters, has listed his picks of the six most essential Updike books in a column for the Boston Globe. (Pritchard cheats and lists the Rabbit books as one). If you've read none of them, get to it. Great sentences await you.
PS: The New Yorker is collecting writers' reminiscences regarding Updike here and readers' thoughts here.
The New York Times has a video conversation with Updike here.