Did An LA County Sheriff's Department Sergeant Trade Hard to Get Days Off Work for Coerced Sexual Favors?
WitnessLA has learned that a 37-year-old sergeant with the Los Angeles County Sheriff's Department was arrested early this month on charges that he forced female deputies to have sex with him if they wanted an extra day—or days—off. It seems that the sergeant, Michael Spina, had the ability to dispense that precious time off.
Spina was reportedly at the time the logistics sergeant** at one of the county's big downtown jails, the Twin Towers Correctional Facility. .
The way things reportedly work inside the LASD, if a department member wants a day or several days off that are out of what is already normally assigned, he or she must talk talk to the proper supervisor. In Twin Towers jail, Spina reportedly had the power to grant such a request.
Getting extra days is a big deal…
"Right now," explained a former department member who is familiar with the allegations, "because the department is understaffed, if you want days off like for a family vacation, or if you're getting married, or if you just want to go to Vegas, getting extra days is a big deal. Things are so tight people people are working a lot of overtime, and really have a hard time getting much time off."
That meant, he said, that a sergeant like Spina had the ability to dispense important favors.
It is alleged that Sergeant Spina used his power to force female deputies at Twin Towers who wanted time off to have sex with him in order to get it.
According to multiple sources, Spina would invite the women into his office, which was specially outfitted with a couch. Then he would allegedly lock the office door, demand that the woman watch porn with him, and then have sexual relations. After that, the woman's time off would reportedly be magically approved.
Finally, according to sources, in the summer of 2016, one woman to whom Spina proposed the sex-for-days-off swap reported him.
An investigation by the department's Internal Affairs Bureau (IAB) followed, and Spina was put on administrative leave on August 15, 2016.**
Then when it became evident that criminal acts might be involved, the Internal Criminal Affairs Bureau (ICIB) stepped in to take the case.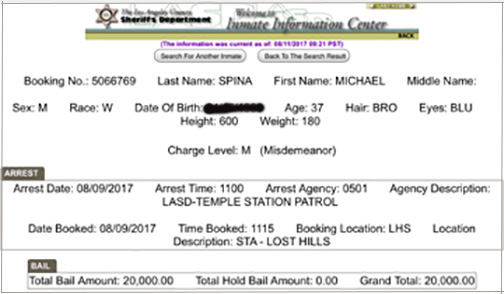 "They searched his office, found the alleged porn, and tested his office couch," said one of our sources, who asked not to be named.
On July 28, nearly a year after the first investigation began, Spina was charged by the LA District Attorney's office with four different violations of the California Penal Code, including:
314 (1): Lewd or obscene conduct
243-4:(a) Sexual battery.
236: False imprisonment.
243-4:(e-1) Sexual harassment.
On August 8, 2017, Sergeant Spina was arrested and booked at Los Hills Sheriff's Station.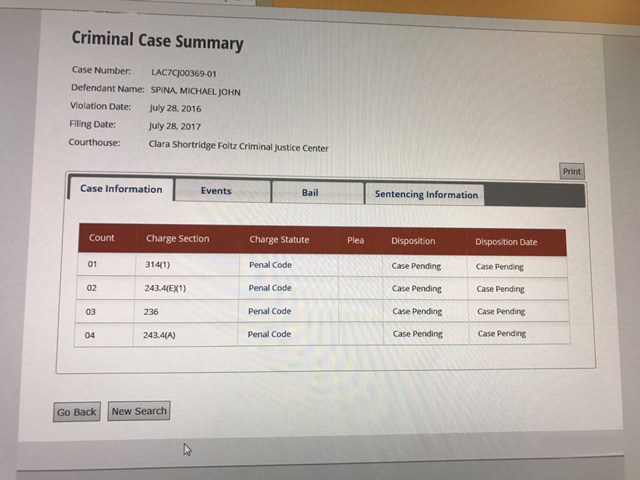 ---
And There Are Other Earlier Reports
According to other sources we spoke with, Mr. Spina's alleged actions at Twin Towers were not his first unseemly exploits of a sexual nature while on duty.
WitnessLA interviewed two different women who described distressing encounters with Spina when he was a deputy assigned to the department's Crescenta Valley station in approximately 2011.
I began to notice his questions were a little strange
The first woman we spoke with, whom we'll call Nancy*, said she called the Crescenta Valley station to report a break-in, and two deputies arrived at her home to take a report. "One officer took down the information, and was writing it up," she said. The second deputy, Spina, chatted with her about additional issues. "And, even though the other deputy had my contact information," he asked Nancy for her cell phone number, "in case we find out anything,' he said."
Although the interview about her break-in appeared to be over, Nancy said Spina continued to ask her questions that began veering in a personal direction, like whether she worked or was at home most of the day, and additional inquiries about her daily schedule. "I began to notice what he was asking was a little strange," Nancy said, "but I was feeling so upset and vulnerable because of the things that were stolen, so at first I didn't see how weird it was getting."
I'm looking for pretty ladies who are home in the daytime…
Suddenly, according to Nancy, after the other deputy was gone, seemingly out of the blue Spina asked if she played around sexually. "I'm looking for pretty ladies who are home in the daytime…' perhaps for a sexual three-way, he said, according to Nancy.
Horrified Nancy told him she was really in love with her husband and did no such thing.
"It was unbelievable to me," she said.
According to Nancy, Spina persisted. When she drew a harder line, he backed off, and eventually left. But Nancy was spooked. "He had all my information and knew my schedule. I worried about what would have happened if I didn't say I had a husband who would be home soon."
Bizarrely, not too long after her own experience with then-Deputy Spina, Nancy was visiting a woman friend and noticed that the friend had Spina's card tacked up in her kitchen.
Startled at the coincidence, Nancy asked her friend how she'd come in contact with the deputy. The friend, whom we'll call Jane*, reported her own unsettling experience.
what if it was just me and you?
When WitnessLA spoke with Jane, she told us that she'd been interviewed by Spina and his partner after a crime had been committed in her neighborhood. Once she'd given what little information she had about the crime, Jane said Spina's partner went to the car, while Spina lingered behind making small talk. As with Nancy, according to Jane, Spina asked for her cell phone number for what seemed at the time to be a legitimate reason. But, as he continued to linger at her doorstep, she said Spina's questions veered in a personal direction, in which he inquired about her life, and relationships. Finally, as Jane reacted with increasing discomfort, Spina joined his partner, and the two left.
A few weeks later, however, Spina reportedly began texting her. At first the texts seemed professional. But then they turned very personal, according to Jane.
There were around eight texts in all, she said. And half or more were of an escalating sexual nature, one suggesting "a threesome," and then "what if it was just me and you."
"I sat there with my phone in my hand and stared at it," she said. I didn't know what to do.
At first, Jane said, she tried to push the deputy away with a light touch. "But when that didn't work, I was much firmer." And finally the texts stopped.
I just wanted somebody else to know, in case he decided to get back at me in some way
But, like Nancy, Jane said she was unnerved by the interaction, to the point that she said she held on to the texts.
"I didn't know where he might go next with it, after that last text," she said. "I mean, he didn't know me, or what I might do, and still he did all this, and put it in writing." Nancy was so spooked, she said, that the day after the last text, after she'd really shut him down forcefully, she told three friends at work about her alleged experiences with Spina.
"I just wanted somebody else to know, in case he decided to get back at me in some way. I mean, I thought, maybe this is a guy who won't except the word 'no' very well."
---
Alleged Criminal Conduct
In response to our inquiries, Los Angeles County Sheriff's Department spokeswoman Nicole Nishida sent us an official statement on the issue that said the department "is aware of the alleged criminal misconduct involving a sergeant assigned to the Custody Services Division at a Los Angeles area jail facility."
(Due to legal concerns they did not confirm his name, and certain other details.)
The department's internal investigation resulted in "a criminal filing by the Los Angeles City Attorney's Office," the statement continued. "The misdemeanor charges pertain to alleged work-related criminal misconduct involving subordinate female employees. The 37-year-old sergeant was relieved of duty by the Los Angeles County Sheriff's Department on August 15, 2016,** pending the outcome of the investigation and now criminal proceedings. The sergeant was hired in June 2001."
The LASD statement further noted that the department "will be monitoring the criminal proceedings closely and will take appropriate and swift action when the outcome of the judicial process is determined and has concluded.
"The Los Angeles County Sheriff's Department expects all of its members to hold themselves to the highest ethical and professional standards at all times and has a comprehensive Policy of Equality for reporting alleged incidents of this nature."
Spina's next court date is September 27.
---
*At the request of the women who spoke to us, we are withholding their names and certain distinguishing details in order to protect their privacy.
** 8/21/17 – 10:18 am: We originally wrote that Spina was this scheduling sergeant. We have also heard he was the "logistics" sergeant. We'll let you know when this is clarified.
**8/21/17 – 1:20 pm: After talking to multiple sources, department spokesman Captain Darrin Harris finally settled the matter for us: Spina was a logistics sergeant. Also, Sergeant Spina was put on administrative leave a year ago, not this year. In the confusion as the LASD kindly tried to quickly get us a statement very late last night, we each got a part of that date wrong. Now it's correct.
---